Heinz Ketchup, a giant in condiments, is partnering with an unlikely brand in order to help embrace the mess and boost awareness.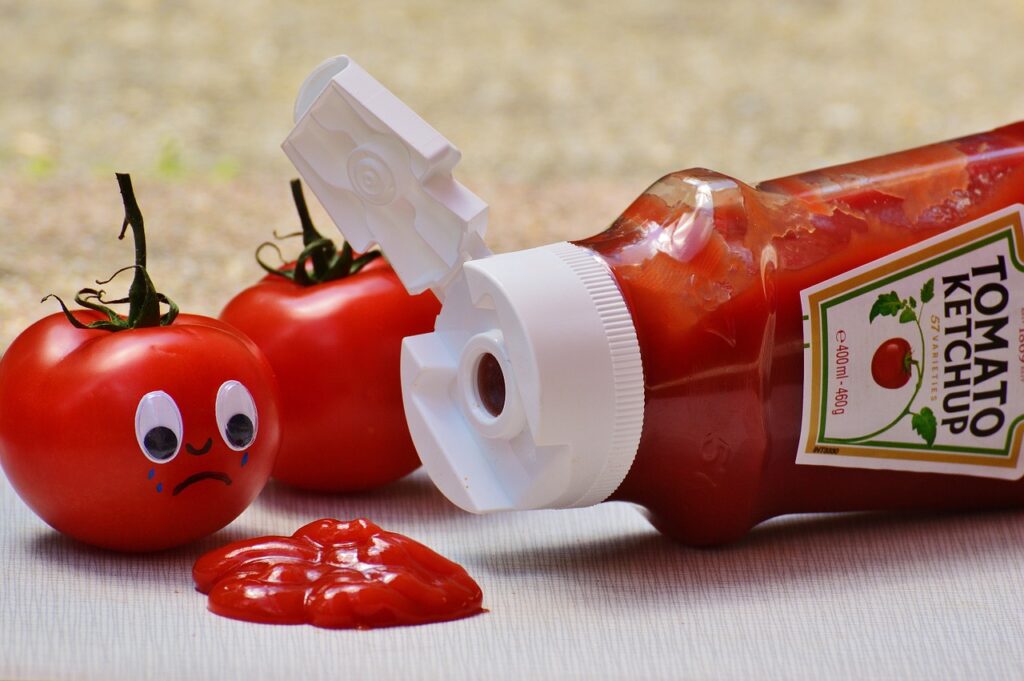 Heinz Ketchup, famous for adding its delicious accent flavor to foods like hot dogs and French fries, has decided to do something unique in its newest campaign. Instead of typical glossy magazine imagery of glistening ketchup, it's collaborating with vintage clothing company—ThredUp—and has decided to embrace the messy side of life.
Aside from the bold move of encouraging and embracing life's little messes that get dripped on pristine shirts, both brands have done what more companies are doing to find success—co-branding. It's a tricky move and one that can backfire, but when done right, it can catch the buying power of the Millennial generation, and the up-and-comers—Gen Z. And that is precisely what Heinz Ketchup is going for.
"When two brands form a brand partnership, they create mutual marketing and PR benefits …." Says Everything PR. "The brands involved pool their resources, creativity, and existing images to build an offering that is greater than the sum of its parts." Both Heinz Ketchup and ThredUp hope to show that together, they not only understand the current culture but they also embrace it. 
The practice of co-branding not only leads to a greater reach in customer base, but also boosts revenue streams. And when two brands come together with a vision and a goal for doing good things in the world, it's a recipe for success. Or that's what Heinz Ketchup is betting on.
Moreover, ThredUp isn't just randomly smearing its clothing with ketchup; it's making messes to draw attention to Heinz Ketchup—and something much bigger. The brands report that 100% of the proceeds created from the collab will go to Rise Against Hunger to support global hunger relief.
At first glance, one could say this is just a silly marketing stunt that's been performed over and over again. However, when taking a deeper look, it's unique and is sure to prove influential. ThredUp, a brand that believes that all pieces of clothing deserve a second life, already stands up to the ideals of fast fashion. This type of belief is embraced—and reveled in—by members of Gen Z.
'If you don't stand for something, you stand for nothing.' Gen Z seems to have heard this saying and has taken it to heart in everything they do and, most importantly, buy. Gen Z, individuals born between 1996 and 2012 hold strong ideals and reflect this in their brand affinities. And Heinz Ketchup 'gets it.'
As Tell Me Best reported, this is not the first time Heinz Ketchup has stood out and stood for something. The giant brand recently dropped its glass bottles in place of a more environmentally sound option of a paper and pulp mix for its packaging.
"Gen Zers value individual expression and avoid labels. They mobilize themselves for a variety of causes. They believe profoundly in the efficacy of dialogue to solve conflicts and improve the world," reports McKinsey & Company.
The brands also get massive bonus points for making their collection size- and gender-inclusive ranging from XXS to XXL. Being seen and accepting everyone are also two big pluses in Gen Z's world. They are who they are, and they are going to be appreciated and honored. Brands that don't understand this will be left behind.
ThredUp is rolling out the Heinz Vintage Drip collection right before Labor Day in the United States. Fairly clever for a holiday that is celebrated with barbecues, and you guessed it, hot dogs with ketchup. This tongue-in-cheek poke at life's small daily catastrophes is aimed at showing that, in the end, most mistakes are to be embraced. And, as Tell Me Best recently published, this isn't the first brand to create kitschy, outdoor-themed products aimed at good times during cookouts.
From streetwear to designer pieces, Heinz Ketchup will drip its unmistakable red stain (from natural tomatoes) in obvious spots on the clothing. They are bespoke, unique, one of a kind— and, more than likely, washable.
---