The Fourth of July is fast approaching and you won't want to miss the awesome deal you can score at Krispy Kreme.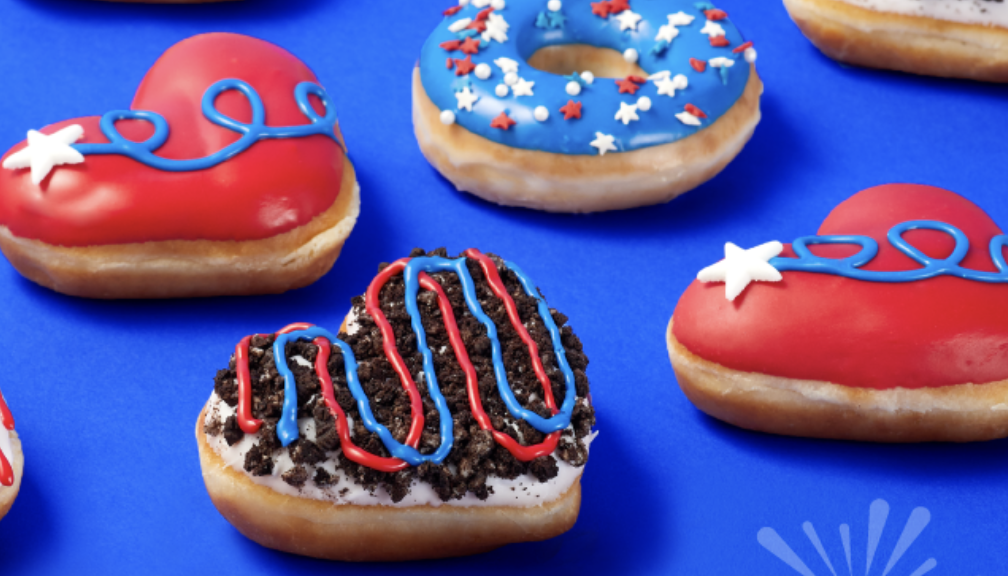 Krispy Kreme is always at the forefront of wild and elaborate deals. Since the invasion of Ukraine, soaring gas prices caught the donut shop's attention, which inspired their March deal: a box of donuts at the cost of the US gas-per-gallon average. The company is now releasing its most recent promotion, a 4th of July special for customers to receive more free donuts.
Alongside the opportunity to win free donuts, Krispy Kreme is releasing four limited-edition donuts to celebrate the independence holiday. Titled the "I Heart America" collection, each donut is inspired by the 4th of July and its celebratory components. The Soaring Firework Heart is a strawberry donut with red icing, the Patriotic Cookies & Kreme Heart is a cookies and cream donut with white icing and a cookie-inspired drizzle, and the Stars & Stripes Heart is a glazed donut heart filled with vanilla cream and has a red icing drizzle. The fourth new donut is a Star-Spangled Sprinkle, which has the standard Krispy Kreme donut shape but with blue icing and red and white sprinkles.
The box set is a definite reason customers visit their local Krispy Kreme shop, but the free donut promotion is even more exciting. From now until July 4th, you'll be able to stop by any participating location and attempt to score a free donut. All you need to win a free treat is to show up in red, white, or blue attire. If you show up at the correct participating store, you could win a free donut of your choice. To make things even better, between July 1st and July 4th, you'll have another opportunity to receive bonus sweets. If you buy a dozen donuts between those dates, you'll receive a free Original Glazed dozen with your purchase. The company is celebrating July 4th immensely with these extensive giveaways, allowing customers to win donuts over the next week and a half.
Krispy Kreme has not been frugal with its recent promotions. Alongside the donut deal based on the US gas price average, the company released a giveaway at the beginning of June from now until Labor Day. The "Sweet New Deal" is another Krispy Kreme promotion that focuses on strategic timing and luck for the customer to score a free donut. Participating stores have something called a "Hot Light," which glows every time donuts are being freshly glazed. Krispy Kreme will sporadically post on their website when the Hot Lights are on, but it doesn't indicate the times for every store. A Krispy Kreme app also gives you notifications about when a Hot Light will be turned on in your area.
With the Sweet New Deal, you'll only be able to receive an Original Glazed donut from Krispy Kreme stores, but it's still a free treat nonetheless. With the 4th of July promotion, customers can obtain a donut of any kind if they appear in red, white, or blue clothing. Both deals will be in effect simultaneously, doubling your chances of getting free desserts this independence day season. Check in with the company website or your local store to determine which locations participate in these promotions.
---