Elon Musk has opted to keep Alex Jones off Twitter following the latter's incident with the Sandy Hook families.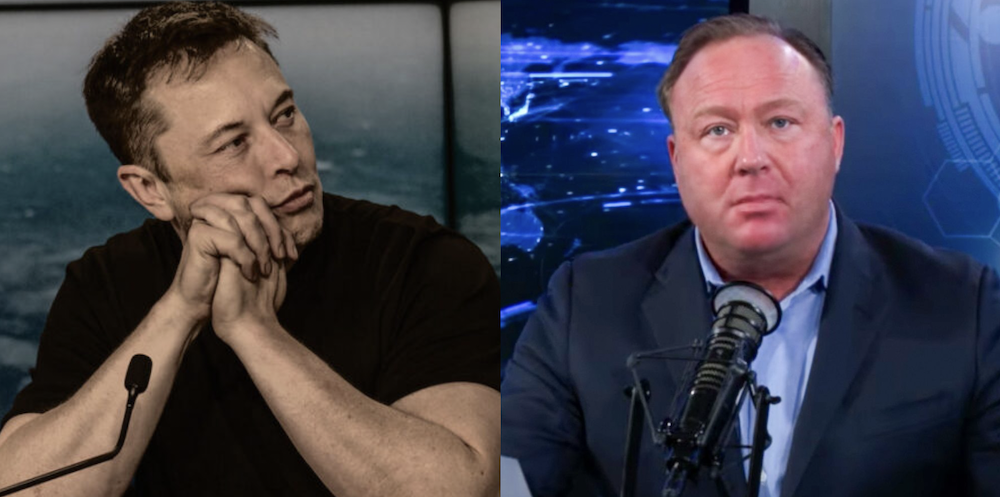 Ever since taking over Twitter in October, the platform's new owner, Elon Musk, has reinstated a number of formerly banned accounts from rapper Ye (formerly known as Kanye West) and comedian Kathy Griffin to the most controversial reinstatement, that of former President Donald Trump. There is one, though, that Musk says will never be allowed back on Twitter and that is of Infowars founder and conspiracy theorist Alex Jones. In this respect, Elon Musk has been clear on Alex Jones.
Musk gave his reasoning behind the decision and while many applaud it, there are just as many who are calling out the "free speech abolitionist" for not allowing free speech.
ELON MUSK SAYS NO TO ALEX JONES RETURNING TO TWITTER
It all started nearly a week ago when Elon Musk took to Twitter on November 18, 2022, to ask the platform, "What should Twitter do next?" It seemed like a harmless question, that Musk was looking for some big answers and ideas, but one of the many responses he received came from @HardcoreNolley who said, "Bring back Alex Jones!!!!"
Musk's reply to the request to bring back Alex Jones was quick, short, and right to the point. "No."
ELON MUSK SAYS IT WAS BECAUSE ALEX JONES USING DEAD CHILDREN TO INCREASE FAME
The user @HardcoreNolley was not the only one who made the request to have Alex Jones reinstated. Philosopher Sam Harris and internet businessman Kim Dotcom also queried as to why Alex Jones wouldn't be reinstated, claiming it would be "in the name of free speech" to allow him access once again. You knew Musk couldn't stay silent for long.
Elon Musk didn't offer much after his "No" response to reinstating Alex Jones on Twitter. There were those from both sides who came out of the woodwork and supported Musk's decision as well as those who called him a hypocrite for allowing some back on the platform who had previously been banned. It took some time, but Musk finally gave his reasoning as to why he is not allowing Alex Jones back on Twitter.
He first responded to Sam Harris by citing bible scripture, saying, "Suffer little children, and forbid them not, to come unto me: for of such is the kingdom of heaven."
Then, about an hour and a half later on the night of November 20, 2022, Musk gave his full response as to why he refused to let Alex Jones back on Twitter. The Tesla CEO tweeted, "My firstborn child died in my arms. I felt his last heartbeat. I have no mercy for anyone who would use the deaths of children for gain, politics, or fame."
ALEX JONES IS A FAR-RIGHT RADIO SHOW HOST WHO WAS SUSPENDED FROM TWITTER
So, who exactly is Alex Jones? He is a far-right radio show host and one who loves to talk conspiracy. He is the host of The Alex Jones Show and also his website, Infowars. Jones has made a name for himself by pushing "ideas" that many find controversial and it was his horrific take on the 2012 Sandy Hook mass shooting that got him in more hot water.
Some of the things Alex Jones said about the 2012 Sandy Hook shooting were that the incident was a "false flag" operation that was created by gun control advocates as a way to bring about more gun control. He claimed that "no one died" that day, while also claiming that the incident was a "staged" one, it was "manufactured", "synthetic", it was a "giant hoax", and finally it was filled with "completely fake actors".
While these words were horrific, this wasn't the reason why Alex Jones was banned from Twitter. It was back in September 2018 that Twitter announced that Jones was "permanently suspended." They not only suspended his own personal account, but they also removed his Infowars Twitter account as well.
In their judgment ruling, Twitter said Jones was being permanently suspended because of "new reports of Tweets and videos posted yesterday that violate our abusive behavior policy." Their full Twitter announcement said, "Today, we permanently suspended @realalexjones and @infowars from Twitter and Periscope. We took this action based on new reports of Tweets and videos posted yesterday that violate our abusive behavior policy, in addition to the accounts' past violations."
ALEX JONES TWITTER SUSPENSION WAS FOLLOWED BY A $1.4 BILLION LAWSUIT FROM SANDY HOOK FAMILIES
Along with the permanent suspension notice, Twitter also attached a link to "How Twitter handles abusive behavior" to explain how they came to their conclusion. It has now been over four years since his banishment from Twitter and, for now, Elon Musk will not be allowing Alex Jones back. For now.
Ever since Jones decided to come out with his hot take on the Sandy Hook shooting, he has himself been under fire. The families of the 26 Sandy Hook victims, which included 20 children and six adults, sued Jones for defamation and in the end, the courts ruled in favor of the families of the victims and ordered Jones to pay $1.4 billion in total.
Before the judge and jury awarded the families the large amount, Jones had backed off his theory that the Sandy Hook mass murder was staged. He apologized a number of times and for a while, it seemed like he actually was. But in a tense exchange toward the end of his first day of testimony, Jones was questioned by a lawyer of one of the families who lost their child in the shooting.
Jones's response showed that he was done saying sorry. "Is this a struggle session? Are we in China? I've already said I'm sorry, and I'm done saying I'm sorry," was Jones' response. It did not gain any favor from Judge Barbara Bellis.
TWITTER USERS SUPPORTED ELON MUSK KEEPING ALEX JONES OFF TWITTER
Twitter has not been quiet ever since Elon Musk first said "No," then followed it up with his reasoning as to why. Both sides of that decision have been very vocal, offering condolences to Musk for the loss of his first child and his decision not to bring back Alex Jones, to those who are throwing it in his face that while they may understand Musk's reasoning, if he was truly in favor of free speech, then allowing Jones back is a no-brainer.
Here are a few comments from those who appreciate Elon Musk not allowing Alex Jones back on Twitter.
But not everyone was on board with Musk's decision. While some felt for him and the loss of his child, they were also quick to point out one has nothing to do with the other.
So, where do you stand on Elon Musk's claim that he will not reinstate Alex Jones' Twitter account? Is free speech what it is meant to be, or do we need to have someone monitor what they feel free speech should be? Let us know your thoughts.
---