The best electric salt and pepper grinder options come from Williams Sonoma, Gravity, and Jeadiuwe.

Upgrading your kitchen can definitely take things to the next level in terms of prep, and one of those upgrades is an electric salt and pepper grinder. Nothing is better than freshly ground salt and pepper to pull together a dish. Electric salt and pepper grinders are a modern invention that adds a little fun and excitement to a seemingly ordinary task, salting and peppering a dish. An electric grinder is easier and more convenient than a manual grinder. 
Just like a manual grinder, an electric salt and pepper grinder has mechanisms to grind the seasonings and evenly distribute them. The difference is that electric grinders are powered by a battery instead of cranked by hand. The flavor and texture achieved with freshly ground spices and seasonings are far superior to pre-ground variations.
THE ELECTRIC VERSIONS CAN BE WORTH IT IF USED OFTEN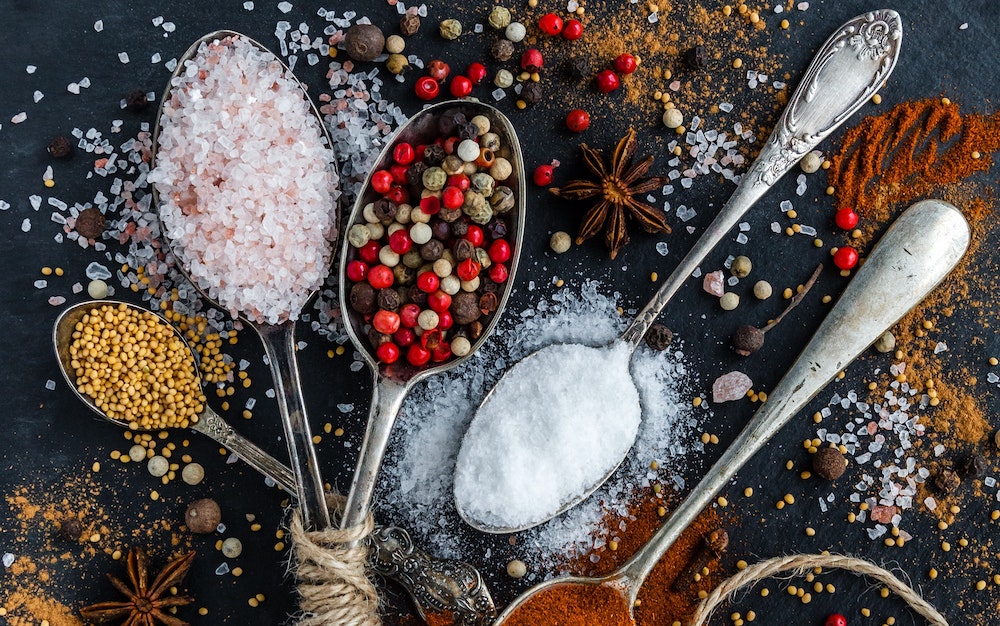 Electric salt and pepper grinders are worth the investment for several reasons. Eating salt in its rawest form means that folks consuming it get the highest nutritional value of minerals possible. In addition, an electric grinder is easy on the joints of the hands, wrists, and fingers.
THERE ARE SLIGHT DIFFERENCES BETWEEN SALT AND PEPPER MILLS
Salt and pepper grinders are also sometimes referred to as mills, and typically, there is a slight variation between a salt mill and a pepper mill.
Often a salt grinder or mill uses mechanisms made from ceramic or nylon materials, which will not rust over time. Pepper mills utilize stainless steel or carbon to crack through the peppercorns easily.
ELECTRIC SALT AND PEPPER GRINDERS CAN RANGE BETWEEN $20 AND $150 DOLLARS
The cost of an electric salt or pepper grinder varies. The gadgets range in price from around $20 to a few hundred dollars. A good middle ground or expected cost for a quality grinder should cost about $50 to $150. Some extremely high-quality mills can cost a little more than $150, but there is something to fit into any budget.
Several brands make excellent quality electric salt and pepper mills, including Cuisinart, Osmo, and Williams Sonoma. Which one is the best all boils down to personal preference.
Some customers might be looking for a specific quality in a mill, like the use of gravity technology, while others might be more concerned with price.
When selecting an electric salt and pepper grinder, it's best to consider one that is easy to load, fast, and consistent. Other things to think about are design, how much spice the grinder holds, warranty, and more.
Check out the list below for some of the market's best electric salt and pepper grinders.
Williams Sonoma Rechargeable Salt and Pepper Grinder Set – $159.95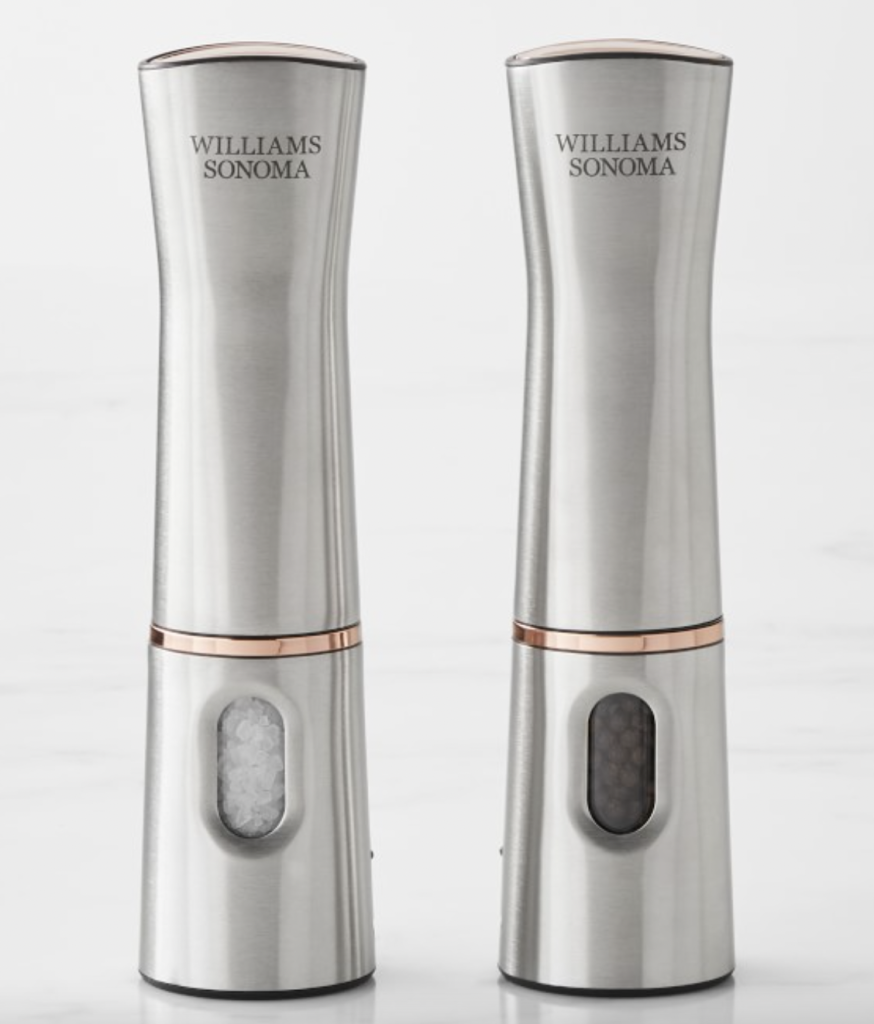 This electric salt and pepper grinder set is exclusive to Williams Sonoma. The beautiful salt and pepper grinder set is expertly crafted with stainless steel and complete with a copper accent. A small acrylic window allows a glimpse inside to be sure which grinder contains salt and which contains pepper. 
This set will last and maintain superior performance, as it is crafted with durable carbon-steel mechanisms. Additionally, the grinder set is equipped with a manual operation to adjust the coarseness from fine coarse. Each battery charge lasts up to a full 40 minutes. 
The Williams Sonoma Rechargeable Salt and Pepper Grinder Set come prefilled with high-quality salt and peppercorns. The grinder is ergonomically designed and intended for one-hand use. Easily dispense the salt or pepper by pressing a button on top of the grinder. 
Jeadiuwe Electric Salt and Pepper Grinder – $45.98
The Jeadiuwe Electric Salt and Pepper Grinder set comes with a stand that also serves as a Type-C charging dock. This multipurpose stand and charging dock all-in-one make charging and storing easy and convenient. This design also means that the grinders are ready to go at any moment. 
This electric salt and pepper grinder set has five adjustment settings for coarseness ranging from extra-fine to extra-coarse. These adjustments are made by turning the bottom portion of the grinder either clockwise or counterclockwise. This allows for the ideal size grind and perfect customization no matter what dish one is preparing. 
The grinder is designed with a sleek and modern aesthetic. This simple, one-handed design allows users to press a button to dispense salt, pepper, or even other seasonings and stop dispensing when the button is released.
Both grinders are black with a peek-a-boo window to know what is stored inside, whether it be salt, pepper, cloves, herbs, or other seasonings.
Amamia Electric Salt and Pepper Grinder – $22.99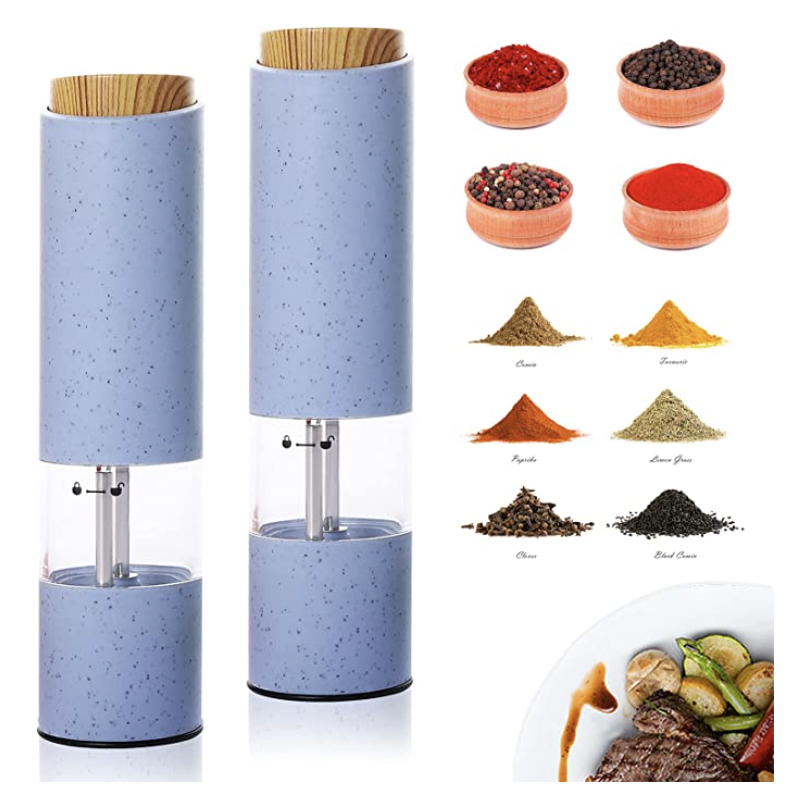 The Amamia Electric Salt and Pepper Grinder set differs from others because of its exterior design. While others on the list are simple in colors, black, white, and steel, the Amamia set stands out with a beautiful color. Who doesn't love a bold pop of color?
This electric salt and pepper grinder operates with the help of six AAA batteries. The grinders are made from an environmentally friendly material called wheat straw and wood. The button on top, which is used to begin the grinding process, is designed to resist wear and tear. 
With a stylish design, an affordable price, and multi-spice use, this electric grinder set is ideal for anyone and every kitchen. The large blade contact surface allows a variety of solid granular herbs to be used with this electric grinding set. Get multiple uses out of this set by filling it with additional seasonings and spices, not just salt and pepper.
Gravity Electric Salt and Pepper Grinder Set – $32.98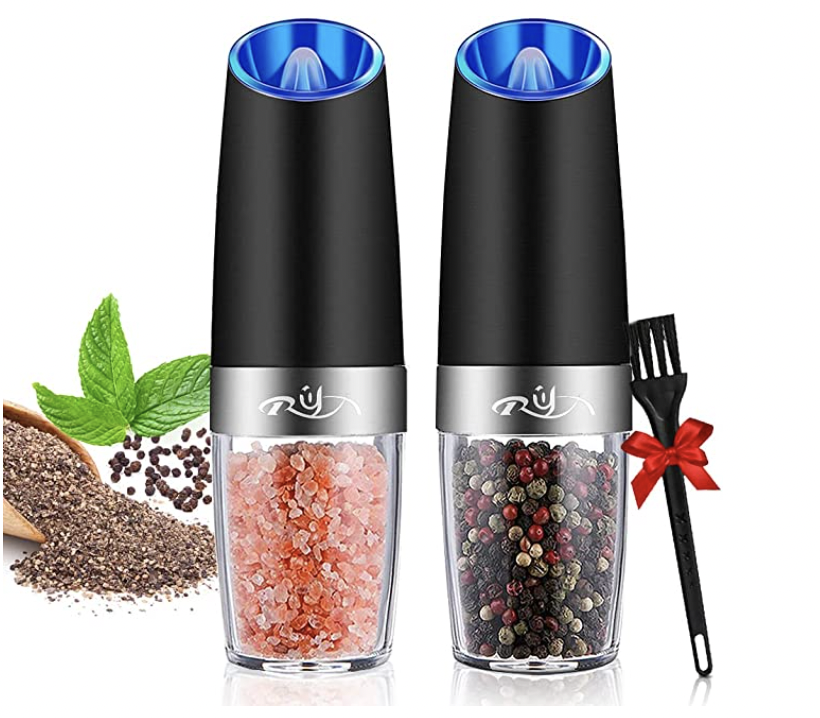 This electric sale and pepper grinder is ideal for anyone suffering from arthritis. The set utilized advanced gravity sensing technology. Users need not even press a button to begin grinding pepper or salt. All that has to be done is to flip the holder, and it will automatically start grinding the salt or pepper and evenly disperse it.
Everyone has turned over a traditional salt shaker and wondered if salt came out or not; that won't happen with the Gravity Electric Salt and Pepper Grinder Set. The grinder set also comes equipped with a blue LED light. This powerful yet gentle light turns on automatically, the same way the grinder does when turned upside down. The LED light also makes it much easier to see exactly where the salt and pepper have landed.
This set is made from high-quality acrylic materials that feel comfortable to the touch. The salt and pepper are sure to stay fresh without the worry of corrosion or oxidation. Cleaning and refilling are a breeze, as this set is made with a large capacity holder. This electric salt and pepper grinder set requires six AAA batteries to operate. 
ONE FINAL ELECTRIC SALT AND PEPPER GRINDER SET TO CONSIDER
Osmo Rechargeable Electric Salt and Pepper Grinder Set – $88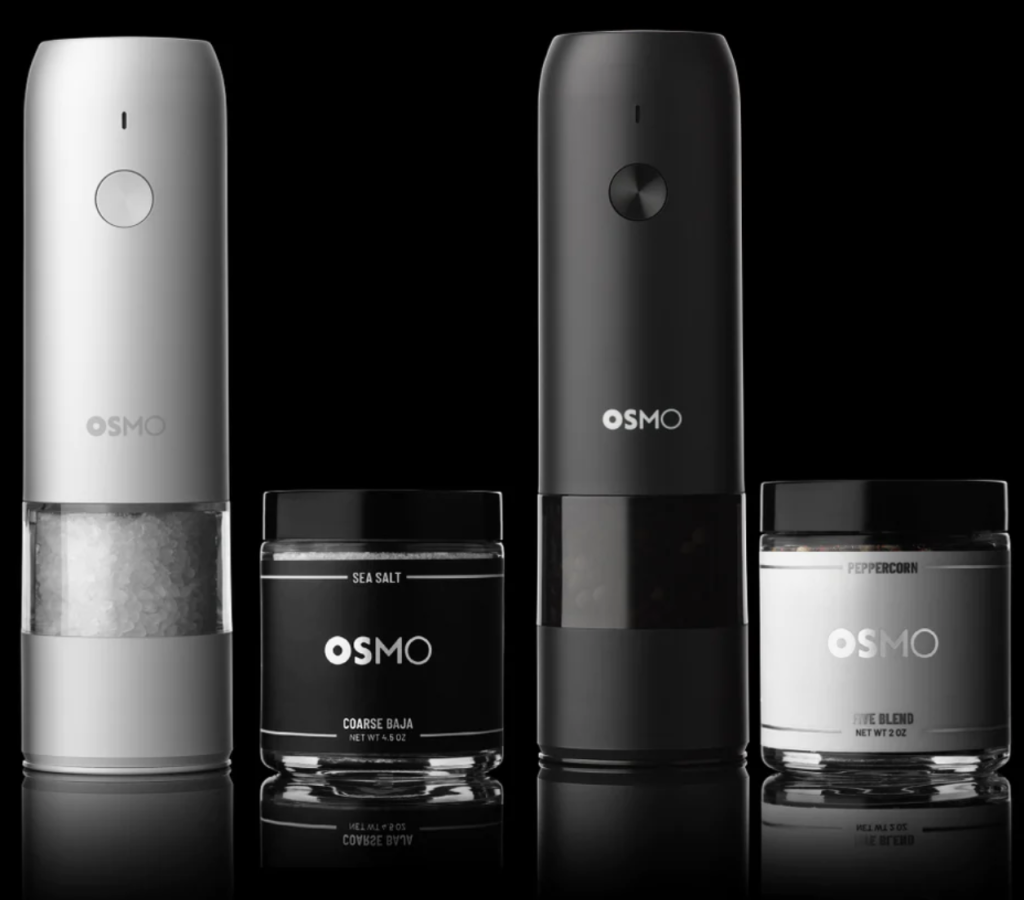 A built-in lithium battery powers this sleek and stylish electric salt and pepper grinder. In addition to coming with the rechargeable battery and chargers, this set comes with a 15-peppercorn blend and Baja sea salt. The Osmo Rechargeable Electric Salt and Pepper Grinder Set comes with two USB chargers for easy and convenient recharging.
Each of the grinders has the capacity to hold one ounce of seasoning. A simple twist can access the cavity in which the salt or pepper goes. When the grinder is filled and ready to use, a button press and release signal the grinder to begin operating. Once in action, a light illuminates the chamber.
Adjusting the coarseness of salt and pepper is also very easy with the Osmo electric salt and pepper grinder. Simply twist the barrel of the grinder to adapt to your preferred coarseness, and then press the button for the perfect salt or pepper grind to be delivered. In true salt and pepper style, one of the grinders is white while the other is black.
---