The Einstein horse is a star on Instagram and has the record for the smallest newborn.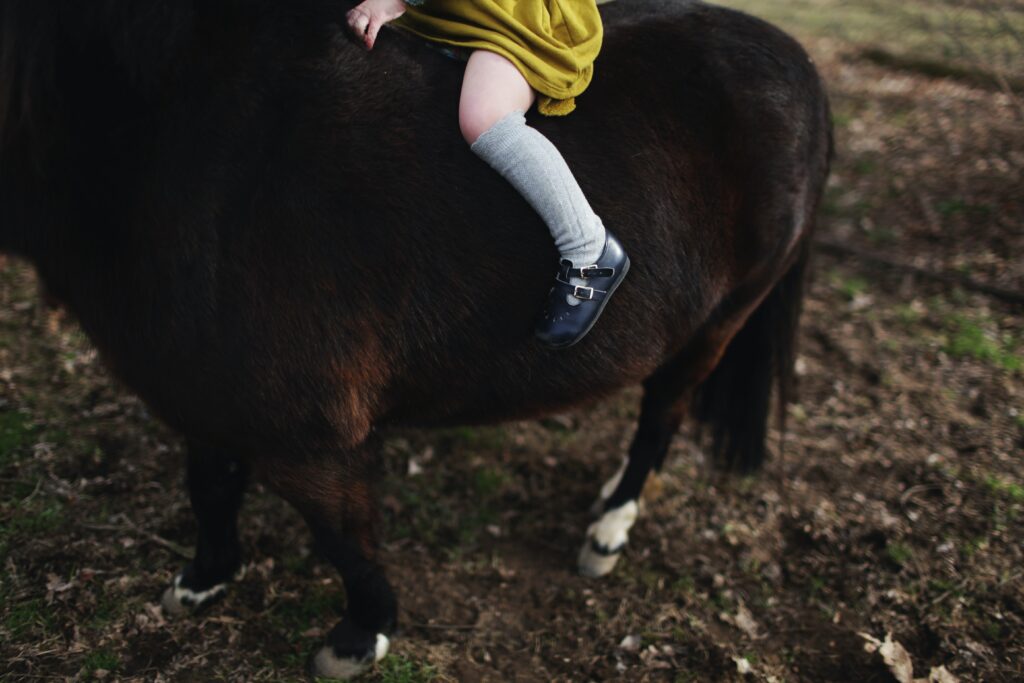 The name is very familiar – Einstein. To many, he is known as the German-born theoretical physicist and scientist who just so happened to be one of the smartest people on the face of the Earth. Today, though, we won't be speaking about that particular Einstein. No, the Einstein we will be talking about is also one that is very popular, but one known for something other than relativity or quantum mechanics. This Einstein is a horse, one considered to be one of the smallest mini horses in the world.
EINSTEIN SET THE RECORD FOR SMALLEST NEWBORN HORSE
It is true, that good things do come in small packages. Take, for instance, this Einstein horse. The horse came into this world on April 22, 2010, to parents whose size hit 32 and 30 inches. He was born on a farm in New Hampshire and caught everyone by surprise when he popped out, weighing six full pounds. When he finally got his wobbly legs under him, he stood a towering 14 inches tall.
Folks, we are talking about a horse here. Yes, a miniature horse, but even those average more than what the Einstein horse was bringing to the table. Einstein set a world record for becoming the smallest newborn horse.
If you are looking for comparisons, a normal horse will average around 5 feet in height and carry around 1,500 pounds on its frame (fully grown, of course). A miniature horse, which is the category this Einstein horse falls into, typically weighs around 250 pounds and stands about half as tall as a normal horse.
It was easy to see right from birth that Einstein was going to be a special, small horse.
EINSTEIN HORSE ISN'T THE RECORD-HOLDER FOR SMALLEST IN THE WORLD
While Einstein held the record for the smallest newborn horse, he does not hold the record for being the smallest horse in the world. Presently, that title goes to Bombel, a Polish miniature horse that stands a whopping 22 inches. Koda is another dwarf miniature horse that resides in Australia and stands 23 inches.
But the smallest horse on record was Thumbelina. The Missouri-born and bred dwarf horse rose to only 17 inches tall and weighed 57 pounds. She stands as the world's smallest horse in the Guinness Book of World Records. Sadly, Thumbelina passed away in 2008.
What makes Einstein appear different from the above-named horses is that they are all considered to be dwarf horses while Einstein horse doesn't have the same body type as a dwarf horse. Most dwarf horses are oddly shaped in that they typically have very small legs and not the long legs you'd see in a regular horse.
"Most of the ones that are really tiny are what we call dwarves and have some sort of dysmorphic features," said Dr. Rachel Wagner. She is the co-owner, along with her husband Charles Cantrell. "This little guy is like all horses — he's almost all leg. He is a very perfect-looking little boy and not dwarfy looking at all."
While this Einstein horse is a perfect-looking little boy now, Wagner and Cantrell were not even sure he'd be around long enough to enjoy life. At two months old, their little boy had some major issues and even the vets didn't think he would survive. Surgery was imminent.
THE EINSTEIN HORSE BARELY SURVIVED AS A FOAL
The Einstein horse was barely two months old when Wagner and Cantrell went out to see him in his pen. When they got there, the small horse was unable to move. "We went out one morning and he wasn't moving. He wasn't getting up," explained Wagner in the Real Wild documentary. When they got him to the vet, it was diagnosed as a severe spinal injury that the vet thought happened from his mother falling on top of him.
"We were told the chance of him surviving would be about akin to capturing lightning in a bottle," said Cantrell. "It was almost impossible and we were highly urged to put Einstein down."
Both Wagner and Cantrell decided then that no matter what the cost, they simply had to save Einstein. This is where Einstein hit the record book as being the first and only horse to undergo spinal cord surgery by a canine specialist neurosurgeon. The small horse went through six hours of surgery in which the specialist inserted five metal screws into his small frame.
Wanger and Cantrell knew they had a special horse but didn't know he had such a fighting spirit. Einstein horse stayed in intensive care for two full months before he was brought home. He was in a body cast during his intensive care.
Because he couldn't eat properly, his mother had to be milked and the tiny horse had to be fed through a tube in his nose. His recovery was amazing — eight weeks after he was fully upright again, he appeared on the Oprah Winfrey Show.
EINSTEIN IS ON INSTAGRAM
There is no doubt that when Einstein horse was born, he was an immediate attraction. "The breeder's daughter had taken a picture of him and sent the photo to the local newspaper and the photo made it around the world," explained Cantrell. "So, within 48 hours of his birth, we had satellite trucks, AP [Associated Press], all the major photographers and TV networks there."
"We had four thousand people lined up in the freezing cold rain," added Wagner, claiming she was very protective of their little boy and that she was very leery of having so many people around him wanting to get pictures of the small horse. Eventually, though, they both understood they had a "rock star" in the family and that they would have to share his experiences with the world. Enter social media.
To be a rock star, you have to live the rock star's life and with that, it was all about being on social media. So, with the help of Wagner and Cantrell, Einstein began to make his presence known. Not only does he showcase his talents on his YouTube Channel (Einstein Minihorse), but he also has a big presence on Facebook, Twitter, and Instagram.
EINSTEIN HORSE HAS BOOKS WRITTEN ABOUT HIM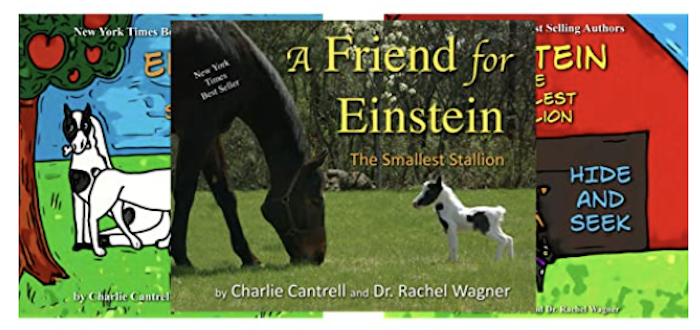 Social media is not the only way Einstein's adventures are being presented. He is also the main character in a trio of books. The first one is called Einstein the Smallest Stallion: Hide and Seek. The second book is called Einstein the Smallest Stallion: Fun on the Farm and the third book is titled A Friend for Einstein: The Smallest Stallion. All three books were written by Charles Cantrell and Dr. Rachel Wagner and can be found on Amazon.
THERE IS ANOTHER EINSTEIN HORSE
Okay, let's try to clear up some confusion here. Yes, there is the master of relativity Einstein. You just learned a bit about the record-setting mini, but there is one more Einstein we need to mention. This one actually is a racehorse and there has been some confusion between it and our favorite small horse.
The "Big" Einstein horse was a racehorse of great quality. He made his very first American horseracing debut at Florida's Gulfstream Park in 2006. There he was victorious in the first of his two Gulfstream Park handicaps. "Big" Einstein went on to win races on three different types of racetrack surfaces, not an easy feat to accomplish.
He first won the Turf Classic Stakes on turf, then took the winner's spot with a victory at the Clark Handicap on Churchill Down's dirt track, and finally, he got his third victory with a win at the Santa Anita Handicap in California (the state's richest race) on Pro-Ride synthetic dirt.
"Big" Einstein ended up having a wonderful career. During the four years in which he raced, he was at the starting gate for 30 races. Of those 30, "Big" Einstein finished first 11 times. His worst showing was an 11th place finish in the second to last race of his career and he only had a DNF (did not finish) one time. He has career earnings of nearly $3 million.
After "Big" Einstein retired in 2009, he was put out to stud for a fee of $7,500. Sadly, "Big" Einstein was euthanized in October 2020 due to complications from cancer. He was 18.
EINSTEIN LIVES IN NEW HAMPSHIRE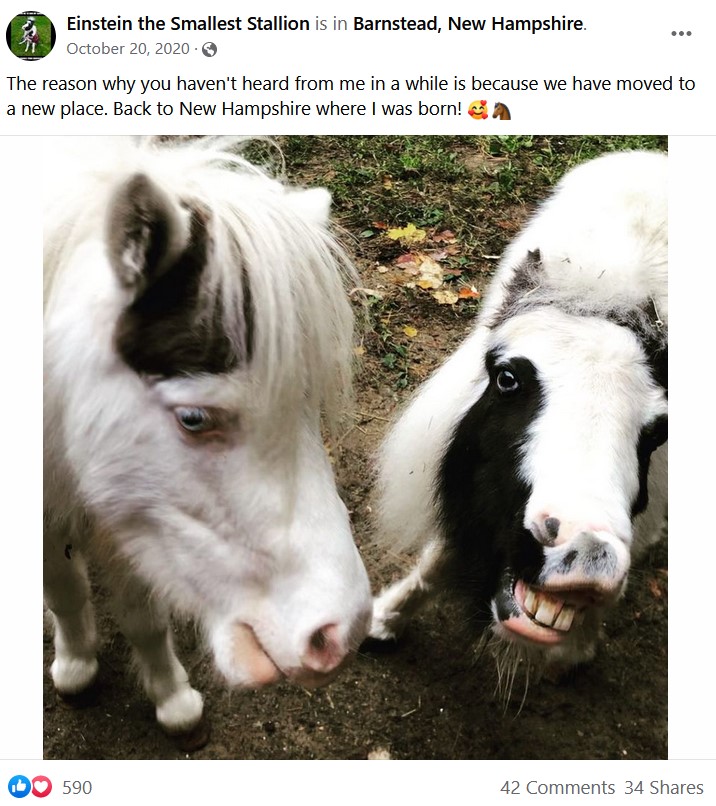 The now 12-year-old Einstein horse has finally returned to his home in Barnstead, New Hampshire. After spending most of his life on a farm in Washington, Wagner and Cantrell thought it was time to take Einstein horse back to his roots.
Einstein, in his small stature, continues to thrive. He is enjoying life on the farm with all his friends including Wagner and Cantrell. The average lifespan of a miniature horse is anywhere between 25-35 years, so the world just might be blessed with Einstein for many years to come. We can sure hope so.
---