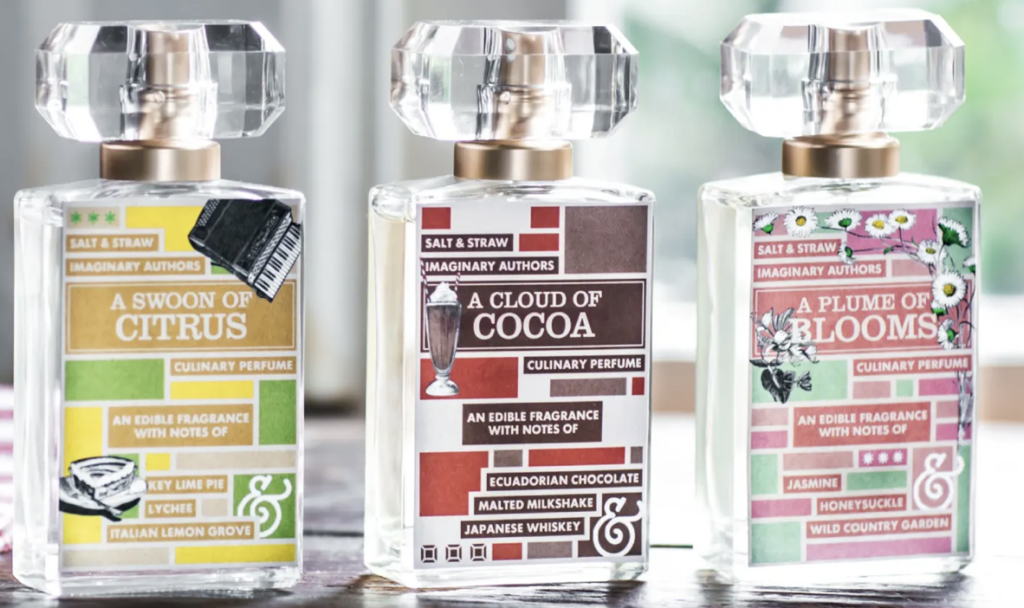 Ice cream comes in all kinds of bold flavors. But what about adding flavor to your already-made icy treat? Portland ice cream brand Salt & Straw designed an edible perfume that you can spritz on your desert for a new eating escapade. The ice cream perfume will engage your nose in the desert experience, with three different scents that'll change the ice cream's smell. After four years, Salt & Straw are releasing their newest product with the help of perfumery Imaginary Authors.
The first of three ice cream perfumes was released on National Ice Cream Day, June 22nd. The perfume will be available in all Salt & Straw Portland ice cream shops and can be ordered online as well. The Portland creamery and Imaginary Authors paired up previously for an edible scent. The limited-edition perfume was waffle-cone scented and helped bring out the pastry notes of the classic ice cream vessel. Salt & Straw didn't think it would have such a positive response, but customers reacted highly favorably to the edible creation. Due to consumer excitement, the two companies have paired up again for three more scents soon available.
The creamery and perfumery joined forces to release the "the Neapolitan ice cream" of smells, which would be three distinct but complementary scents. The ice cream perfumes are interpretations of citrus, floral, and chocolate. Those different categories led the way for Salt & Straw's new products, with the first scent already on the market. The three ice cream perfumes take those original concepts to unexplored heights with A Cloud of Cocoa, A Plume of Blumes, and A Swoon of Citrus. The first is a rich chocolatey scent, while the latter two are more unique. A Plume of Blumes has honeysuckle and jasmine notes, while A Swoon of Citrus incorporates herbal scents and citrus.
Now that Salt & Straw's ice cream perfumes are unveiled, how exactly does one consume the product? Tyler Malek, one of the founders of the Portland creamery, said that the best way to enjoy this treat is to make a "dome of aroma" that encapsulates the milky desert. Malek stated that you should spray the bowl or cone first, then swirl it around the ice cream. After that, you can sit back and take in the combination of smells before devouring your dessert. Malek recommends starting with the chocolate scent since it's one of the most familiar smells out of the three products.
The founders of Salt & Straw want you to do more with the ice cream perfumes than spray them atop desserts. Apparently, you can wear these aromas like a regular perfume. So not only are they edible, but they are durable and long-lasting too. If you ever run out of your classic cologne or scent, you can pick up an edible one to do the trick.
All three ice cream perfumes will be available online at the Salt & Straw website. The largest-sized bottle, 65 mL, goes for $65, while the trio of scents with 10 mL bottles will retail at $48. If you want to taste-test the product before buying a whole case, brick-and-mortar shops will have perfume spritzes for 50 cents each.