Delta-8 Products from Area 52 are a line of hemp extracts with a number of different options and products
As the cannabis industry continues to bloom here in the United States, so do its products. Right now we have 19 states where you can legally purchase cannabis for whatever ails you with a number of other states ready to jump on the cannabis bandwagon. In the states where you don't have to worry about supply chain issues and can legally purchase it, Delta-8 products from Area 52 are becoming very popular.
Let's take a look at what they are and one website that is making them available.
DELTA-8 PRODUCTS FROM AREA 52 INCLUDE HONEY, PRE-ROLLS, AND GUMMIES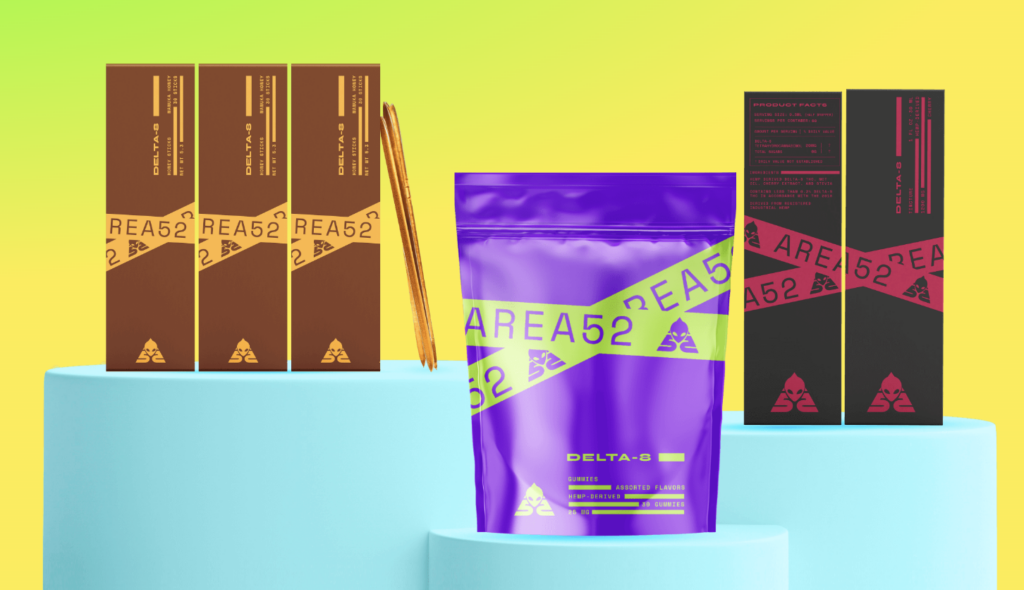 One site that is pushing out the Delta-8 products is called Area 52. The company is very well-respected and an established leader in the hemp industry. Although they are an online vendor, they call Huntington Beach, California as their headquarters. With each Delta-8 product listed on their website, Area 52 offers a "suggested use" as well as product warnings and what the ingredients are with each product.
Delta-8 Honey – These are Delta-8-infused manuka honey sticks. Each product case carries 5 sticks that provide users with 15 mg of pure Delta-8 per stick. You can get them for a one-time purchase of $75 per case or a monthly subscription of $64.
Delta-8 Pre-Rolls (Forbidden Fruit flavor) – Area 52's pre-rolls contain a little bit over 1 gm of its premium hemp flower to go along with 80 mg of Delta-8. With these, you can enjoy the benefits you'd get with raw hemp. You can get these for a one-time purchase of $89 per pack or a monthly subscription of $76.
Delta-8 Pre-Rolls (Strawberry Cough flavor) – See Forbidden Fruit description and pricing as they are the same.
Delta-8 Pre-Rolls (Super Sour Diesel flavor) – See Forbidden Fruit description and pricing as they are the same.
Delta-8 Pre-Rolls (Tropicana Cookies flavor) – See Forbidden Fruit description and pricing as they are the same.
Delta-8 Gummies – If you are looking for a nice, long-lasting, and sweet Delta-8 product kick, then these are the gummies for you. Not only are they vegan, but they are non-GMO, low in sugar, and gluten-free. Talk about a health "kick." As a product, the Delta-8 Gummies are one of the most popular products and come in three flavors – pineapple, green apple, and strawberry. Word of warning: these gummies are very strong. In fact, it is recommended that you first try the product following the company's suggested serving size of ½ gummy. A one-time, one-bag purchase will cost you $69 and if you choose to opt for the monthly subscription, you will pay $59.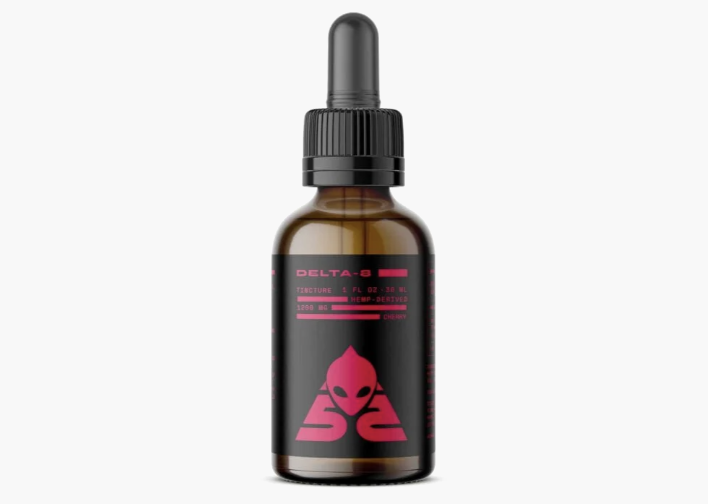 Delta-8 Tincture – So, what exactly is a tincture when it comes to Delta-8 products? Well, a tincture is more or less a cannabis extract. This means it is a liquid that is infused with cannabis, that is designed for sublingual (under the tongue) consumption.
It appears in a small bottle with a dropper to do its job. On the Area 52 site, the Delta-8 tincture comes in two flavors – cherry and vanilla. A one-time purchase is going to set you back $109 and if you care to go the monthly subscription route, your price will drop to $93 per month.
Delta-8 Vapes – The Delta-8 vape cartridges contain 1 mL of pure Delta-8 THC hemp extract. Area 52 blends this with terpenes for a great taste. Each cartridge contains around 900 mg of Delta-8 THC. You can get these for $65 a pack and they come in pineapple express, granddaddy purple, or berry gelato flavors.
DELTA-8 FROM AREA 52 VS DELTA-9
With all this talk about Delta-8 products, we are assuming that you know just what Delta-8 is all about. For the uninformed or those who are new to THC products, let's see if we can fill you in on Delta-8, its effects, and how it differs from Delta-9.
When you compare Delta-8 and Delta-9, you will see that they are built with the same elements (carbon, hydrogen, and oxygen). The slight difference with these elements is how they are arranged. While they have those similarities, they do have a number of differences.
Where they find themselves different is in just how potent they are. With Delta-8 products, it is estimated that they are anywhere from one-quarter to one-third less potent that Delta-9 products.
Another big difference between the two is that Delta-9 THC can either be smoked or vaporized without having to be extracted. Delta-8, on the other hand, needs to be extracted, synthesized, and purified from its cannabis-sourced CBD.
AREA 52 HISTORY
Area 52 is actually a recent business venture for founder and CEO Adam Wathen. It was founded in 2020 as cannabis sales were starting to climb. Although Area 52 has only been around for two short years, with Wathen's leadership, it has already established itself as one of the more dependable brands on the market. There is a successful marketing strategy, a strong brand image, and, most importantly, high-quality products.
It has been Wathen and the company's strict attention to detail that has given them their good name. Area 52 has extremely high-quality control standards that continue to bring back customers while also ushering in the new.
Area 52's philosophy is one that gives full support to psychoactive compounds as they promote extensively "higher-dimensional thinking." The support, though, revolves around the use of these compounds for self-exploration, creative use, and the vast mind-opening experiences one can have with their products.
AREA 52 HAS BEEN A BIT SLOW IN PRODUCTION
When it comes to anything negative to say about Area 52 and their Delta-8 products, it usually comes down to this. They are slow in production. Demand is beginning to outpace production to the point where some products are out of stock, and it usually is days (and sometimes weeks) for Area 52 to restock.
---
Whether you're new to the game or a wily old vet who knows their way around the cannabis block, Area 52 appears to be a solid place to get your Delta-8 products. They have a nice selection of products that include gummies, tinctures, vapes, honey sticks, and pre-rolls. Although they may be a bit more "mellow" with the restocking of their product, Area 52 and their Delta-8 products appear to be worth the wait.