Let's get into the much-talked topic Cyclop Pool Balls vs Aramith in this post. We will first introduce both brands and then compare both brands' pool balls side by side. The idea is to help you out in taking a decision for your next pool balls set.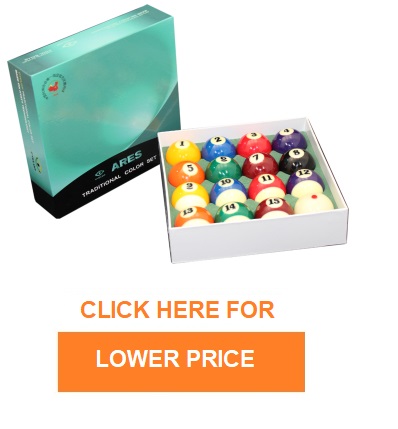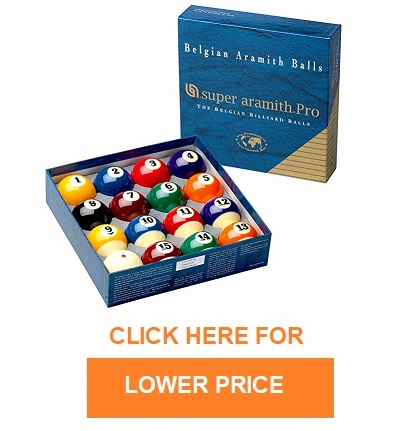 Aramith Pool Balls
Aramith, made by Saluc in Belgium has enjoyed international attention and acclaim over the years. It has been the desired brand of renowned players. The reason for this legendary reputation has been majorly due to its exceptional durability and uncompromising quality offering the players the pleasure of razor-sharp precision. It compromises of a high-tech process that combines the unmatched characteristics of phenolic resin with fine Belgian craftsmanship. Aramith balls prove to be a good investment for the players as they last for a long time saving the wear and tear cost of the table cloth and also the replacement of the kit.
Features of Aramith
Heavy duty design
Aramith has the numbers precision engraved in a hard core that runs all the way through the ball. However, in some cases, it is evident that number cores wear out over the passage of time but with Aramith, it is almost impossible for number cores to fall out over time. Aramith is made of Phenolic resin which assures homogeneous characteristics in each ball part which makes the balls having uniform weight and hardness.
Burn-spot resistant
Hitting a cue ball actually accelerates it from 0 to over 30 km/h (20 MPH) in just a fraction of a second. The resulting friction temperature between ball and cloth can easily reach 250°c (482°F). Aramith's molecular structure is designed to be wear and tear resistant at high temperatures, making Aramith balls far less exposed to rough burn-spots. This is the reason the quality stays firm over the passage of time resulting is less wear and tear of the balls and table cloth.
High Impact resistance
The notion of the billiard game is to hit the ball and follow the arrangements of the balls. Therefore, impact resistance is a critical factor. Aramith's phenolic heat-curing process fully steadies material tensions. It produces a vitrified high-density surface that offers supreme impact resistance. Results show Aramith phenolic balls to survive to over 50 times more impacts than other polymer or polyester balls. They are also twice more likely to resist scratches. Subsequently, Aramith balls prove to be more durable even on less maintained tables and last longer than other balls guaranteeing the high resistance.
Let's get into the second part of the  Cyclop Pool Balls vs Aramith post.
Cyclop Pool Balls
Recently, a Taiwanese company has taken over a role and emerged in the industry after releasing another high grade Phonelic resin ball set – Cyclop. It is designed in house with the manufacturing material imported from Germany and Japan.
Features of Cyclop
High elasticity and reaction
The balls have an instant reaction to the pool stick which is due to the flexible elasticity. The balls also have high sensitivity as they are sensitive to react on the strikes. This is also the reason that the tail speed of the ball after hitting is high.
High Internal molecular density
The internal molecular density is high which improves the quality of the ball enabling it to react accurately to the strikes and making the game interesting and enjoyable for the players.
Aramith Vs Cyclop Balls
Both balls are made from Phonelic resin, a super hard material that is widely acknowledged as the optimum material for making billiards balls. Aramith and Cyclop are the only manufacturers till date which have been able to produce balls using Phonelic resin.
Over the years, both Aramith and Cyclop have been considered to have superior quality in the industry. However, there are few observations made by the players regarding the similarities and few differences among the both. Let's address them as below.
Resistance to Dirt
Cyclop balls are witnessed as more resistant to dirt. Whereas Aramith balls require frequent cleaning and removing of the dirt to preserve the desired quality of the performance. The Cyclop balls have been engineered to resist dirt and chalk clinging to the ball surface and are more convenient to clean when required. Therefore, the table owners who are relentless to clean would prefer Cyclop balls over Aramith.
Price
Cyclop balls are cheaper than Aramith. Cyclop balls. They are made with American technology (they were developed in part alongside Diamond Tables in America), Taiwanese management and Chinese labor. This brings their price point down well below the Aramith balls made in Belgium.
Cosmetic design
Cyclop balls are brighter than Aramith. New colors are featured in Cyclop balls breaking the monotony of playing with the same colors for the enthusiasts. New colors, however, are getting mixed responses by the players. Some of the players consider them good as they are better matched to blue cloth and easier on the eye. Nonetheless, some of the players are resistant to change and are also of the view that new colors are adding confusion in their game and they would prefer to play with the old colors. Mixed responses are also observed regarding the cue ball. Therefore, the players who want to try a new experience would prefer Cyclop over Aramith and vice versa.
Ball Skidding
Cyclop balls are observed to skid more than Aramith which makes the playing experience more enjoyable for the player. This can also be attributed to its resistant to dirt characteristic.
Weight
Cyclop weigh slightly heavier than Aramith. The difference is very minor though can only be stated as 1% heavier than Aramith. Draw can be noticed to come up short or follow run a little long with Cyclop in comparison to Aramith.
Cue Ball
Cyclop has a faintly semi-transparent layer around the ball, and on the cue ball this can freak people out a little, visually. It looks like the red mark / logo is somehow floating on the surface or slightly underneath the surface. However, if the standard measles cue ball is preferred then Aramith should be opted for.
Conclusion:  Cyclop Pool Balls vs Aramith
Aramith and Cyclop both have superior quality. To pick one among the two entirely depends on personal preferences; players who are willing to pay a higher price would opt for Aramith. However, those who want to play with brighter colors would prefer Cyclop over Aramith. Also apparently, players who are resistant to clean the balls on a regular basis would prefer Cyclop which are resistant to dirt and skid more. However, if you choose to play at home Aramiths being the industry leader are pretty common and would be found in almost every pool room you go to play. Whereas, Cyclop are not that common and you would require a bit adjustment when switching form  home to the local pool room.
Based on your preferences from the above, Aramith is a clear winner to me. Nevertheless, Cyclop or Aramith whichever you opt for it will not result in any disappointment as both have superior quality and will give you a pleasurable experience of the game. If you are planning to go for Aramith, we have reviewed their pool balls variants on separate posts.