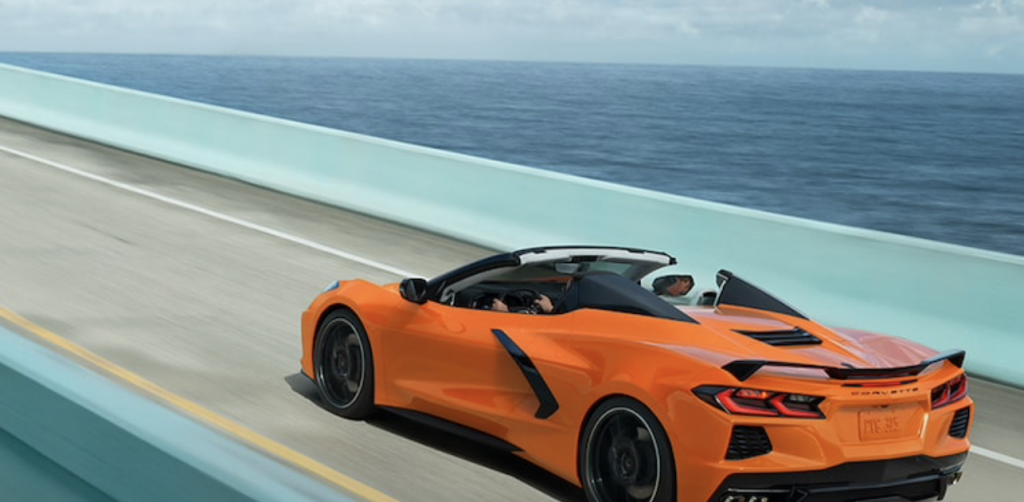 Car manufacturers all over the world are deciding to release more electric vehicles. Some of the most impressive vehicles are transitioning to electric battery models, and Corvette is no different. General Motors recently announced that an electric Corvette would soon be on the market. GM President Mark Reuss made the announcement public through a LinkedIn post on Monday.
Though there's no exact release date for the electric Corvette, Ruess teased that the vehicle could come out as "early as next year." That's an incredibly short turnaround time to manufacture and distribute a new clean-energy model. The LinkedIn post also came with a video on GM's Twitter account showcasing the hybrid vehicle. One of the most exciting features of the video is the close-up of the Corvette's front wheels rotating in motion. The notable vehicle has historically only had rear-wheel drive, possibly insinuating that the electric Corvette will have all-wheel drive.
Though many known, standard vehicles are getting an electric transformation, the greener energy component may not be as green as advertised. Electrifying a car is an automotive industry term that covers a range of cars, from hybrid to fully-electric ones. Most people in the industry believe that the electric Corvette won't have a completely electric engine, but will operate more like a hybrid vehicle.
General Motors is not the first company to transform a popular vehicle into an electric one. Four-door sedans and SUVs have recently been transformed into an electric version, as well as Volkswagens and Ford's popular Mustangs. The automotive industry is more interested in embracing electric batteries because there's more demand for cars that include them. General Motors is following suit with the greener luxury vehicle trend by unveiling the electric Corvette. Other companies like Lamborghini are more averse to switching out their gasoline-powered engines, concerned that their sports cars won't run adequately as fully electric vehicles.
The Corvette is currently available in one specific model. The Corvette Stingray, a mid-engine sports car, has a 6.2 liter V8 engine with 495 horsepower. The generation before the Corvette Stingray had an engine that produced 755 horsepower. Statistics about the electric Corvette haven't been unveiled yet, but fans are hoping that the car will have a similar range and power to its predecessors. General Motors engineers have recently attached the engine to the back of the vehicle, which helps the sportscar efficiently accelerate and maintain speed. This decision could mean that the electric Corvette will run just as smoothly as their gasoline-powered counterparts.
Going hybrid instead of fully electric might help the electric Corvette continue the brand's reputation of speediness. Since electric battery engines generate more power faster, speeding up or starting a hybrid car is more efficient than one that solely runs on gas. Ferrari corroborates this claim since its fastest vehicles to date are all hybrid models.
General Motors has steadily released new electric and hybrid vehicles to meet the accelerating demand for EVs. As more government proposals are being made to restrict companies' carbon emissions, many manufacturers are quickly transitioning to making electric models. The electric Corvette is one of a handful of luxury cars getting a green-energy transformation this decade.