A man fell off a Carnival Cruise ship but was able to stay alive and afloat for more than 15 hours in the Gulf of Mexico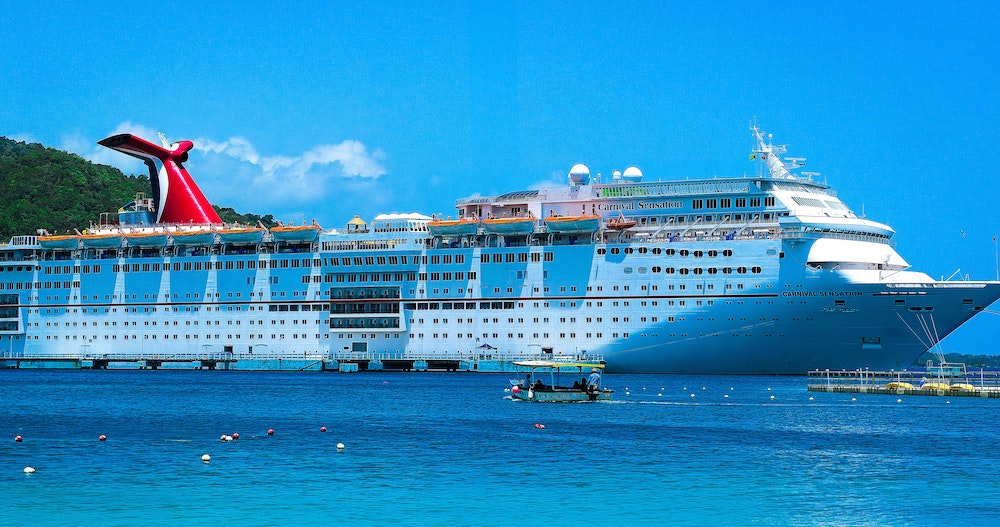 Carnival cruise ships are known for being the "fun ships" in the world of cruising. But for one passenger, the fun came to a sudden halt when he fell overboard recently. The passenger, identified only as a 28-year-old man, fell off the Carnival Valor a few hours after it left the Port of New Orleans on Thanksgiving Eve.
The details of his plunge into the Gulf of Mexico are somewhat unclear. However, the length of time he survived in the water stunned United States Coast Guard (USCG) officials. In fact, they and Carnival Cruise line are calling him a "Thanksgiving miracle."
The passenger was traveling with his sister. The duo chose to launch their Carnival cruise as many travelers do—by visiting an onboard bar. Around 11 p.m., the man told his sister he was going to the restroom, but he never returned.
Concerned, his sister began looking for him. He wasn't in his stateroom or anywhere else she could think of. Perhaps it was due to her own intoxication, or an assumption that he had met someone and gone to their stateroom instead, but she didn't report her brother missing until noon on Thanksgiving Day.
Other Carnival cruise passengers on Valor began to hear announcements asking the missing man to check in with guest services. Carnival security officials began searching the ship, using a photo of the missing passenger on their phones. Carnival cruise spokesperson Matt Lupoli told CNN that around 2 p.m. Thursday, the ship requested a final check-in.
Passengers were told that their arrival in Cozumel, Mexico would be delayed. But Carnival cruise officials didn't provide an announcement about what was happening. Instead, the ship turned around.
"Carnival Valor retraced its route to support the search and rescue," Lupoli explained. Around 2:30 pm. Carnival cruise officials called the Coast Guard. USCG Lt. Phillip VanderWeit said in a statement that soon, a multi-crew, air-and-sea search for the missing cruise passenger was underway. USCG search and rescue coordinator Lt. Seth Gross said that an alert was sent to all mariners in the gulf as they "launched all available resources" to find the missing man.
"We knew that communication with the mariners in the Gulf of Mexico was going to be critical," Gross said because so much time had passed between when the man went missing from the Carnival cruise ship and when the Coast Guard was alerted. A New Orleans-based helicopter, a small boat from Venice, Florida, and airplanes from Clearwater, Florida and Mobile, Alabama were included in the search team.
The search area encompassed more than 200 miles, Gross said. He noted that the water temperature in the gulf was around 70 degrees F that night. According to this hypothermia table, a person could expect to reach the point of exhaustion or unconsciousness after two to 12 hours of trying to stay afloat.
Around 8:25 p.m., crew aboard the bulk carrier CRINIS spotted something about 20 miles south of Southwest Pass, Louisiana. It was the missing Carnival cruise passenger, waving his hands, his head disappearing every few seconds beneath the ocean swells. A Coast Guard MH-60 Jayhawk helicopter soon arrived and hoisted the man out of the water.
USCG officials were surprised that he was responsive and able to identify himself after being in the water for possibly more than 15 hours. "He was showing signs of hypothermia, shock, dehydration," said Gross, but he could walk and communicate. "He gave no really, no clear indication of why he fell overboard or what time specifically," he added.
The man was transferred to a New Orleans hospital where he was said to be in stable condition. Carnival cruise officials notified the Valor's passengers that a man-overboard incident had occurred and it resumed its journey to Cozumel. As for Lt. Gross and his fellow USCG members, they marveled over how the situation didn't have a tragic ending.
"The fact that he was able to keep himself afloat and above the surface of the water for such an extended period of time, it's just something you can't take for granted and certainly something that'll stick with me forever," Gross said. "…This case is unlike anything I've been a part of… just one of those Thanksgiving miracles."
---