Buffalo Wild Wings is adding a new food item to its menu that no one saw coming.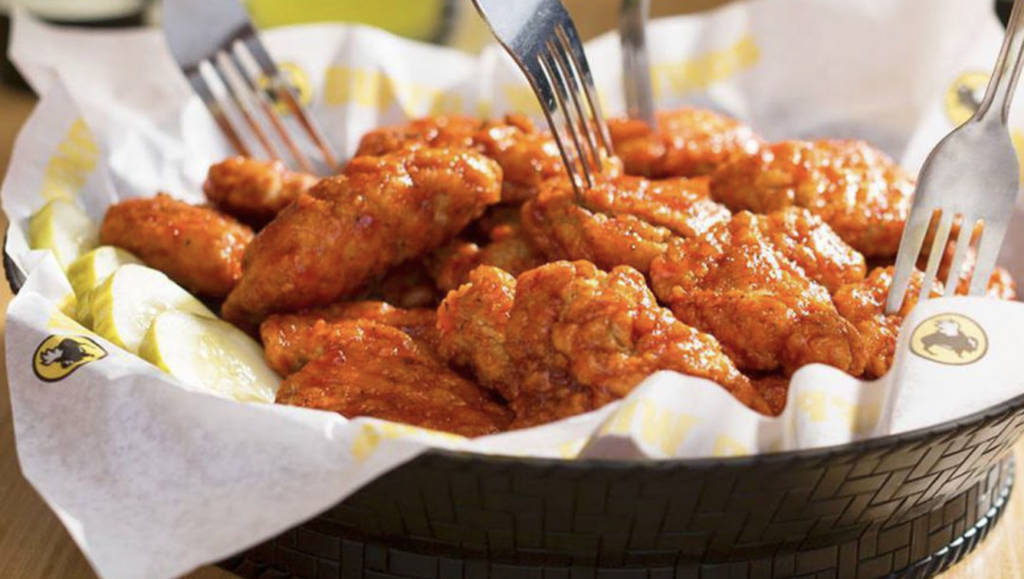 Buffalo Wild Wings is well-known for its wall-to-wall television screens, offering the perfect game day atmosphere. Thanks to easing viewing for all the best games, a great beer selection, and delicious food, the restaurant is a regular haunt for sports fans. And now, with news of brand new menu items hitting just in time for football season, they're likely to draw an even bigger crowd.
Most people are familiar with the core menu item at Buffalo Wild Wings. After all, it's front and center in their name. They offer an unmatched selection of sauces to pair with your beloved chicken wings. But the restaurant is facing increasing competition in the hot wing market. Many other local and national chains are popping up and drawing some of the Buffalo Wild Wings customer base away.
So to regain its competitive edge, the company has started occasionally revamping its menu. It appears to be having an impact. Recently, the news came out that after struggling for years, Buffalo Wild Wings was finally showing a financial improvement.
With the latest menu update, Buffalo Wild Wings introduced a phenomenal and innovative cross between hot wings and pizza. It really doesn't get much better than that, especially for sports fans. Now, you can enjoy your beer, pizza, and wings all in one meal.
There are two pizza options available at Buffalo Wild Wings beginning this week – Buffalo Boneless Bar Pizza and Honey BBQ Boneless Bar Pizza. Both start with a pizza crust as the base, topped with boneless chicken wings. The similarities stop there.
The Buffalo Boneless Bar Pizza at Buffalo Wild Wings is reminiscent of classic hot wings. It comes complete with ranch dressing, blue cheese crumbles, and medium-spiced buffalo sauce drizzled on top. And melted mozzarella cheese graces the whole thing. The only thing missing is the veggies on the side. But who eats those anyway?
Those looking for something new and unique can choose the Honey BBQ Boneless Bar Pizza. The great minds at Buffalo Wild Wings behind this pizza coated the wings in a sweeter honey sauce, then added bacon crumbles, two different kinds of cheese, and pickled hot peppers. If you're not super into spice, you can always pick the peppers off and gift them to a friend.
Both pizzas are priced at a reasonable $9.99, making game night a little more affordable. Buffalo Wild Wings hopes these new pizzas will help them tap into a new market. Those individuals who are more budget conscious, but still want to enjoy the game with friends and good food, will likely enjoy such a great deal.
The addition of pizza to the menu comes on the heels of another innovative meal. Recently, Buffalo Wild Wings added what they call Bird Dawgs to the menu. The Bird Dawgs are a twist on hot dogs, featuring chicken tenders smothered in delicious sauces.
If you're salivating over the news, but have yet to visit a Buffalo Wild Wings, head on over to your local restaurant. The chain boasts over 1,200 locations nationwide. So chances are, you've got one nearby. And if not – those pizzas may very well be worth a road trip.
---