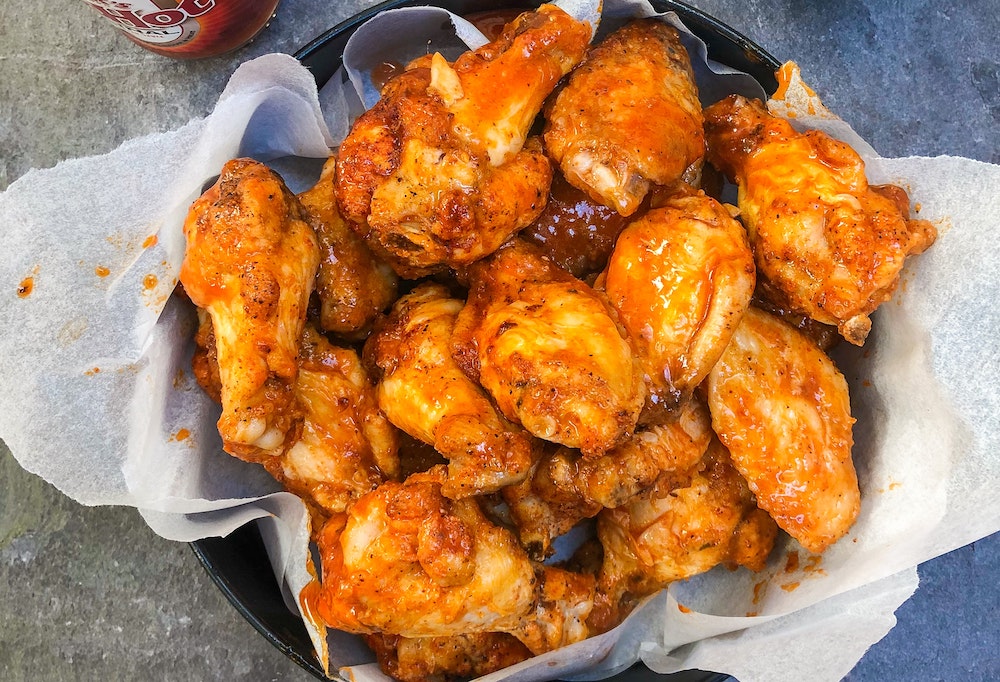 While inflation is causing the cost of most products to spike, there has been a significant drop in chicken wing prices. The revelation was made by aviation-themed restaurant Wingstop which released a surprising earnings report three months ago, saying it was experiencing deflation in bone-in chicken wing costs. The eatery reiterated the trend with its latest results last week, as its stock rallied 20% on the news. "We are benefiting from meaningful deflation in bone-in wings," CEO Michael Skipworth said via CNBC.
Chicken wings were a popular menu item during the early days of the global pandemic. Confined to their homes, people ordered comfort food as the tasty treat served as a great restaurant substitution. The higher demand ushered in a pattern as the pandemic drew on which was a shift toward shortages and higher costs. But chicken wings seem to have escaped the trend. At a time when folks may have forgotten what deflation is, Wingstop explained that bone-in chicken wing prices dropped 19% year-over-year in the latest quarter.
The company's latest results show that the lower chicken wing prices helped Wingstop to beat earnings estimates, despite a revenue hiccup. The popular food chain said its total revenue climbed 13.2% to $83.8 million during the three months ending on June 25th. System-wide sales increased 7.5% to $633.6 million during the same period. Profit rose 17.6% to $13.3 million, or 44 cents per diluted share, from $11.3 million, or 38 cents, in the prior year's quarter, Fox Business reports. But the Texas-based food outlet isn't alone. Fast-casual chain Noodles & Co. said they have seen chicken prices decline substantially from record highs.
While this is good news overall, here's where it gets a little odd. Last week, the U.S. Department of Agriculture raised its wholesale poultry price estimate to a gain of 26% to 29% this year from a prior forecast of up 20% to 23%. The forecast suggests chicken wing prices may be poised to rise during the second half of the year. Fortunately, the country's biggest poultry producer Pilgrim's Pride provided details about forecasted inventories and prices during its second-quarter earnings report at the close of trading last Wednesday (July 27th).
Interestingly, the cost varies drastically depending on which part of a chicken is being purchased. For example, chicken breast inventories are down 7% year over year while dark meat inventories are 15% below the five-year June average. However, chicken wing supplies are substantially higher. They grew in the latest quarter and are now 31% above the five-year June average, according to CNBC. The reason may also have its roots in a cost-cutting measure some fast food outlets employed several months ago. As prices soared, eateries took wings off the menu and swapped them for boneless wings which are made from chicken breast meat.
As a result, the industry saw a very fast decline in chicken wing prices wings. Pilgrim's Pride added that some seasonality also comes into play regarding cost and demand. Sporting events that tend to boost demand for chicken wings, like football and basketball, are over which sees supply increase and prices decrease. The firm said it expects wing prices to start rising again as those sports gear up for their next seasons.