As much as choosing the right color to paint your house sounds like a fun activity, it can be a bit challenging at the same time. It takes a lot of thought process to come up with a versatile, yet stylish colour that goes with flooring, furniture and also the location of the room. Moreover, painting walls also requires a lot of hard work, making it an absolute challenge that stays in front of your eyes every single day. Two of the most famous wall paint colours are blue and gray. But hey don't you find blue too pigmented and gray too dark? How about blending them together producing neutral tones Yes! That's the idea, exactly what this article is aimed at. We will be talking about Best Blue Gray paint colours, their uses and influence on our daily lives.
Why blue? Blue is an absolute favourite of most people as said by a survey, it is known to have influenced the focusing abilities of many people. The reason you would find it in many offices. Moreover, it gives a pleasant sensation, cleaner look and undoubtedly relaxing vibes.
Why Gray? Meanwhile, grays are soothing to stare at, they give off a calming effect that actually puts you to sleep faster and peacefully.
Why choose blue gray? When combining blues and grays, the benefits from both of these colours are multiplied. As gray is too plain and blue is a little pigmented, both blend in a perfect manner to bring a sophisticated shade that looks stylish with both traditional and modern decor.
What is Blue-gray? Let us begin by explaining blue gray paint colours. Blue-gray paint colour basically indicates a shade of gray with blue undertones, or either a blue wall colour with gray undertones, it goes both ways. If you talk about the existence of this particular colour, it exists as Livid. Oh my God! I am a total fan of this colour. It's that perfect blend I can paint all my house walls with.
But the room's lighting, location, architecture and furniture in greatly affects whether a darker shade, a light shade, a pale one, or either a warm one should go on the walls.
Read through these paint reviews to make your selection process easier and more importantly make your interior walls and décor praise-worthy. My promise is that by the end of this article, you would have selected the perfect fit for your interior or exterior walls.
Review Sherwin Williams Blue Gray Colors 

Same below pictures will help you understand the color better.
Icy by Sherwin Williams
One of the best soft blue paint is none other than Icy by Sherwin Williams. This pale blue shaded mixture of Blue and Gray is that neutral tone, that surely makes the walls speak for themselves. it's bluer and less of Gray, and blue is the most preferred choice that complements every wall. Icy mostly has a gray undertone, but in specific lights, it can show both shades of blue and gray. A bluer room is said to contribute to a better and more relaxing sleep, whereas a gray paint adds up calming tone down the blue. This makes up Icy, which is perfect for bedrooms. Your bedroom gives a calming environment and it also looks well lit.
Talking about coordinating colours, Sherwin William speaks of Modest White, Trusty tan and Rarified air. All of these shades look commendable when combined with Icy walls. This neutral tone also works well with cream, tan and Gray fabrics or bedding. Your perfect companion for an ideal bedroom is definitely Icy. Moreover, a kitchen with Icy walls and white cabinets would give guests something to droll over.
North Star by Sherwin Williams
Sherwin Williams provides you with the best, warm gray-blue paint colors. Their neutral tone gives you a cosy environment to live in and North Star is one of its particular kind. Whether you want to give your room a light and cool appearance or desire for a sophisticated look for the walls, this light blue gray paint color will fulfil all your requirements, leaving you with no complaints. Not only does it make a perfect fit for your walls, but it also helps your decor pieces to standout. With the pale blue undertones, and a warm finish, you can paint your lounge walls, bed-room and it can even be the perfect hue for kitchen cabinetry. Pair it up with white painted doors and windows, dark hardwood floors, with the trim of lighter or a darker shade to give your house a more comforting display. A gray Neutral color never goes out of style, so if you are looking for a rather long-lasting, never out of fashion, always in trend paint color, this can be your right choice!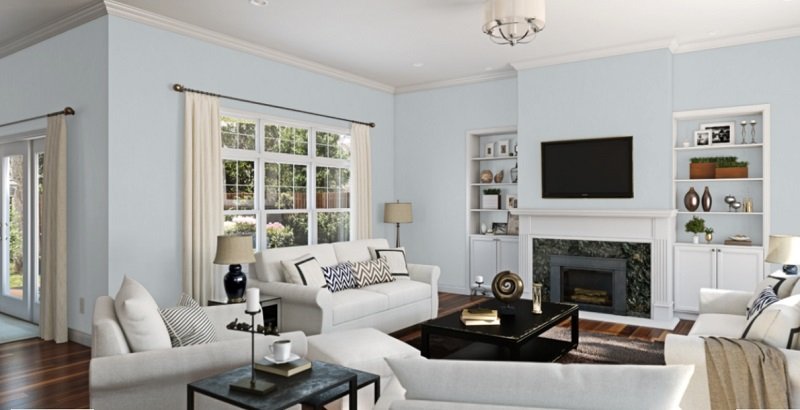 Granite Peak by Sherwin Williams
Bored with seeing the light-colored painted walls of your house? Don't want to go for basic beiges either? Granite peak by Sherwin Williams would be just about the right choice for you!
It has a dark charcoal gray color, muted blue with ultra-fine green undertones. Giving a dramatic display to your house with its strong appearance, but simultaneously, making your interior feel more comforting with the best warm blue gray paint color. Paint the whole house interior or just that one master bedroom with it, as this color is kind of moody, you can choose the best for you. With its deep grayish-blue look, it will make the perfect fit for accent walls in TV rooms, powder rooms as well as for your studio. Gather all the white furniture to pair it well with the fixed elements of your house. Add a statement of grace to your dining area with its shady presentation. As it tends to instil a nice playful effect on your space, it would leave a rather cool and classy impact on your rumpus room especially for the night parties with quite dim lighting. Apart from that, it can be a gorgeous choice for the exterior siding of your home. Since it is neither too dark nor too light, you don't have to give it a lot of thought, just make a right choice now!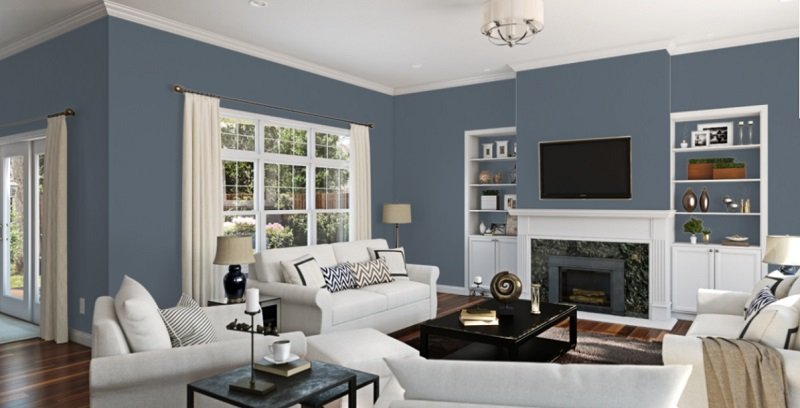 Dockside Blue by Sherwin Williams
Another best warm blue gray colour paint is Dockside Blue by Sherwin Williams. This one has subtle green and aqua tones. It's medium in darkness, neither too light nor too dark. If you love colours around, it gives you the perfect blue with muddy gray undertones, not making it too bright. Dockside Blue is incredibly famous and mostly seen in dining halls because it pulls off well with most dining furniture. Another great place to have dockside walls is a kid's bedroom, basically, young boys who like it blue. Other fans of blue, also use it on the exterior walls of the house. the dusty blue-grey can make anyone fall for it.
The coordinating colours are Shell white, tarnished treasure and extra white.
All the fans of blue must add this paint bucket to their list.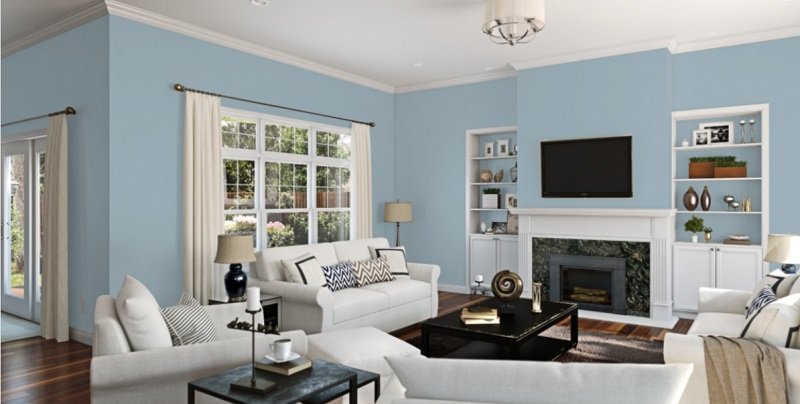 Upward by Sherwin Williams
Upward is my personal favourite because it takes the calmness of gray with minimal blue in it. This is a very refreshing wall colour that is a subtle gray blue. With an LRV of 57, it's a cool tone with pale effects and the best pale blue gray paint color you will ever find.
White trims and Upward walls are one of the best combos you will ever land your eyes on. Other combination colours include Natural Linen and Icicle by Sherwin Williams only. Upwards works great with wooden furniture, which is the reason you might find it in dining rooms. But more importantly, it's a bedroom wall colour, where it gives a soothing effect. The architectural floor, ceiling or furniture is highlighted in combination with Upward walls. A neutral, that never gets boring.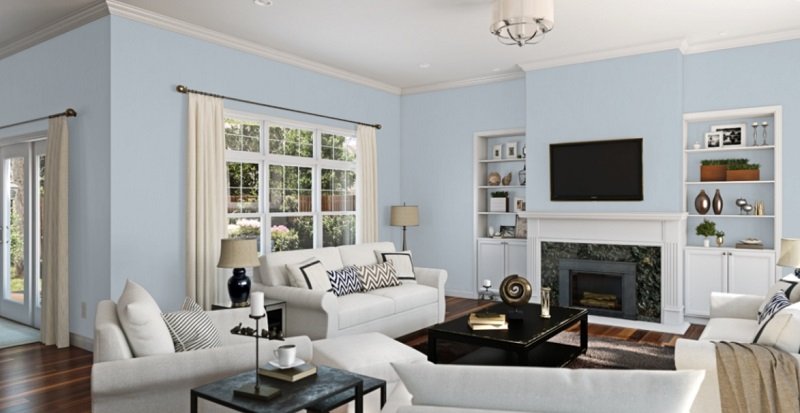 Windy Blue by Sherwin Williams
This light blue is richly toned. The subtle gray gives the blue within this paint a staying power, the dark gray undertone reveals itself in special lightening. The blue is said to be highly pigmented but trust me it isn't just too much too to take.
The coordinating Sherwin William colours are Icicle, Dover white and compatible cream. Whether you pair it up with white or dark wood furniture, the paint outshines in the room. Other choices are navy blue and light gray. It also works well with dark hardwood floor. Some people use it for the exterior walls and sitting areas, meanwhile, those with beach houses choose this blue for their walls. Without a doubt, it's the best light blue gray paint colour.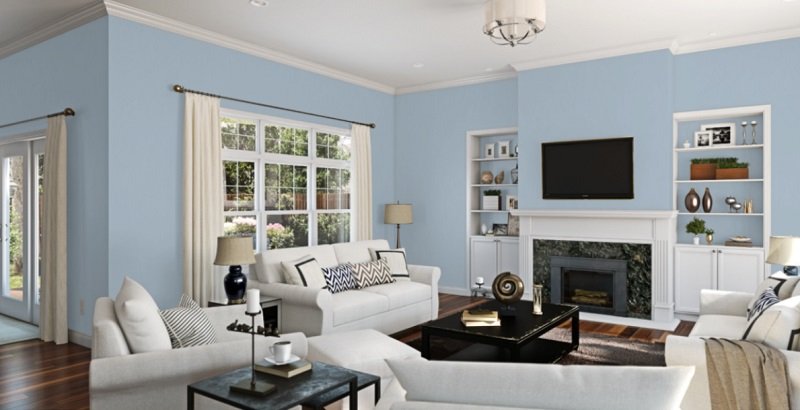 Aleutian by Sherwin Williams
Allutian is a richly pigmented blue gray wall paint with a muddy undertone. This perfect neutral is for sure the best blue gray soft paint colour you'll find across the town. Not just it goes well with dark and light hardwood, but a white rug matches perfectly with it. Moreover, navy trims and white accents give amazing afterlook.
This deep blue gray is bedrooms specific, but the cabinets painted out of this blue are widely seen too. The coordinating range of colours is Tumblin Tumbleweed, San Tiago and Icicle.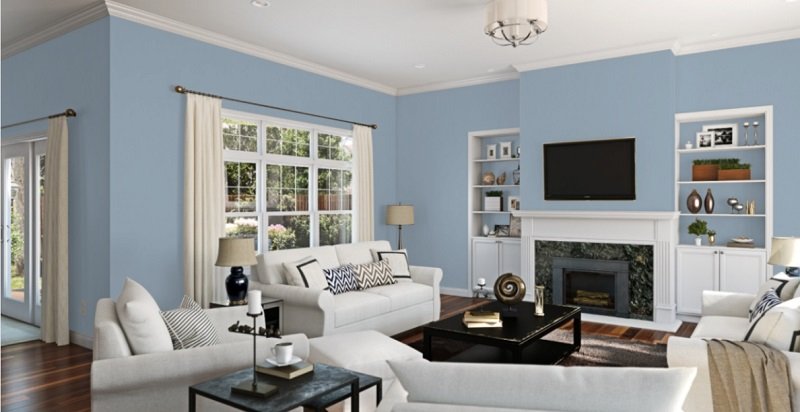 Daphne by Sherwin Williams
Daphne is that one versatile colour that goes for interiors and exteriors both. It's a blue gray, with more blue but less gray. This blue is very pleasing to the eyes and generates pleasant vibes only.
Let it be a kitchen, bedroom, or bathroom, Daphne looks absolutely beautiful everywhere. It blends in well with Windy Blue, Distance and Indigo Batik. Another famous contract is with a white base. talking about coordinating colours from Sherwin Williams family, it is dress blue, Drift of Mist and Icicle. It's the best soft blue gray paint color for your exterior walls that outshine in the Sun, looking absolutely beautiful under the sky.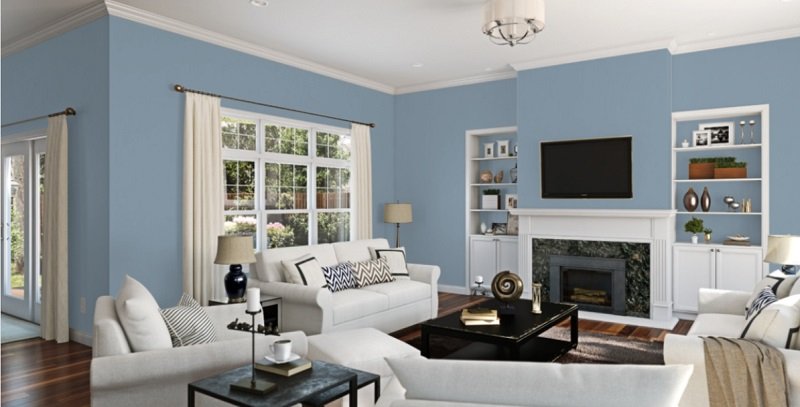 Bracing Blue by Sherwin Williams
Bracing blue is another cool gray with depenned blue pigment, or as some people say it is a deeper version of Daphne. Like all blues, the perfect contrast for this one is none other than White, white trims, cabinets and bedding. It also looks great with cream or beige.
Bracing blue is the colour for exteriors, ceilings, master bedrooms and even sitting rooms. The coordinating range of colours from Sherwin Williams includes sleepy hollow, double latte and icicle. Highly recommended as the best cool blue gray paint.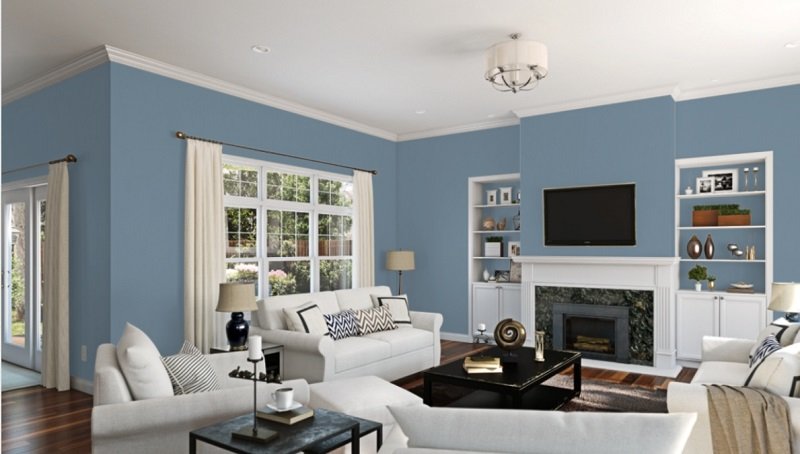 Morning Fog by Sherwin Williams
This is basically gray with blue undertones. A silvery gray that shows depth and stamina. The cool looking gray blue looks amazing on the interior walls of the kitchen and bathroom.
It pairs up in contrast with Granite peak but other coordinating colours include sedate gray, extra white and ice cube. It's the best soft gray blue paint color you'll find in the market.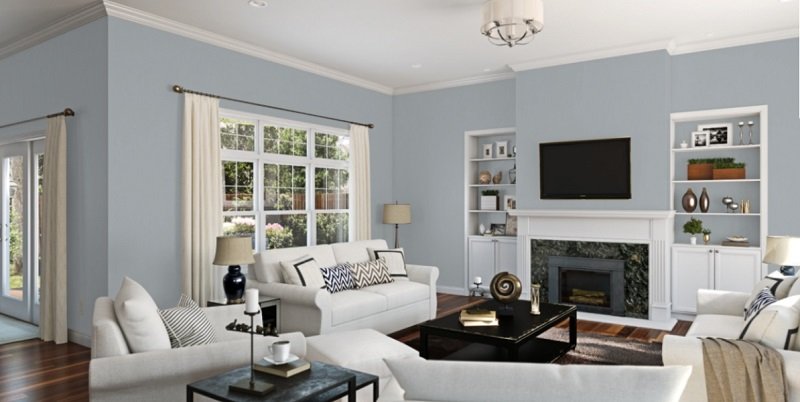 Krypton by Sherwin Williams
An attention stealer with the coolness of gray and pigmentation of blue is none other than Krpyton. The perfect shade for a kid's bedroom, a bathroom or even kitchen. The key is coordinating it with white and wooden spree. Shades as Tarnished Trumpet by Sherwin Williams are also great to go with.
Without a single doubt, it is the best cool blue-grey in the town you will ever come across. The gray undertones radiate refreshing and calming vibes with the perfect blend of blue. As lovely as the name itself is.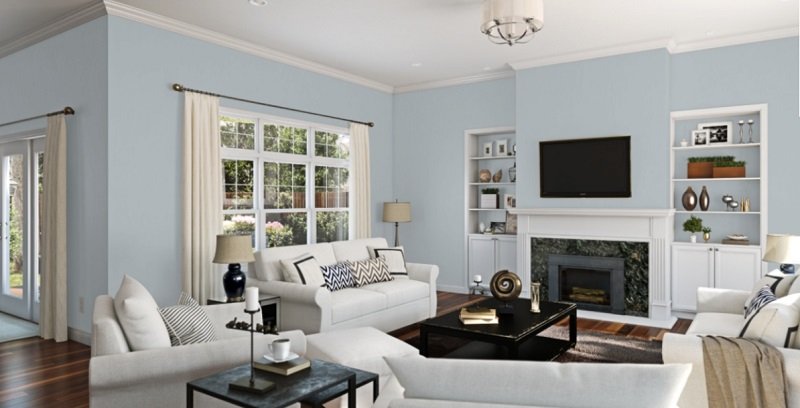 Review Benjamin Moore 

Same below pictures will help you understand the color better.
Flower Box by Benjamin Moore
Flower box is a perfect mixture of blue and gray. The colour depends in dark giving a soothing effect and lits up in light, meaning it's calming at night and refreshing in the morning. It's the best soft blue gray paint for children's bedroom, especially boys. Flower Box looks stunning with white trim and cream colours. It also pulls off with wooden flooring and furniture. needless to say, it's a colour I definitely want in one of my bedrooms.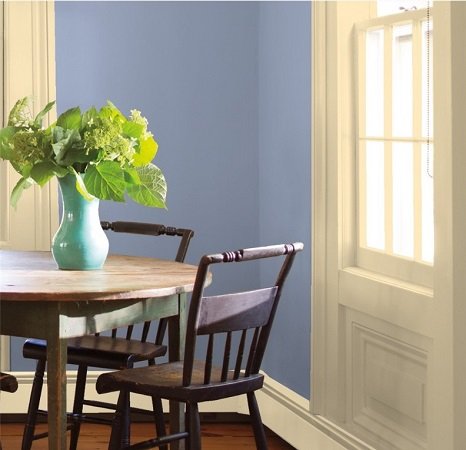 Comet by Benjamin Moore
This light dusty blue is perfect for bathrooms and cabinets. It's more like an icy dusty shade of gray with pale purple and Navy undertone. The colour complements well with white trim and wooden floors like all blues and grays. Without a doubt, it is one of the best warm soft gray blue paint colours.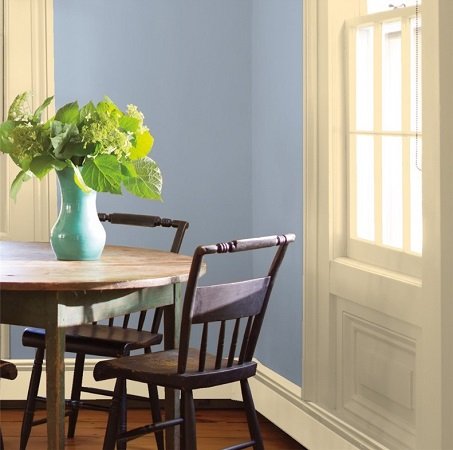 Bachelor Blue by Benjamin Moore
This dusty navy is a darker version of Comet, adding to the best warm blue gray paint list. Some people like to coordinate it with Comet walls, that looks great. Other coordinating colours are white and dark wood. The versatility of this colour is truly commendable, it can go in a countryside house as well as in a City Downtown apartment. It looks great in bedroom, sitting rooms and hallways. Coming to the exterior, the exterior walls in Bachelor Blue look stunning under the beautiful sky.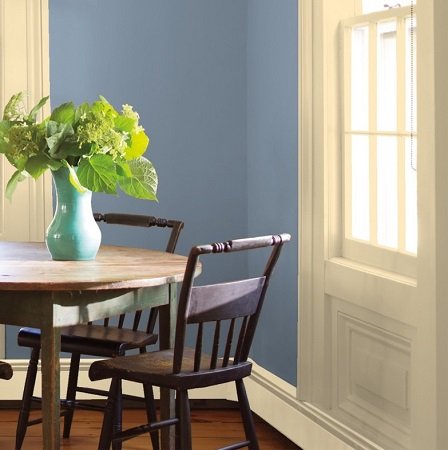 Sterling by Benjamin Moore
The best pale blue gray paint that has stolen my heart is none other than Sterling. Sterling is just stunning to look at in the bathrooms. It's also a perfect fit for walls of hallways and bedrooms. A little get to tricked part about this one is that, the Paint bucket has Gray written over it but somehow this looks like both gray and blue at different times of the day. With its cool undertones and elegant touch, i would also add it to my list of best pale blue gray paint.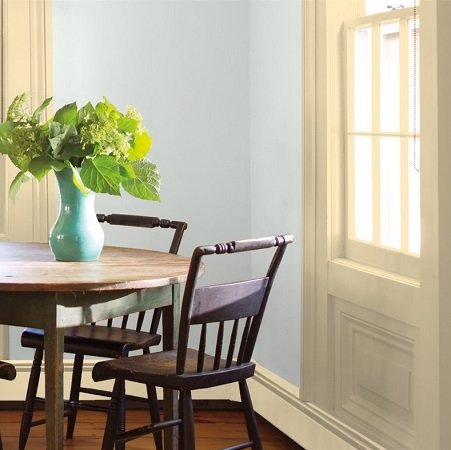 Stillwater by Benjamin Moore
One of the Benjamin Morre's favourite is Stillwater. This vibrant bluish gray goes along with traditional and modern both decors being in their Classic series. The revealing gray and green undertones give a soothing effect in the hall.
The watery teal blue is great for ceilings and exterior. It works well with white and wooden architecture in the sitting rooms and on exterior walls. The attention-seeking walls are an example of best warm gray blue paint colours.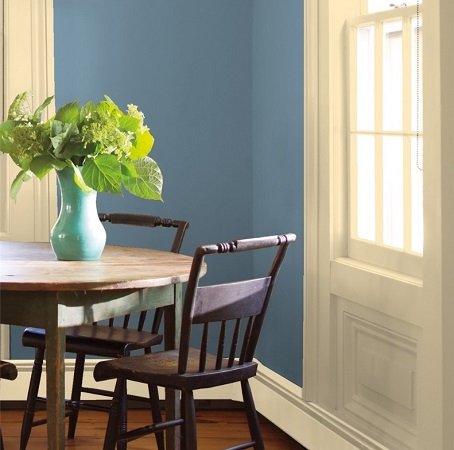 Manor Blue by Benjamin Moore
The best of pale blue gray paint colour is Manor Blue.with the violet undertone it's appropriate for modern decor and greatly lights up a room. Moreover, if you have a breathtaking view like that from a farmhouse, this colour needs to be on the walls. because when combined with beautiful scenery outside it looks commendable.
The combination colour like all blue is white.it's an interior paint for bedrooms but Manor blue cabinets also are heart-stealers. Without any doubt, this mid-tone blue gray adds a delicate touch of class to your walls.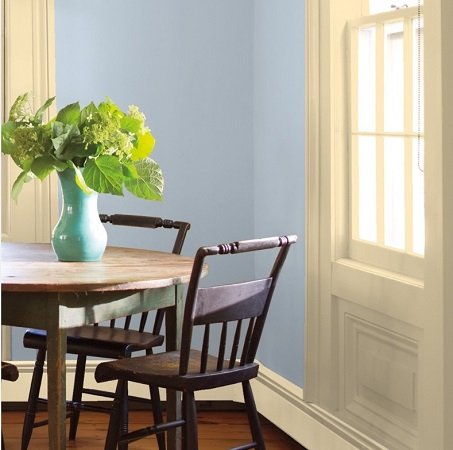 Mineral Alloy by Benjamin Moore
As the name speaks for itself, this colour resembles metal. It is a dark gray blue which is pretty relaxing to have in a bedroom. However, the exterior walls are breath-taking to look at.
This best gray blue warm paint colour just lets your wooden or architectural floor outshine.in the right lights.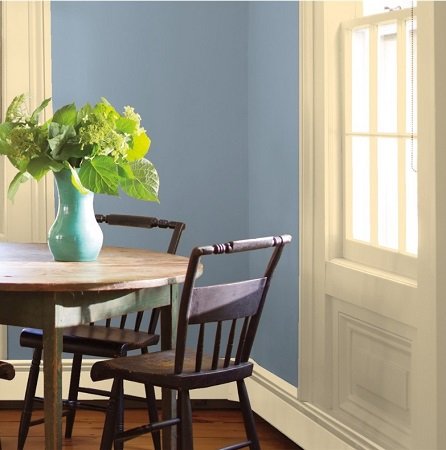 Gentle Gray by Benjamin Moore
If you want those blue bathrooms that look stunning with white tiles sanitary and wooden floor, you've found your partner. Gentle Gray is the best soft gray blue paint colour you will land your eyes on. It has a soft aqua undertone, that gives you all the coastal feels at your very own place. However, the lightning in the room definitely matters. A definite recommendation for white tiled bathroom and sanitary.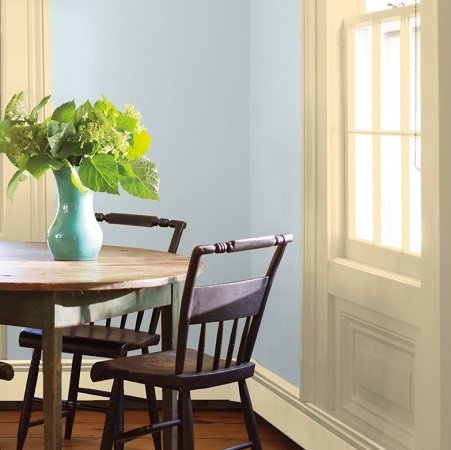 Review Behr Blue Grays

Thundercloud by Behr
There is no better blend of Blue and Gray than Thunderstorm, making to the best soft blue gray paints list. Subtle green and violet undertones revealed are overwhelming to look at. This soothing colour from Behr is a hallway paint colour, that pairs up with white trim and wooden antiques.it comes in a palette with Seaweed,White and Hybid. I am in love with this!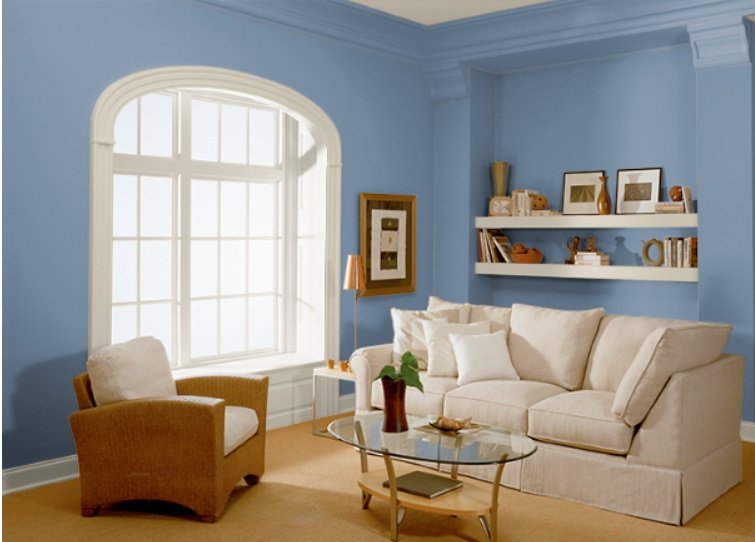 Tranquil Pond by Behr
In case you are not a fan of Benjamin Moore, an alternative from Behr series is Tranquil. It's a dusty blue-purple acting as the best warm blue gray paint colour shade. Let it be bedroom walls, sitting room walls, or even bathroom, they all look stunning. The coordinating palette Hybrid, White and Seaweed. It's that colour when put up in the bedroom, gives you a nice sound sleep in no time.
What colors go with blue gray paint?
While blue and gray walls are an immediate eye-catcher, they often look overwhelming when combined with certain colours. These colours could go on trims, ceilings, flooring, furniture or even bedding. When blue gray matches with any of them, the entire look of the room changes into stylish and praise-worthy attire. My personal favourite with best blue gray shades is white. It stands out with white furniture, bedding, tiles or trim. Blue gray and white are made for one another. Any sort of white pulls off with blue gray, the only rule is to keep the white clean and shining.
Some other choices are cream and beige furniture. The beige or creams combine well with the best warm gray blue paint colour as well as pale ones. With the walls, beige furniture outstands in the living room or sitting room.
Moreover, Navy and dark wood are from the dark tone series. These two in sitting rooms look absolutely stunning and elegant with blue gray walls. Wooden flooring is commendable to look at with blue gray walls, and navy trims or linen is just lovely!
A bit of important advice from my side is not to accessorize much and leave it with a sophisticated touch and design if you have chosen a stylish look for your place.
Blue gray paint colors for the kitchen?
Most kitchen cabinets are blue, beige, cream or wooden. The shade that appropriately works as wall colours is Morning Fog by Sherwin Williams. It's the best warm blue gray that goes with older or newer styled cabinets adding a different look than common kitchens.
A key for choosing kitchen wall colours is to move towards grayer side than more of blue.

Blue gray paint colors for bedrooms?
The most suitable colour you will ever find to match the bedroom furniture is Blue-gray colour paint. Blue-grays are well famous for provisioning of a soothing and calming environment in a bedroom, where you immediately fall asleep. Some of the popular bedroom colour paints are mentioned below:
Icy by Shwerwin Williams is a neutral tone with gray undertones that is a brilliant colour for bedroom walls. Northstar is another beautiful neutral and Granite peak with green undertones changes the bedroom into a completely perfect environment to sleep in.
More from Sherwin Williams are Daphne, Dockside, Bracing blue as best blue gray paint colors which are all best warm and soft blue gray colour paints specifically made to create the bedroom your comfort place.
Flower Box, Sterling blue, Manor Blue and Mineral alloy from Benjamin Moore series are just a perfect fit for bedroom, creating a place to relax fully and start a fresh and healthy day the next morning.
Tranquil from Behr is a bedroom specific warm blue gray paint colour. It is a classic shade that works with both modern and traditional decor.

Blue gray paint for the bathroom?
Restrooms are often filled with sanitary in white. Blue gray walls give a refreshing and neat clean look in a bathroom, it goes hand in hand with architecturally designed bathrooms too.
The warmer shades for wall paints are Dockside and Daphne. The pale Upward is another excellent colour for bathroom walls. A softer shade by Sherwin williams only is Morning fog.
Benjamin Moore range specific for bathroom includes best paler blue gray paint colour as Sterling, and softer paint colour as Gentle Gray. Apart from this Tranquil is a bit darker, but makes a great scheme with cream and white bathroom decor.

Blue gray paint living room?
Most guests visit your living room and take an impact from there with them. It is the place where most of us spend the entire day and have get-togethers with family and friends. For such a room to look relaxing as well as classy is pretty important. Blue Gray wall provides a great colour scheme with any sort of furniture since it's a versatile colour.
A warm sensational wall color that mediates green undertones is Granite Peak. Other choices of perfection are Northstar by Sherwin Williams and Tranquil, Thunderstorm by Behr as best blue gray paint colors.
Bracing blue, is made specifically for the lounge and StillWater by Benjamin Moore is pigmented enough to grab every guest's attention towards the walls.

Blue gray paint for kitchen cabinets?
The best pale blue gray paint colour that goes on the kitchen cabinets, for a pleasant and cooler look is NorthStar Sherwin williams.
Another shade from the Sherwin Williams team which is again the best warm gray blue color paint you'll find is Daphne.
Bracing Blue painted kitchen cabinets are beautiful too.These cabinets are different from the mainstreams like creams and whites, and look elegant.
Working in the kitchen everyday with these paint colours can be an absolutely pleasing experience.
Blue gray paint for dining room?
Dining rooms have to have a universal rule to look specifically classy. With this rule, blue gray is a sophisticated delicate colour scheme to pair up with dark and light wood.
Upward is very pretty gray to opt for. Dockside's aqua undertones are overwhelming to look at. Stillwater goes well with white tables or rugs. Moreover, bracing blue is a deeper yet calmer shade that is a perfect fit for dining halls.
Blue gray paint for furniture?
Gentleman Gray painted cupboards are a new foundation to modern touch in your room. They are best soft blue gray paint that looks super stylish along with agreeable gray.
Bathroom cabinets and cupboards can go in Daphne and Northstar by Sherwin Williams. Meanwhile, Daphne is a little darker, Northstar is a pale shade. It depends on your preference to choose the perfect one for your furniture. 
Blue gray wall color?
For this question, I am going to specifically refer to hallway colours. In my opinion, the best choices are, Bracing Blue (sherwin Williams), Sterling, Manor Blue (Benjamin moore).
Let it be the side walls by the staircase or a common corridor, these paints look marvelous anywhere at any hour of the day.
Blue gray exterior paint colors?
With the beautiful day and night sky, the best warm gray blue paints look absolutely stunning under it. The choices for exteriors from popular blue gray colour paints are, Bracing Blue, Daphne, Granite Peak and Dockside as my recommendation.
Mineral alloy and Stillwater are also great colors for the exterior walls paired with the right colour trims, for example white or cream.
FINAL THOUGHTS:
I would like to conclude my article by saying that Blue-Gray is that perfect companion which makes my home a styled place, i actually fall for it every single day. The hardwork invested in choosing the right colour and then later putting efforts to paint walls, should actually be worth every penny, every thought and every drop of sweat you invest into it. Blue Gray is that particular paint scheme which would not disappoint you for years.
Let it be the morning sunshine that reveals the beautiful undertones of the paint, or the night darkness that puts you off to sleep, you will always love those walls that change their influence through day and night.
Since every house has whites and woods around, no need to spend a hefty amount on getting new furniture for a change. Just paint your walls Blue-Gray, and enjoy what it brings with it.
I truly hope this article helps you choose that one Blue-Gray paint colour that could become the best decision of your life. Good luck!