Maybe you are finally back in your office after that long COVID layoff. Or maybe you continue to work from your home. Whichever the case, you're bound to create a little bit of trash, but who wants to deposit their trash in an ordinary office trash can? Why not spruce things up and go for the unique container?
There are plenty of choices for that boring office or home office trash can. Boring, though, is the last thing we want to be. There are also a number of fun and unique office trash cans. Not sure where to start, let us help you figure out what's best.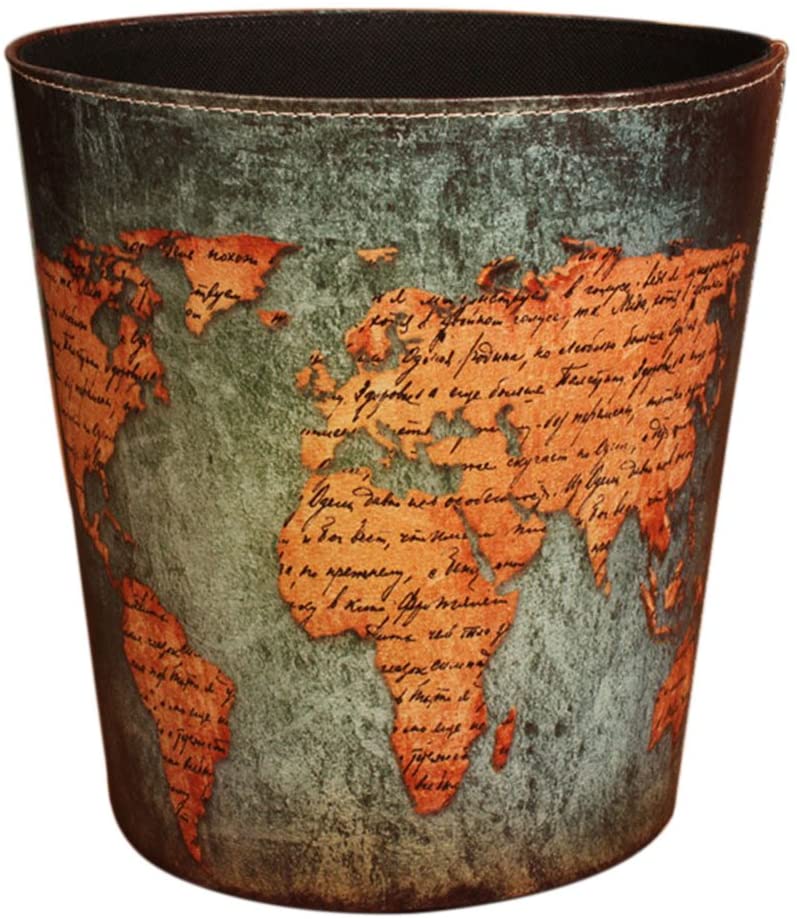 As far as office trash cans go, Yamix offers one of the more unique styles. This office trash can is inspired by the medieval European aristocratic lifestyle. This can is the perfect size for either your home office or away-from-home office and offers a great design.
The world map pattern looks amazing and comes in two background colors, blue with yellow continents or green with red/orange continents. The best thing of all? Both designs are selling for $29.99.
---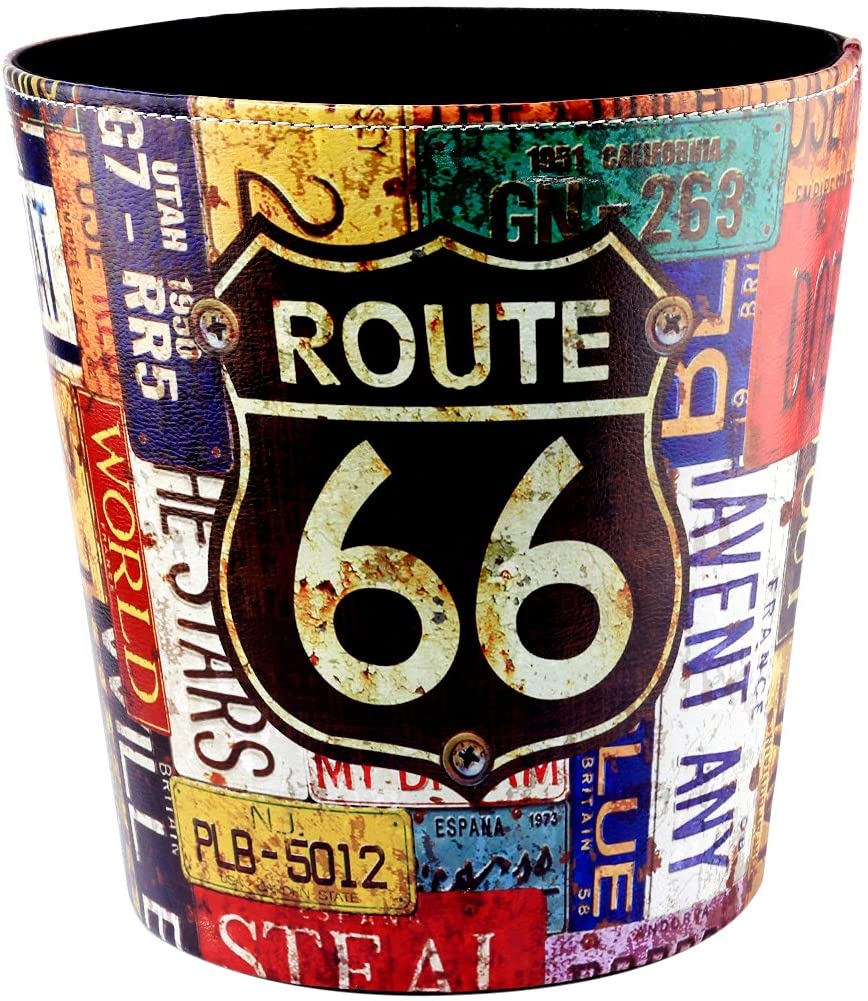 The GTKRTU brand offers those in the office trash can market numerous, fun, and unique designs. Their decorative trash cans offer a solid build and design, with a European style seen in the Yamix brand. The first of their selections is a Route 66 pattern highlighting the many stops along the famous Route 66. They also offer a Cocktail Lounge design, a World Map design (different from the Yamix version), a 1934 Indian Motorcycle design, and a Red Sailboat pattern design. Prices range from the affordable to the even more affordable at $19.55 (Indian motorcycle) up to $30.99 (Route 66) and everything in between.
---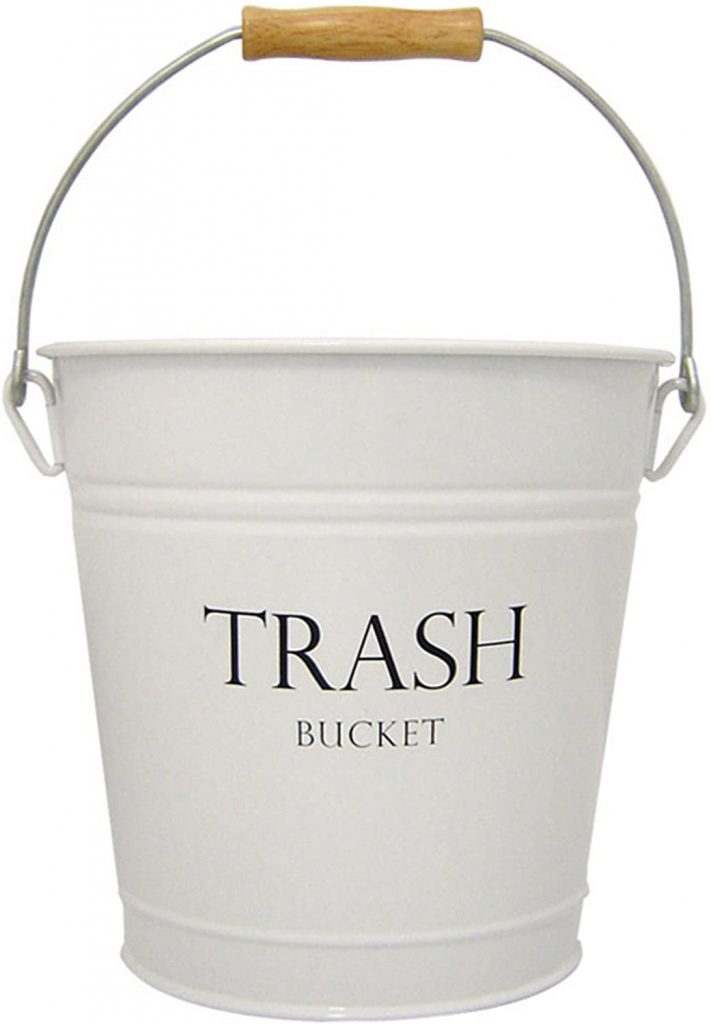 So, you say an office trash can doesn't quite work for you? Well then, how about an office trash bucket? This is what iDesign offers and it is exactly what it says. Literally. On the front, it actually says, "Trash Bucket." The iDesign is an actual bucket, though stylish in design. The bucket comes in four different colors (black, ivory, light blue, and white), and depending on your color of choice, the price varies. Black will run you $39.75, light blue $33.90, ivory $31.47, and white $25.15. It's a bucket that would make for a cool office trash can.
---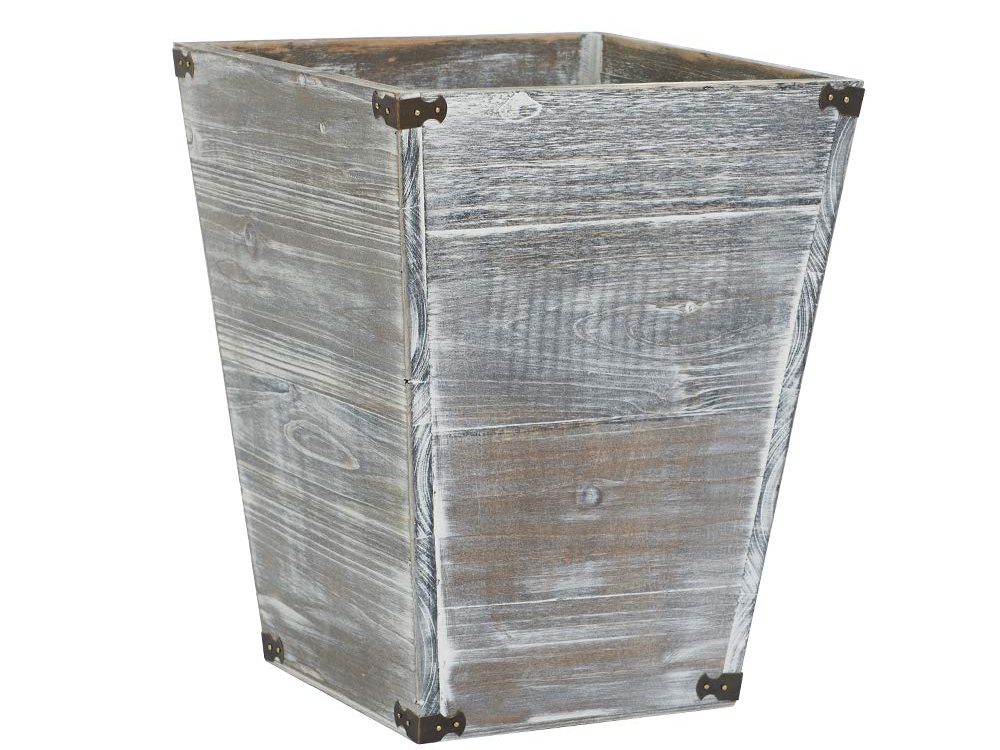 When it comes to uniqueness, Vergoodr has an office trash can for you. It may be a little more stylish than normal as it is made completely out of torched wood, giving it a nice, rustic look. Its symmetrical design will look good in your home or office, its grey coloring fitting in just about any setting. Right now this Vergoodr office trash can is selling for $38.89.
---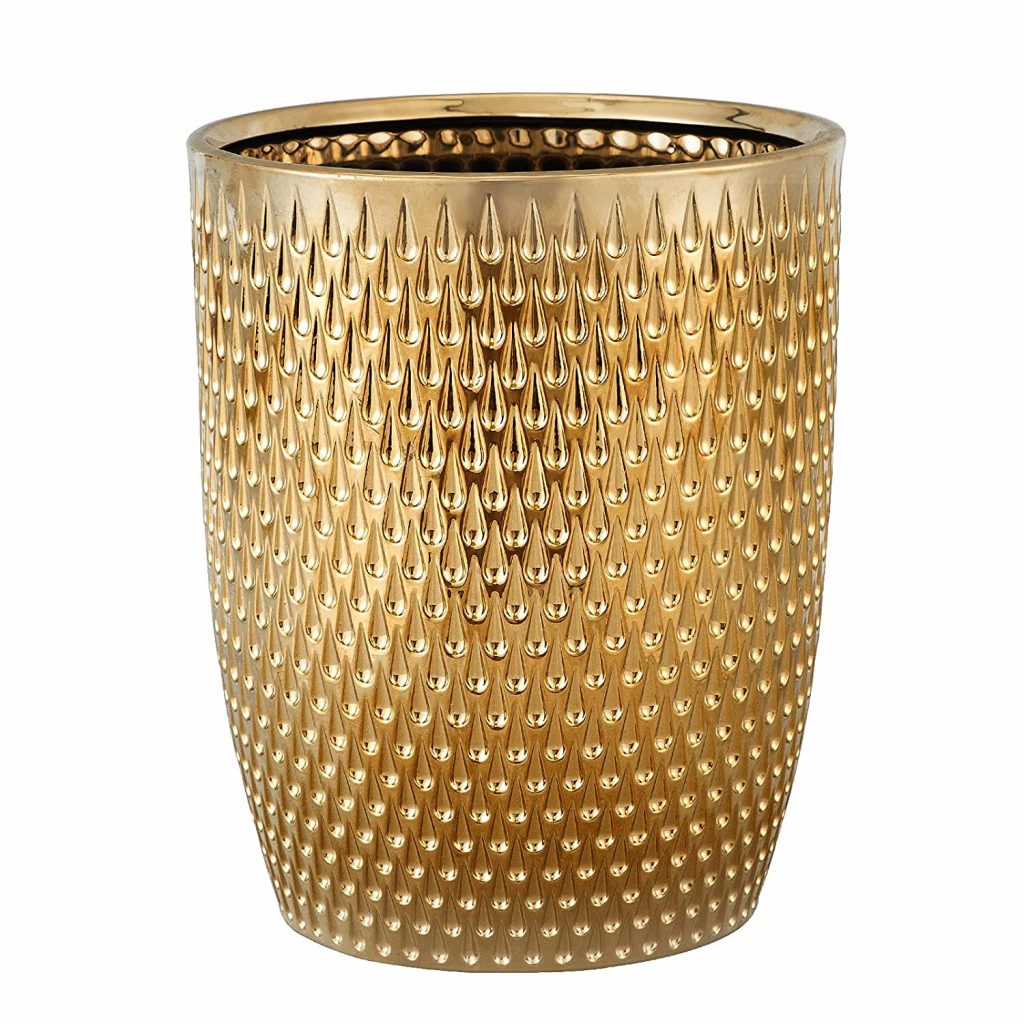 Is gaudy more your style? Well then, we'd be remiss if we didn't include Basdhe's Gold office trash can. Its design looks like gold teardrops, filling the entire outside of the trash can. It works for those who wish to show off the fact that they produce trash. It is gold, it looks fancy, so the price reflects this. Basdhe's office trash can is selling for $47.99.
---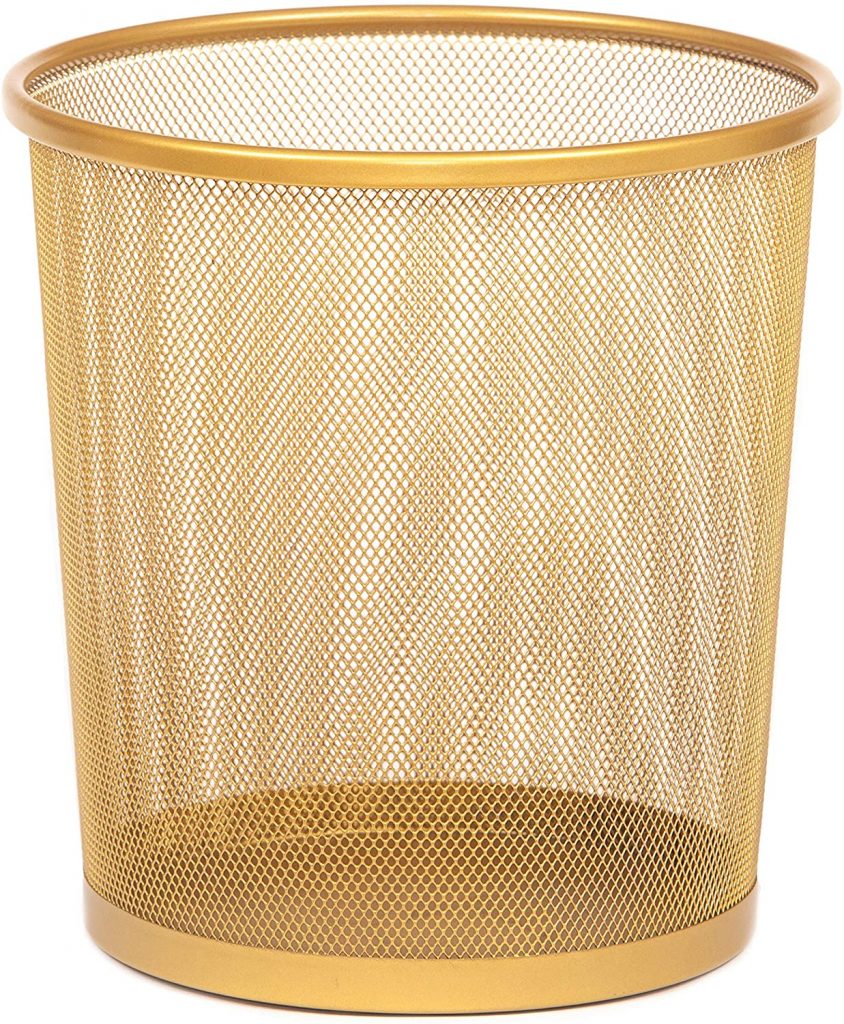 While we are on the subject of gold office trash cans, perhaps we should mention Saddlehorn Studios' not-as-gaudy-but-still-gold entry into the trash can industry. Their trash can is modern and stainless-steel mesh by design. This sturdy unit will only set you back $29.99 but if you have a few more bucks you want to spend and wish to move away from the gold coloring, you can plop down $32.99 for SaddleHorn Studios Rose Gold colored office trash can.
---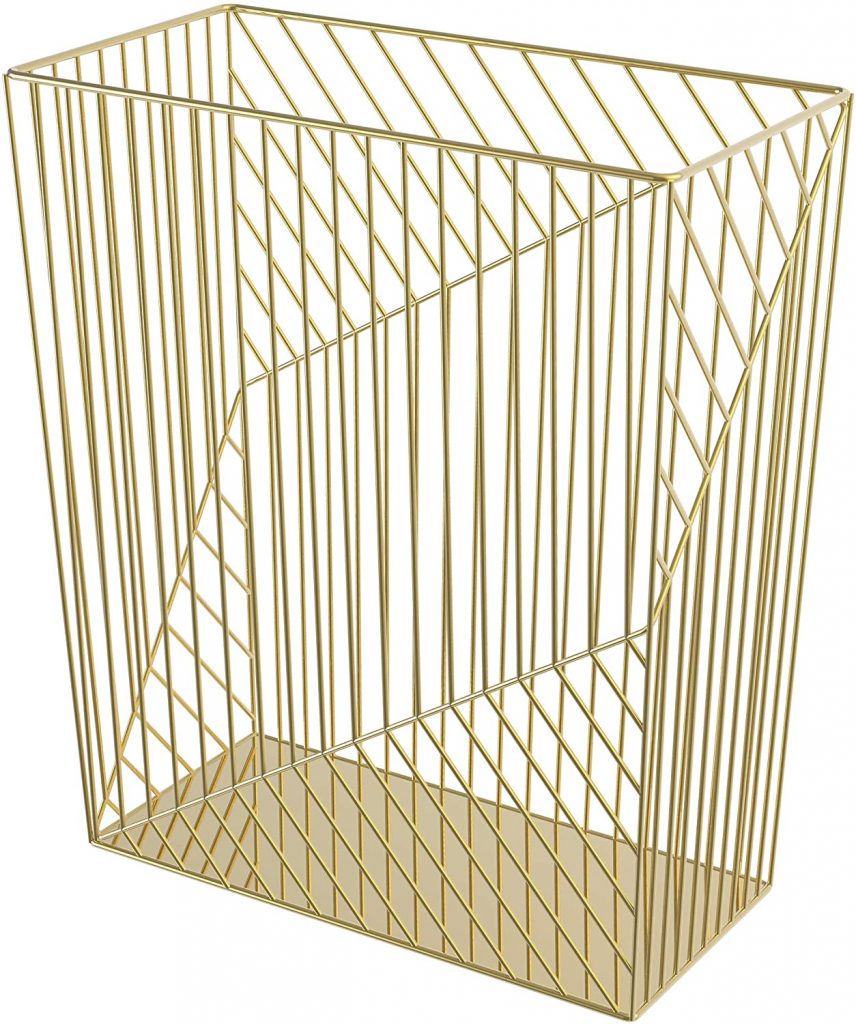 We are going to stick with the "gold" theme here with our next suggestion. U Brands offers a very unique office trash can with its simple sophistication and style. This U Brands is a little different in design in that instead of the normal round shape, the U Brand is long and narrow, giving it the ability to fit into narrower openings. It is made of a high-quality metal material and will only set you back $29.99.
---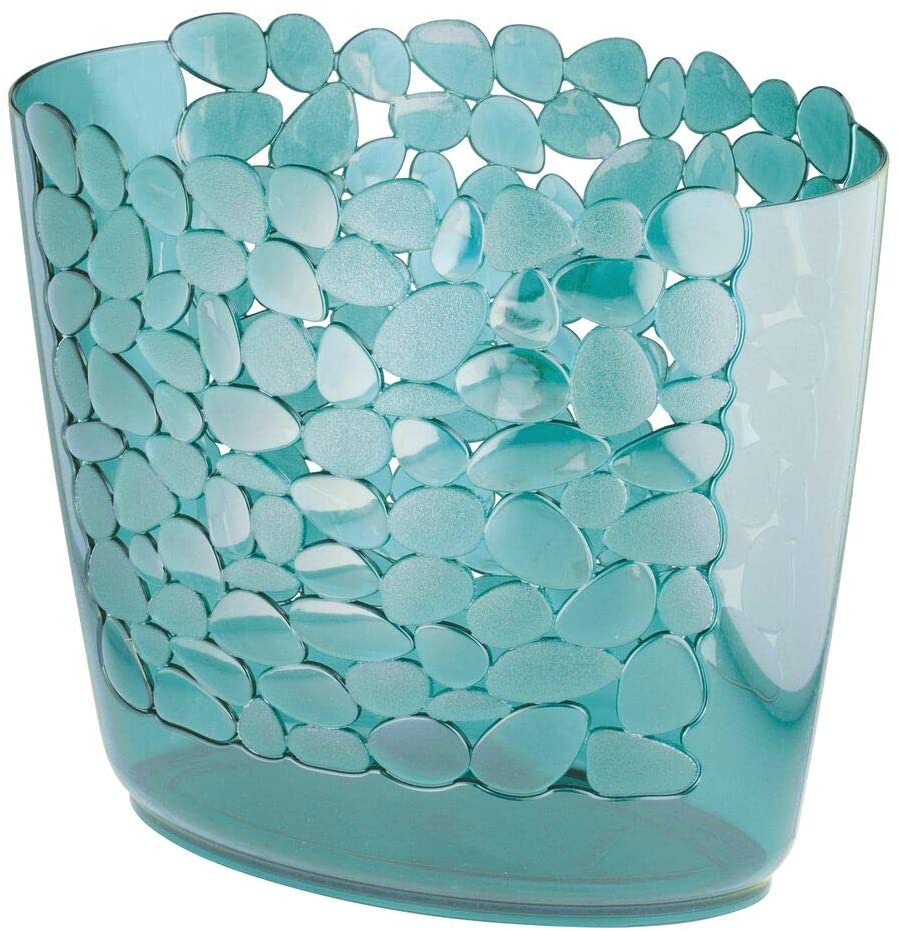 Unique and decorative is mDesign in a nutshell. Once you take a look at their oval office trash can, you will understand. Made with durable plastic, the trash can come in various colors with a design that resembles guitar picks molded together bookended by clear plastic. The stylish office trash cans are offered in blue, Carolina blue, light pink, light purple, and navy blue. You can get any of these colors for the affordable price of $19.99.
Article continues below headlines
---
---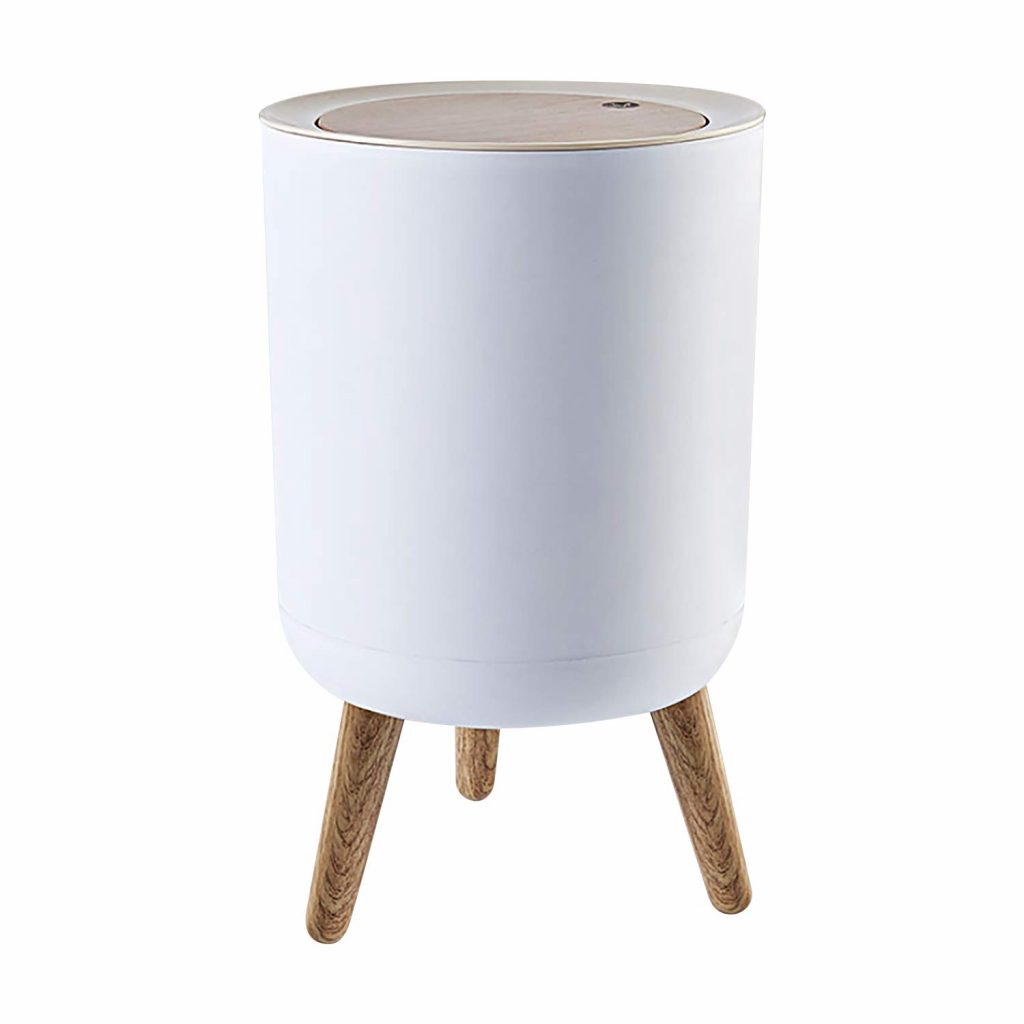 Want to add a bit of Nordic to your office or home? Look no further than Primo Supply's Nordic Style trash can that works as an office trash can as well as a decorative one for your home office. The simple oval-shaped can is unique in that it sits on three wooden legs and has a push-button lid whose inside carries an easily disposable plastic liner. This office trash can will make a larger dent in the wallet as Primo is selling it for $59.99.
---
Leather Books Round Wastebasket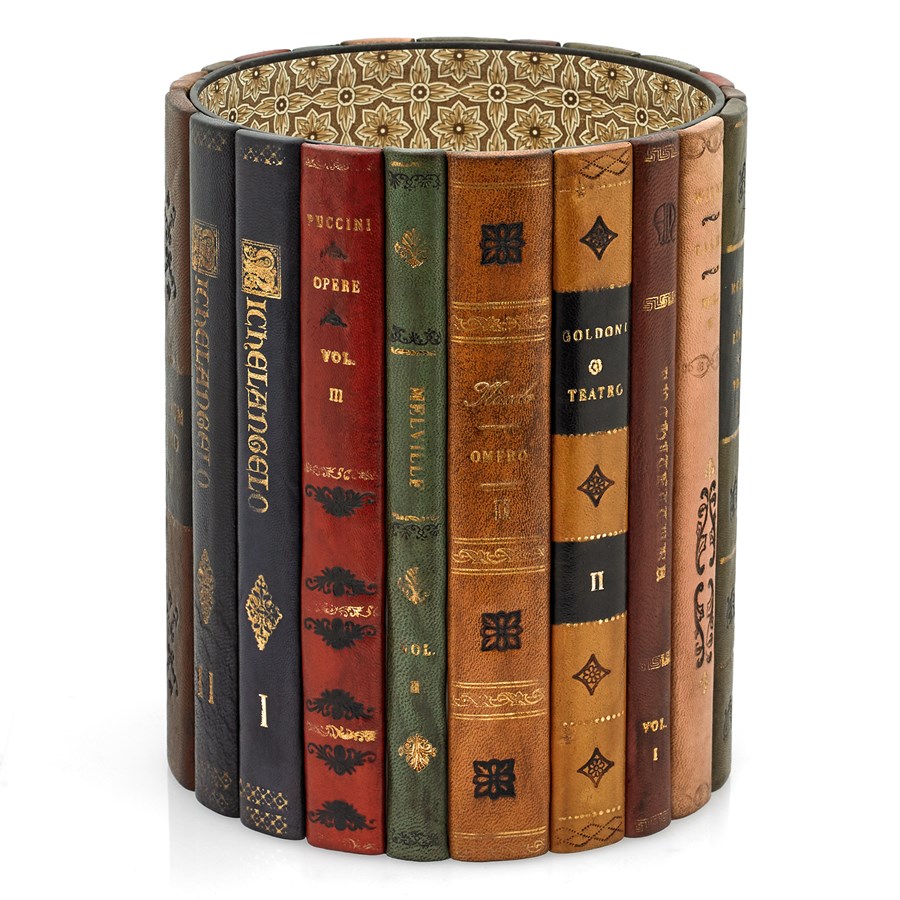 Want to spend some money for your at-home office trash can needs? Look no further than Scully & Scully's Leather Books Round Wastebasket. Talk about unique. Scully & Scully offers this amazing wastebasket that is handmade in Italy. We are talking high-class, antique Florentine hand-tooling on leather over a wood base. The outer wastebasket is lined with reproduction book spines. Inside, the basket is lined with bookbinder paper. This is truly a unique sight to see and yes, it is going to cost. Scully & Scully will hit you up for $385 for this fine beauty.
Of course, Scully & Scully is the exception to the rule. You probably wouldn't want to decorate your office, home, or otherwise, with a trash can as pricey as that one. Now, if you've got money to burn, then by all means, burn it.
---
The beauty of the above suggestions is that they've all been user-rated at four stars and above. This means they are all well-made, highly recommended, and for the most part, easy on the pocketbook (sorry, Scully & Scully).
If you're in the market for a nice office trash can, you can't go wrong with any of the above products.