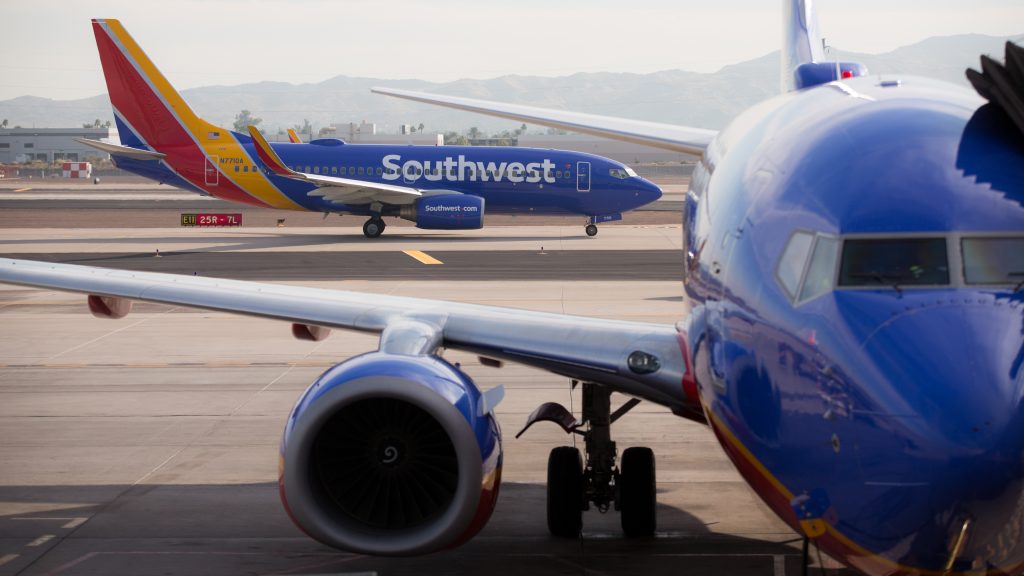 Workers at Southwest Airlines have started protesting the company's Covid-19 vaccination mandates for employees, causing more major delays. The airline set its deadline for the first week of October under a federal vaccination mandate for employees of companies holding contracts with the United States government.
The idea is for staff to be vaccinated or face termination before the busy holiday travel season begins. Southwest Airlines does allow employees to request religious or medical vaccine exemptions, though it's unclear how many will be granted.
Various news networks reported from the scene as hundreds of protestors held signs that said, "Terminate the mandate," "freedom not force" and "no jabs for jobs,"
Other major airlines said they also plan to follow President Biden's executive order requiring workers to get the shots. Along with Southwest Airlines, this includes United Airlines, American Airlines, JetBlue, Alaska Airlines, and Hawaiian Airlines. The protest comes after massive cancellations last week that left tens of thousands of passengers stranded at the airport due to delays.
According to Newsweek, the Southwest Airlines Pilots Association union filed a lawsuit against the carrier over its vaccine mandate. SWAPA authorized its members to demonstrate against the mandate and strenuous working conditions during the pandemic. The union has also authorized $1 million in support of the protests, which could begin this fall, SWAPA president Casey Murray said.
Additionally, a union for Southwest Airlines mechanics has issued a statement opposing the mandate on contractual grounds, the publication added. Both companies put mandates into place to comply with federal requirements instated by President Joe Biden.
However, Southwest Airlines and the union representing its pilots say that crew members didn't call in sick to protest vaccine mandates and cripple the carrier's operations during the busy holiday weekend. The Dallas-based airline was forced to cancel more than 2,000 flights since, citing a mix of bad weather, air traffic control issues, and military flight maneuvers in Florida for causing the delays through the holiday weekend.
In a statement shared online, Southwest Airlines company President Mike Van de Ven expressed his regrets for what happened. "Let me begin with our heartfelt apology to everyone whose travel was disrupted by these events," he said. "We are truly sorry."
Van de Ven also addressed the various issues that stalled Southwest Airlines' Florida operations for hours causing the cancellations and delays. "Our aircraft and crews were not in their pre-planned positions to operate our schedule on Saturday. Unfortunately, the out-of-place aircraft and crew resources created additional cancellations. That cascaded throughout the weekend and into Monday and Tuesday."
Despite social media reports about Southwest Airlines employees staging a vaccine-mandate sick-out, Van de Ven said the weekend challenges were not a result of unusual employee activity. "Our employees worked heroically during adverse conditions and many came in on off days, or flew additional trips, to help the airline recover. I offer my sincere thanks and appreciation for their tireless work and dedication."
While the entire situation might seem unfair to employees, Southwest Airlines is simply following new federal guidelines set out by President Joe Biden in September. Biden said that all federal contractors need to vaccinate their employees by December 4th. It also states that American employers and businesses with more than 100 workers must all be vaccinated or take a mandatory COVID-19 test once a week.
Article continues below headlines
---
Perhaps better education on the advantages of getting vaccinated (as opposed to only the negatives) may help to reduce the hesitancy the world over. If not, we're likely to see more delays in other major airlines in the next few months.