Sherwin Williams Light French Gray is the color that people love to paint on their walls. You would be thinking about how or what is unique in this color that others don't have! Well, It is one of those shades that gives refreshing vibes even in the empty spaces of the house. No matter, whether you want it on the exterior side or interior side, SW Light French Gray is going to be the best gray color of all the time for you. Throughout this article, we will discuss everything about this color. It includes the basic introduction, importance, undertones, reviews, uses, and effects of Sherwin William Light French Gray.

Do you know any person who does not want to decorate or color his/her house? Of course not! As a person, we always want our belongings to be attractive and good looking. It also includes our house. Everyone wants that when someone enters his home, he/she feels impressed and astonished by the view of the house. It is all possible with the right technique and color matching.
However, the most important thing that changes the look of the house is the color that is painted in your home.
Don't you think the color should give modern, unique, simple, yet beautiful vibes! Sherwin William Light French Gray is one of those popular colors that most of the people prefer to paint on their walls. Firstly, let's discuss its basics a bit.
What Color is SW Light French Gray?
Now, if you are here, then you probably know what Sherwin Williams Light French Gray is. If not, then let us get deep into this.
Sherwin Williams Light French Gray is one of those colors that we paint on our walls. It is a lighter gray transitional color with moderate mixing of cool and warm undertones. You can say, it is a closer color to gray. If you are looking for the wall color that goes perfectly with empty spaces or the different colors of furniture, this might be your best option. This color is an all-round color that goes best with various and different colors and shades. People love this color for years. You can say it's a pure color because of the vibes it gives. Those who want some grey in their houses; this gray is undoubtedly the best choice to choose from. It also makes the small room appear and feel bigger.
If we talk about the general rules of interior design, then the house paints should be in lighter color rather than dark shades. This grey color follows this rule and is in a softer tone. It makes your house look airy and fresh. Also, it does not give the suffocated vibes in space that most of the other dark colors give.
Where can you use Sherwin Williams LFG?
With the ideal combination of warm and cool undertones, SW Light French Gray color can go very well with any type of color. You can use it anywhere in the house, whether the place is interior or exterior.
Interior side
If you ask that, where it will look best, then I must say that the interior portion is best for SW Light French Gray Color. Pairing with the crisp white color trim, it will make space airy and fresh and give a modern look. However, there are many other places, as well as the exterior portion, where you can use it to enhance its beauty.
Using Sherwin Williams Light French gray on Bedroom
No doubt, you spend most of the time in your Bedroom. If it does not give good vibes, you will never be comfortable here. Is it important to have your walls painted with good color so that it can give good vibes
If you are one of those gray lovers, then you are in the right place. This color is considered the most neutral gray color as compared to any other gray color. Also, having an undertone of blue, it gives fresh and cool vibes. However, make sure that it will match with your bed and other furniture and curtain color.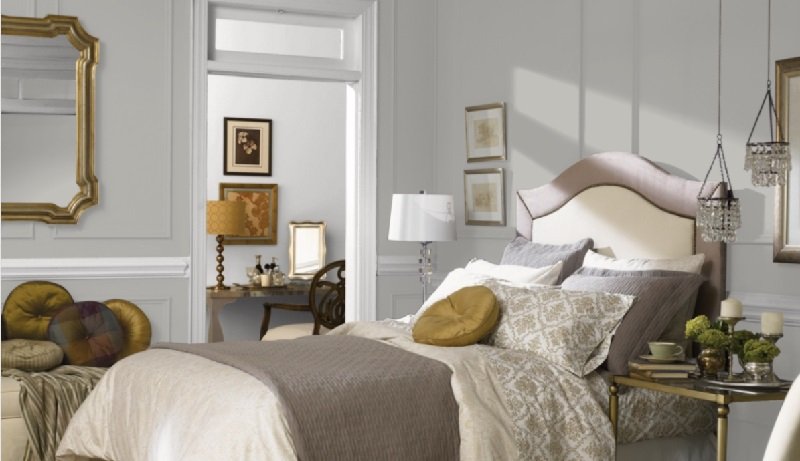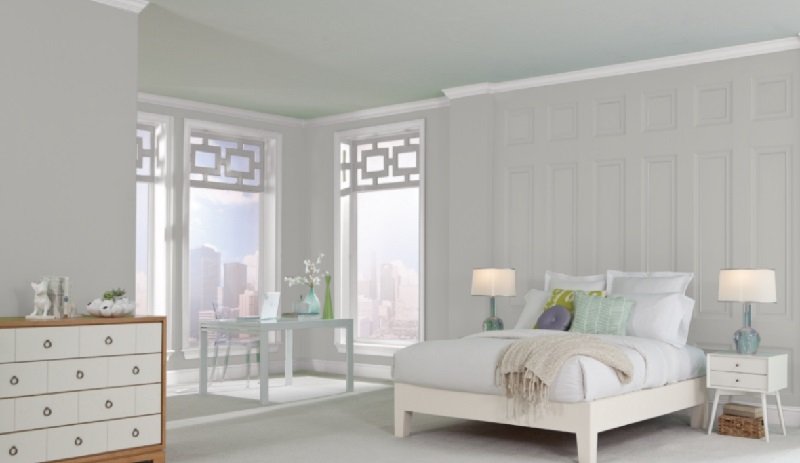 Using Sherwin Williams Light French gray on Kitchen
These are usually present in the center of the house. Even if they are not in the middle, they still play a major role in defining the beauty of the kitchen. This is because it is one of the most used, prominent, and bigger parts of that place.
Sherwin William French Gray color will go much better on these cabinets rather than any other gray color. Again! This is because of the light undertones of this gray color that enchants the eyes. This perfect neutral gray provides the perfect base color for your kitchen cabinets.
Here, the base color means the undertone or shade that will affect every other color and thing of the kitchen. Using this color will not intensify the room and allow you to use bright colors in the kitchen. You can also use this color on the walls of your kitchen.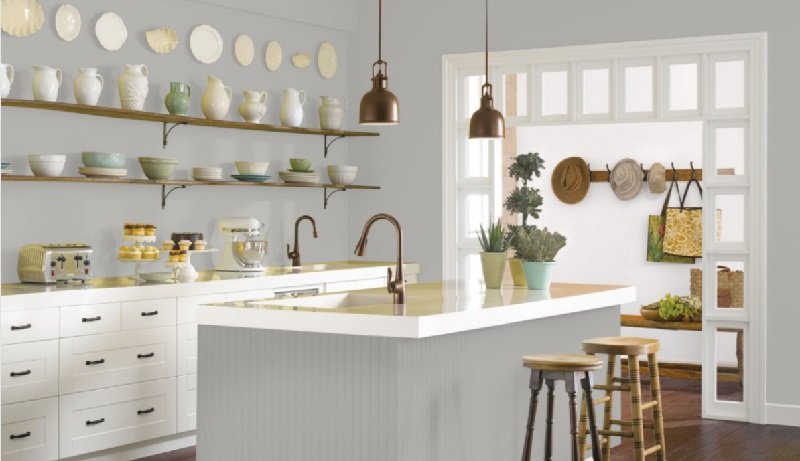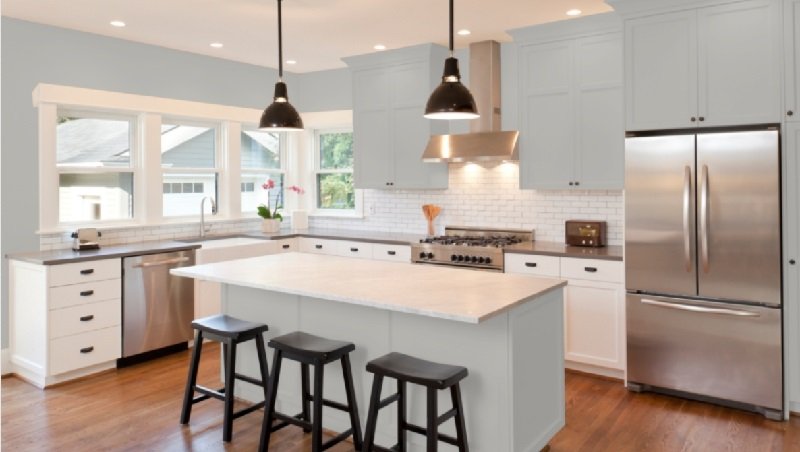 Using Sherwin Williams Light French Gray Bathroom
The bathroom is one of the paces that we use every day, and even many times a day. If you want your bathroom to be airier and want to give it a look for more airy and big, this color might be your best choice.
One of the reasons for using this color in the bathroom is that it has blue undertones. This blue undertone will go so well in the bathroom as it matches with the color of the water.
However, you have to make sure that it is also going well with the color of the bathtub shower, etc. It will give better results if you first try it as a sample on a small part.
Article continues below headlines
---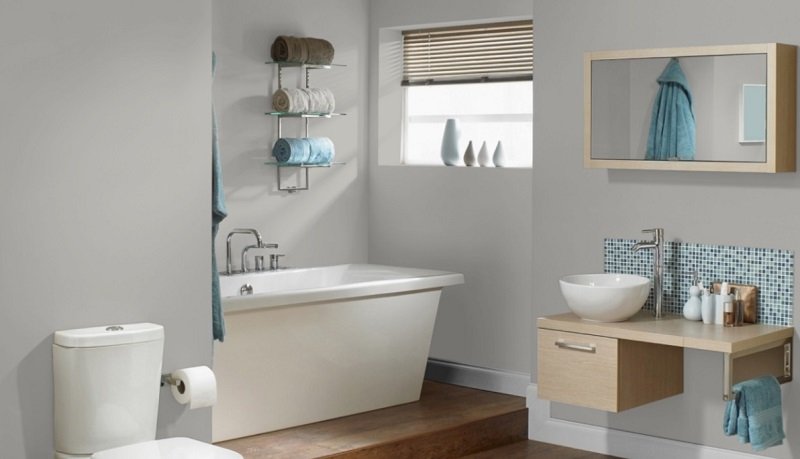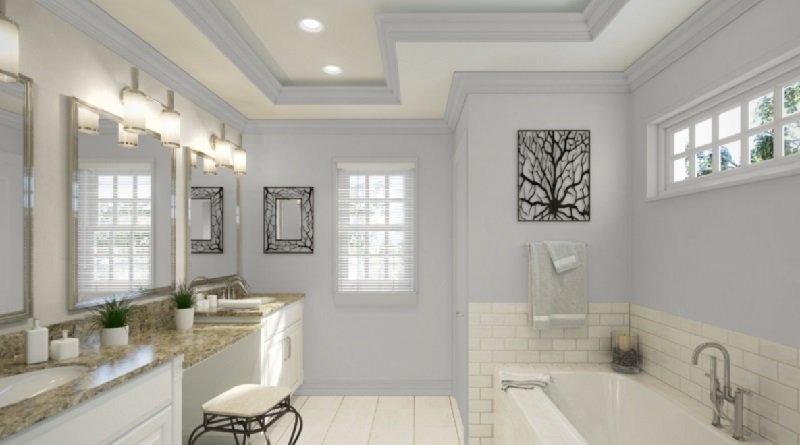 Using Sherwin Williams Light French gray Sunroom
The sunroom is the place where it has most of the lightning. We, with our family, go there and sit for some family time as well for getting sunlight. We will lose the charm and interest if the color of the walls will not be good. Considering it important, LFG will look good on the walls of the sunroom. However, It is a lighter color with cool undertone so it will lo more subtle there. You might don't like it if it will not be a match with the furniture there or for any other reason. That is why it is best to try on the small spot as a sample.
Using Sherwin Williams Light French gray on the Living Room
It is the most favorite place in the home for many of us. Of course, who does not like to get along with the family and gossip for a long time! View of the room subconsciously affects our mood, so it is better to give it the best look as much as we can.
This color has an undertone of blue, which will give the coo and beach vibes. The neutral gray will make the living room cool and airy, and you won't get suffocated feelings. It is important to consider that you should always test it before painting all the walls.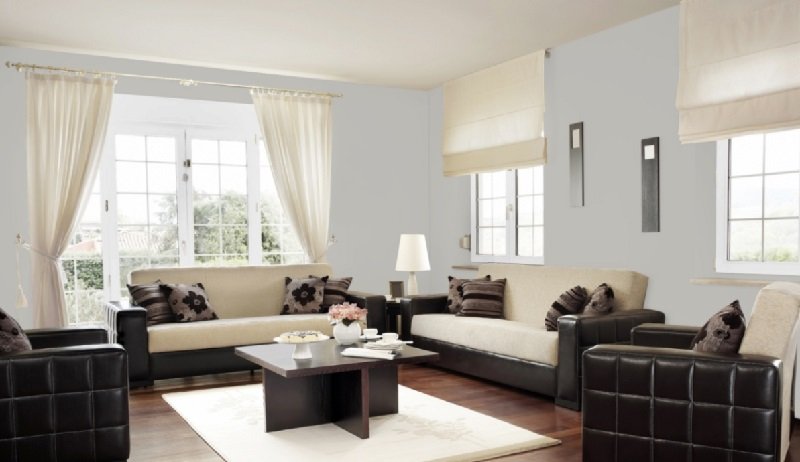 Exterior side
The exterior part is what everyone looks at first. If you do not work on it, you might be losing the actual beauty of your house.
One of my friends was looking for a color that she can paint on the exterior part of the house. She had little dark color earlier on the walls that are outside of her house. She didn't like it. After that, she wanted something neutral for her walls. We both did two-day research and finally found out Sherwin Williams Light French Gray.
This color got match with all the specification for the best paint color. She wanted a color that does not have strong undertones. In short, it does not have to be too dark or light; it should be neutral. The Sherwin William Light French gray is the same. Also, in the sunlight, it looks lighter and brighter. Eventually, your home will give a more fresh, airy, crisp, and modern look if you use it.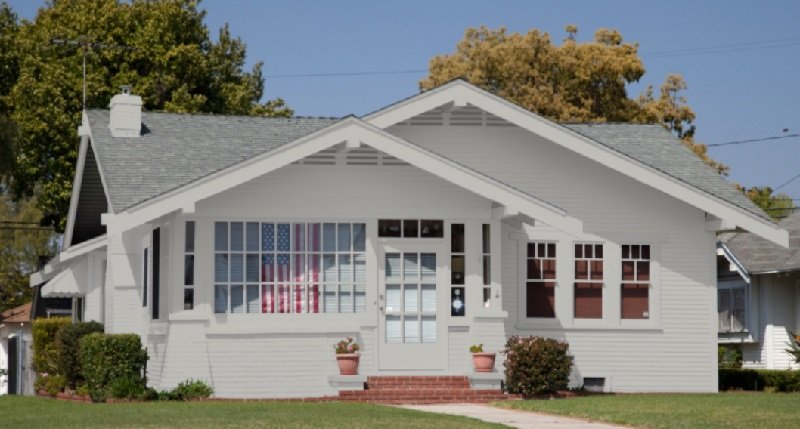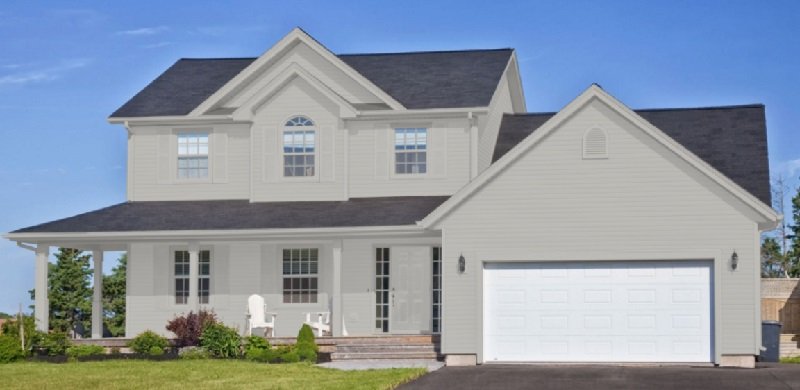 Comparison of LW Fresh Gray with Other Colors
LFG is a very neutral gray color and has very good properties. Now let's compare this color with other colors.
Light French Gray VS Knitting Needles
When you look at these colors, you will find it difficult to make a difference between them. They are almost the same. The HEX of knitting needle is C3C1BC. However, there is still some difference in their properties even though they look the same.
The LRV of the knitting needle is 52.84. Whereas if we look at the LRV of LFG, we come to know that it is 53. They are approximately on the same spot on the scale. The little sight difference is that the LFG reflects a little bit more light as compared to Knitting Needles. Indirectly, LFG will make the room look more fresh and airy.

Light French Gray VS On the Rocks
On the Rocks is also one of the famous colors of SW. It is also a gray color. It keeps subtle undertones that are equally important. Light French Gray is considered a neutral gray, and we want other grays to be neutral as well. However, On the rocks are not neutral like LFG, but it is close to it.
The LRV of LFG is 53, and the LRV of LFG is 62. It means that On the rocks reflects more light than LFG. If the north-facing light, this color will look more fresh and cool.
If you are concerned about the undertones of these colors, then On the Rock has more like Blue and Purple undertones. However, LFG only has a blue undertone that can rarely see. It will look super perfect if you paint it with a crisp white color.

Light French Gray VS Silverplate
Silverplate is very similar to LFG. Though it looks quite similar in its looks, its properties are also the same as LFG. So, if you are looking for a color that is very close to LFG with a slightly different undertone, then it is the best choice. It has an LRV of 53, and LFG has the same undertone. It means both these colors are going to reflect and absorb the same amount of light. The LRV comes on a slightly higher point on the color scale, indicating that these colors reflect more than absorb the light.
When it comes to undertones, LRV has a blue undertone, and Silverplate has a purple undertone. Both these undertones are cool colors, so again there is no difference in the type of undertones. You will get the same vibes. However, if you want some bluish in your house, then you should consider Light French Gray. Comparing these two colors, both have the same properties, but LFG has more popularity than silverplate.

Light French Gray vs. Repose Gray
Both of these colors are known as one of the best gray colors. However, there would be some differences in the properties of these colors. For this, let's compare both of these colors.
As long as their LRV is considered, both of these colors have the same LRV of 53. It comes approximately in the middle on the scale. This LRV indicates that both these colors are slightly good at reflecting the light.
Light French Gray has less warmth in undertones as compared to Repose Gray.
Repose Gray has a combination of gray, brown, and greige(with a tiny touch of people) as undertones, whereas LFG does not consist of any of these undertones.
Undertones of Repose Gray have different lighting, which makes it look a bit warmer. Whereas LFG looks cooler, but it is actually neutral. In short, LFG is a bit cooler as compared to Repose Gray.
That is why, if you are looking for a warmer tone, then go for Repose Gray, and if you want to go for true gray, then LFG is best. They both are best with their unique properties. No one wins here.

Light French Gray VS Classic French Gray
When you say its name, you probably think that this is the same color as LFG. It is not like that. They are quite different from one another but match with LFG a bit. Classic French Gray has an LRV of 26.87. It indicates that classic French gray will absorb so much light rather than reflecting. It will make your room a bit suffocated, but if you have a room full of lights, it will be balancing. If you are going to select this color, then make sure that your room is very bright. On the other hand, light French gray has an LRV of 53, which is quite good at reflecting light. Your room will be airy, fresh, and cool.
Talking about the undertones of these colors, then both of them have a little hint of a blue undertone. However, the LFG undertone has little more potency than classic French gray. Depending upon the LRV, you should go for LFG. But if you are looking for a little blue undertone, then go for classic French gray. Overall, LFG is better.

Light French gray VS Benjamin Moore
Benjamin Moore Thunder AF-658 is not the color of Sherwin Williams, but it is one of the colors of gray. It is a neutral and soft gray color. It will add softness and sophistication to any mid-toned griege. Griege is a color between breige and gray.
It has an LRV of 48.05, which means it is not that good at reflecting the light. On the other hand, LGF has an LRV of 53, which indicates it will reflect more light than absorb. The more reflecting color will give more coolness to space.
The sight purple undertone of Benjamin Moore and the blue undertone of LFG both are cool undertones. Now it depends on your choice whether you will like purple or blue undertones. However, Sherwin William colors are known to be credible and have more popularity.

Light French gray VS Lazy Gray
If you are looking for a more relaxing and subtle gray color, then the lazy gray color is that one. On the contrary, LFG is considered a more neutral color. However, Lazy gray also has a blue undertone that can also be seen in a cool light. From this, we can conclude that in terms of undertones, they are on the same ship.
Considering LRV, Light French Gray has an LRV of 53, whereas Lazy Gray has an LRV of 54.13. It shows that lazy gray has more light-reflecting potential. Also, lazy gray will make the room more open and airy.

Light French gray VS Mindful Gray
Mindful gray is a kind of greige color with the addition of warm gray that makes it as neutral as it can make. We don't want strong undertones, and the same case is with mindful gray. It does not have any strong undertones like green, mauve, or peach as other similar colors. However, it has a bluish or green undertone. These blue/green undertones prevent the mindful gray from becoming warmer and keep it balanced. It would be better if you include these undertones in good things
It has an LRV of 48, whereas the LRV of LFG is 53. Even though the undertones of both these colors make it equal, but in terms of LRV, LFG is good. LFG has more reflecting potential than mindful gray. It will make the room look more airy and roomy.

Light French Gray VS Passive
Passive is also one of the true grays, but it is more like a blue-gray. When it comes to undertones, it has a slight hint of green. The undertone is more prominent is the right lightning. Light French Gray has an undertone of blue, which is also very difficult to determine in low lightning.
When it comes to Light Reflecting Value, Passive has an LRV of 59.97, which is quite good. However, LFG does not have this much LRV.
Overall, passive is good. It would look best in spaces like offices, bathrooms, laundry rooms, etc. However, if you don't like a greenish tone in paints, you can go for the other color like LFG.

Light French Gray VS French Gray
When you say French gray, you probably get confused about the colors. For your knowledge, they are completely different colors with different properties and different colors. French gray is more like a green than gray, but most of the time, it is difficult to see what color French gray actually is. It is because they have a characteristic of converting or flitting between these two colors depending on the light and time of the day i.e., morning/evening, etc. On the other hand, LFG has a blue undertone. If you want to go for a more neutral gray, then LFG is best.

Light French gray VS Agreeable Gray
It would be difficult to make a difference and see which one is best. Both of these colors are unique and best on their own.
In terms of LRV, Agreeable gray has 60, and LFG has 53 of LRV. It shows agreeable gray is good at reflecting the light as compared to LFG. Agreeable gray will be more airy, roomy, and fresh in the spaces.
As long as undertones are concerned, agreeable gray has brown/taupe undertone, and LFG has blue. If you are looking for a cooler color, then LFG is best.

Why is light French Gray Popular?
Many of you would want to know why this color is so famous. It has the ability and potential to been seen and famous. Many people are using this color, and now they are satisfied with this color. Let's read its necessary and essential details first
R: 194 G: 192, B: 187
Hex Value: #c2c0bb
LRV of SW Light French Gray
If you do not know what LRV is, then just for your knowledge, it is called Light Reflectance Value. It is the amount of light that the paint or color absorbs or reflects. It is measured in scales. If the LRV is much higher on the scale, the move lighter and reflective, it would be. For example, if the LRV of that specific paint color is 0 on the scale, then the color does not reflect any light. Equally, if the LRV is 100, it means the color reflects all the light.
LRV of Light French Gray is 53. It means it is slightly higher on the scale and reflects somewhat more light. This LRV is one of the reasons for its popularity
Achievements of SW Light French Gray
Let's move to the Light French Gray's accomplishments. Sherwin William Collections featured Light French Gray in the following
ü Teen Space
ü Luxe
ü Purely Refined
ü Minimalist
ü Historic Interior Color Wall
ü Top 50 Colors
What are Undertones of Light French Gray?
Undertones are something that makes a significant impact on the actual colors by modifying the potential of it. These undertones lie underneath the actual color or skin. They affect the hue of the whole body.
Sherwin Williams Light French Gray does not have any strong undertone. However, many people say that there is a little touch of blue in it. The blue undertone is prominent in the room that is facing north.
Warm or Cool, What is Light French Gray?
It is challenging to see whether Light French Gray is a warm or cool color. It is because there is no strong undertone in this color. However, if you compare it with other famous gray colors, you can include this in cool colors.
For example, many people also like SW Agreeable Gray, Benjamin Moore Thunder, and Mindful Gray. Even though if we compare these colors with SW Light Fresh Gray, you can say, it is a quiet cool color.
How does the light change look of Light French Gray?
Lighting affects very much in displaying the color of something. Remember, when you take pictures, there is so much difference between the picture taken in sunlight and the one taking in the low light of the room.
Same like that, lighting also affects the colors of furniture, things, and walls. That is why; you should know the effects of lighting on the specific color you selected for your walls.
Rooms Facing North
Light in the north-facing rooms come off cooler and kinda bluish. The walls with lighter colors seem dull, whereas the dark and bold colors appear to be more lighter that appears perfect in the room.
This color is said to be neutral and goes well everywhere. If you paint Sherwin William Light French Gray in the room facing north, then you will be able to see the beautiful bluish and cool color of gray. Also, it will look way good in the lighting.
Rooms Facing South
In the rooms that face south, you will see the bright light throughout the day. Warm, as well as the cool color, works very well with the south-faced room. Lighting in south-face rooms intensifies every color. The light colors will be glowing, and the bold colors will get brighter.
Do you concern about the effects of the light in different shades of color? Every color will work like wonder in the light.
SW light Fresh Gray will look prettier, brighter, and lighter in south-facing rooms. If your room is in the south direction, it's a good choice for you to go for this color.
Rooms Facing East
People living in the east-facing room will get the brightest morning with the orange-yellow shade or tone. East-facing rooms lack natural light in the evenings. If you use the specific place facing east, especially in the evenings, then go with the warm palette. It will balance the lack of natural light in the room.
Rooms Facing West
The west-facing room would have the best light in the evenings. This is the time of the sunset. In these rooms, the warmer tones will be too overwhelming because of the orange-red tone the light gives. However, if you use this room mainly in the mornings, then the situation won't be the same, and they will not be intense as much.
What Colors go with Sherwin William Light French Gray?
It is important to know what colors go with the LFG when you are going to actually paint the walls. That is why here we are mentioning the similar and coordinating colors of LFG.
Similar Colors
The colors that are mostly similar to LFG are
Big Chill
On the Rocks
Silverplate
Knitting Needles
Coordinating Colors
LFG is a very versatile color that you can use it with every other color. The most compatible colors for light French Gray are blues, blacks, and Crisp White. However, other colors also go with LFG. The most coordinating colors of LFG by SW are
Storm Cloud SW
Distance SW
First Star SW
Riverway SW
Origami White SW
Alabaster SW
Tricon Black SW
Final Thoughts
When we redesign our house, it takes so much money. Some of us start saving money for this for several months. Now when it comes to painting the walls, it becomes very important to select the right colors. The wrong choice will make you suffer.
Sherwin William Light French Gray is a mild neutral, or you can say pure gray color with the light blue undertone. Light French Gray or LFG can go with any other colors because of the property of being neutral. However, LFG color will go best with Blacks, blues, and Extra white colors. Because of its achievements and quality of being neutral, LFG has got so much popularity. It goes well on the interior as we as for exterior. You can compare LFG with other colors and check what you like the most. Keep in mind that you should always check the color of furniture and always try on a small spot before painting on all the walls.