What is Receiptify and why are people using this to link to their Spotify accounts? It's a cool new app for music playlists.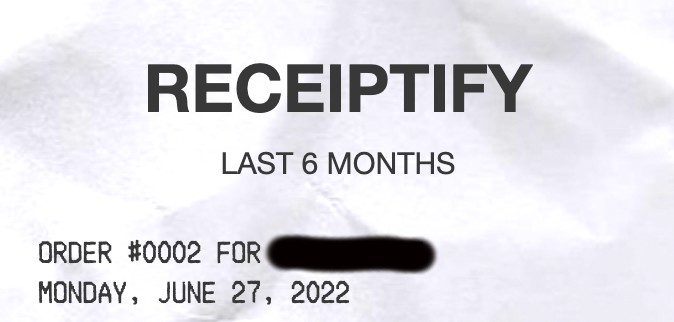 While many bemoan the simple fact of social media existence and what it has turned into, it does, believe it or not, have its benefits. It has allowed friends and family who are scattered across the country to keep in touch day-to-day, week-to-week, and month-to-month. It allows for the sharing of pictures, recipes, and yes, even music. New music, old music, fun music, or sad music, there are many out there who just love to share music that is consistent with the day they are having. One unusual way people are sharing their music tastes is through a popular app called Receiptify. What is this app and why has it once again become popular?
WHAT IS RECEIPTIFY?
Of all the things in the world, the one thing that may connect us the most is music. Now, some of you may say it's the NFL, but truthfully, it's music that brings people together. Yes, sports, especially the NFL, is the beast that brings out the good and bad in all, but that is mainly a United States thing.
Music, on the other hand, is worldwide. Music is what moves us. Music is there when we need it, and oftentimes when we don't. We all have our go-to playlists, we all have that one song that we KNOW would be our perfect WWE entry theme song, and we all have that one song that we go to when we want to be sad. Music touches us in so many different ways and we are not shy about it.
We love to show off the music we like. We want people to like the music we love. With Receiptify, you can do exactly that. So, what is it and how does it benefit you and the music you listen to?
Receiptify is an app that is hosted by the cloud platform Heroku. Like a few out there, Receiptify is a top track generator. By "track", we mean music tracks. The app is designed to track the songs you listen to and then generate your top ten list. The app is simple to navigate, very easy to use, and produces top ten results in the blink of an eye. How, you ask?
HOW DO YOU USE RECEIPTIFY?
Well, to use Receiptify, you link it to your music streaming account. Once you get to the app, which you can find here, you will be prompted to log into whatever music streaming account you use. From there, the app does the rest and in short order. You will quickly see a list that includes your top ten tracks and the combined listen time of those tracks. You will also see a few more personalized items such as your name and the date that you created your Receiptify.
You may be wondering what type of music streaming services Receiptify works with. If you are an Apple Music person (and we do wonder why, if that is the case), you will be pleased to know the app does work with it. When you go to the Receiptify app, you will see an Apple Music button that you can click on and then follow the simple instructions to gain access to your top Apple Music song list.
Receiptify also works with last.fm and you can also get to this top ten list by clicking on the last.fm link on the app page. But the one music streaming service this app is most dedicated to is Spotify. Like the previous two, Receiptify's app page provides the link so it can scan your Spotify account. Once it is scanned, you will see everything already described and it will be presented to you as you would get a receipt from the grocery store. Same look and style.
HOW DOES IT LINK TO SPOTIFY?
Wait a sec. Are you telling us you don't know what Spotify is? How can that be? It is probably the most popular music streaming app on the planet right now.
For those of us who may have been living under a rock (and seriously, with the way things are going now, we don't blame you), Spotify is a music streaming app that has actually been around for over 16 years. It was invented by two Swedish men, billionaire (now) Daniel Ek, and Sven Hans Martin Lorentzen. The two launched the popular music streamer in the UK in February 2010. It didn't make its way to the United States until almost a year and a half later.
When it first hit our shores, Spotify offered listeners a six-month trial period that was ad-supported, but you could listen to an unlimited amount of music for free. Once the free trial period expired, listeners would then be limited to ten hours of music streaming a month and only five plays per song. What!?! Yes, it's true. Thankfully it didn't take Spotify long to change that tact and soon they changed to the format that we see today. The free account allows you to listen to any song, as many times as you want, although every 4-7 plays will bring a few ads. You can now also pay for their premium account (first month free, $9.99 a month after that) that removes all ads.
So, now that we know what Spotify is, the linking to your account is simple. As we explained previously, Receiptify also has a button that will link to your Spotify account. Once you hit that button, it will prompt you to log into your Spotify account. Once you have done this, the app will quickly scan your account and produce your top ten list. Receiptify also allows you to choose what timeframe you want to scan. You can showcase your top ten songs from the past month, for the previous six months, or you can see your all-time Spotify list.
WHY ARE PEOPLE USING IT?
Social media was made for those of us who love to share anything and everything we do. Receiptify was invented for that very purpose. To show the world (or at least your friends and family) just what type of music you are listening to. Once you get your top ten list, you can share it with your many social media accounts.
Another fun reason to be using Receiptify is for your own personal benefit. Music tastes change. Certain songs hit us at certain moments in time and you may have that one song, for whatever reason, set up on repeat, and even after 400 times in a row, it doesn't get tired. Receiptify can show you just how your musical tastes can change.
WHO CREATED RECEIPTIFY?
Receiptify is not even two years old yet, but it has made an impact. It was invented by Michelle Liu in September 2020, who took to her Twitter account to say, "had an urge to make something today so I spent the day coding this! it generates a "receipt" based on your most-played tracks on Spotify :)) you can check it out at https://receiptify.herokuapp.com."
People did and it appears, by reading her own responses, that she was not prepared for just how popular her app would be coming out of the chute. Apparently, she was able to eventually work out the early kinks and make the app available to all with no issues.
So, if you want to track your listening habits, Receiptify is the app for you. It gives you your top ten, you can specify the listening timeframe, and the results come to you lickety-split. Then, of course, you can do what we all love to do – share.
---