Papa John's has decided to make a monumental change to its menus and serve pizza in a way it has never been served before.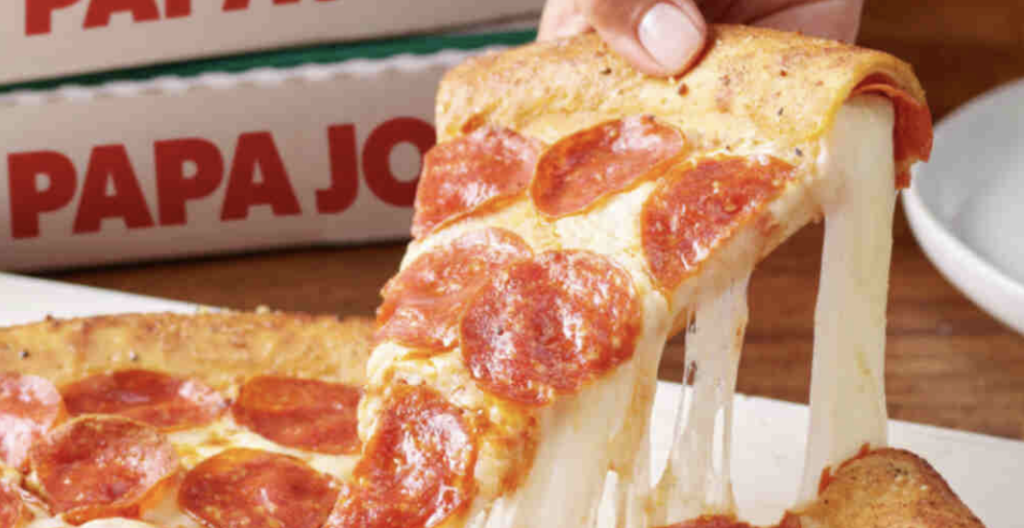 Papa John's has recently been working to revamp and innovate its business. To capitalize on what worked for them during the pandemic, contactless ordering kiosks are being installed in many restaurants. The company even moved to redesign its logo. Now they are taking a cue from other fast-food chains and honing in on their menu. 
Papa John's will not stop selling pizza. However, they are adding a new menu option that essentially takes what's on top of a pizza and puts in it a bowl, sans any pizza dough. The chain is calling its new creation the Papa Bowl. To start, Papa John's is introducing three different types of pizza bowls – Italian Meats Trio, Chicken Alfredo, and Garden Veggie. Each Papa Bowl can be ordered as is or customized. There will also be a fully customizable option.
Papa John's described each new menu item in a press release. The Italian Meats Trio is characterized by three iconic meat toppings – meatball, sausage, and pepperoni. The meats are melded with a blend of three cheeses and then smothered in Papa John's signature pizza and Alfredo sauces along with classic Italian seasonings. The Chicken Alfredo option also features the three-cheese blend but instead combines Alfredo sauce with garlic parmesan sauce. Then chicken, along with spinach, mushrooms, onions, and tomatoes combine together to complete the dish. The Garden Veggie option is loaded with veggies. It features pizza and garlic parmesan sauce, Italian seasonings, and the same delectable three-cheese blend. 
It might seem strange that Papa John's would introduce a menu item that essentially amounts to a bowl full of pizza ingredients. However, restaurant industry analyst and CEO of Kalinowski Equity Associates Mark Kalinowski, thinks that this maneuver could prove exceedingly profitable for the chain. 
Kalinowski explained by introducing this item they are essentially taking a page out of Chipotle's playbook. Chipotle's burrito bowls are menu items where the customer essentially builds out the bowl exactly to their liking. The customizability of Chipotle's menu is what differentiates that chain and draws in hungry consumers. In recent years, Chipotle's success has inspired many others to try and capitalize on offering customizable options in much the same way that Chipotle does. Now, Papa John's is trying to see if it can work for its business, too. 
Scott Rodriguez, Papa John's Senior Vice President of Menu Strategy and Product Innovation shared his enthusiasm regarding the addition of Papa Bowls to the chain's menu. "We are very excited to offer Papa Bowls as a new menu category and as a new way consumers can experience our premium ingredients," said Rodriguez in a press release. He continued to point out that they really honed in on Papa Bowls to offer something new to customers who are craving something different. 
Papa Bowls will make its official debut on August 15, 2022. However, they will first only be available to Papa John's loyalty rewards members. They will be made available to all customers beginning on August 22, 2022. They will retail for $7.99. 
The chain has also recently introduced a couple of other items to its menus, namely epic stuffed crust pizza and Papadias. The Papadias are essentially Papa John's take on a quesadilla, with pizza ingredients sandwiched between two pieces of flatbread. The company touts them as "portable deliciousness for any occasion."