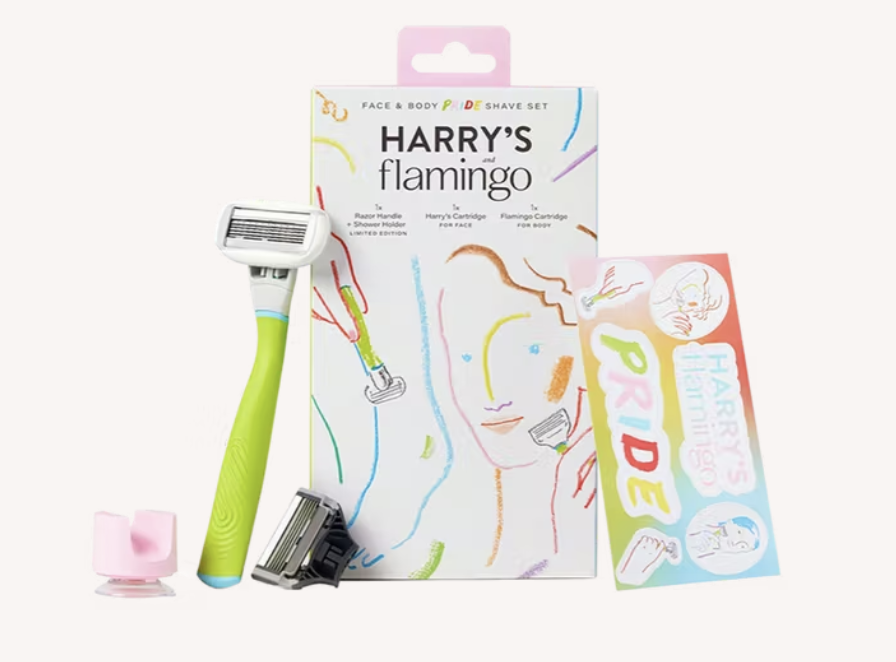 There are some of you who take your body grooming quite seriously and rightfully so. But you may have noticed, as with much of everything on the market right now, shaving products, whether they be for men or for women, have increased in price significantly.  Along with that, though, the quality of body care products has also increased significantly. For women, one of the newer products on the market is the Flamingo razors. How good are Flamingo razors and just how much will they set you back? Let's find out.
FLAMINGO RAZORS
Ladies, you can thank Harry for your Flamingo. See, almost ten years ago Harry's, a direct-to-consumer startup, hit the market as a way to offer a solid and inexpensive option for men and their facial grooming. Founded in July 2012 by Andy Katz-Mayfield and Jeff Raider, the boys launched Harry's in 2013. In early 2014, the duo purchased the German razor blade manufacturer, Feintechnik, for a cool $100 million and Harry's was off to the races.
Andy and Jeff both said that the idea of Harry's came because they were frustrated with overpaying for shaving products (mainly razors) that were overdesigned and didn't offer the results they were looking for. The boys were looking for something simple that delivered great results. Their main goal, though, was to keep the price reasonable for all. So, along with purchasing the German blade manufacturer, Andy and Jeff have also employed over 600 hardworking engineers, designers, craftsmen, and chemists to manufacture products from the finest materials and ingredients to ensure that men get the result they desire.
Harry's delivered and then some. They have kept their prices down while giving consumers the shave they are looking for. Along the way, though, women were beginning to realize what Harry's was all about as well. They saw firsthand just how well Harry's products delivered for the men in their lives, so they in turn began to use Harry's products. Over a million women have since enjoyed Harry's products.
As time went on, there were those within Harry's workforce who knew if they were to throw focus on women, they could create products better suited for women. They needed a division that would cater specifically toward women and not just by changing their razor handle to pink. So, Flamingo was created, and the focus leaned toward making ladies' razors a better product.
ARE FLAMINGO'S GOOD RAZORS?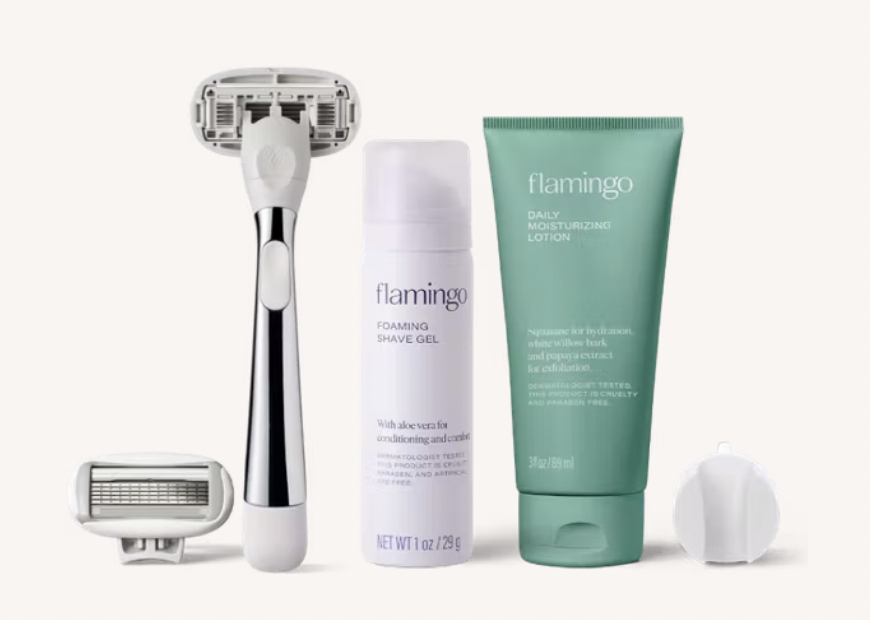 Flamingo has taken everything that had made Harry's a top seller and turned it up a notch. First off, the new company is led by two Harry's veterans, Allie Melnick, brand strategy and VP of new growth, and Brittania Boey, SVP of research, development, and design. Both have been with Harry's since the company first started. Their expertise around razors and what is successful has helped Flamingo's razors get off to a fast start that is focused, thoughtful, and distinctive in its design.
Flamingo razors are manufactured in the exact same German factory that Harry's razors are made. That, though, is pretty much where the similarities begin and end. While women will expect and get the same high-quality and ultra-sharp blades, the actual design will feature some notable changes. Women can expect their Flamingo razors to feature a design with a hydrating aloe vera strip, and rounded edges which are incorporated within a flexible hinge that will allow the user to smoothly bring the blades along the curves and contours It makes it completely different from the men's razors. Of note – on the "off chance" that women run out of blades before their next scheduled delivery date, Harry's blades can be used in a pinch with the Flamingo razor handle as a trusty backup.
HOW MANY TIMES CAN YOU USE A FLAMINGO RAZOR?
We know. We get it and we certainly understand. Changing razors (blades) can be a very expensive proposition. But that is the beauty with Flamingo razors, the price of which we will chat about in a bit. As for their use, of course, it all depends on how the speed and thickness the hairs grow. This comes down to how fast it grows, how motivated you are to actually shave it, and what type of routine you have.
The recommendation, by Flamingo, is that you change your Flamingo razor blades every 6-8 uses. So again, depending on your shaving routine, 6-8 uses could go anywhere from 2-3 weeks. Location may also play a part in this and the time of year (season). Some women may live in a location where the sun is consistent and the beach is nearby. You may then find your shaving routine more routine than others. If you find yourself living where temperatures are more on the cool side, your shaving routine may not be as frequent.
THE FLAMINGO RAZOR PLAN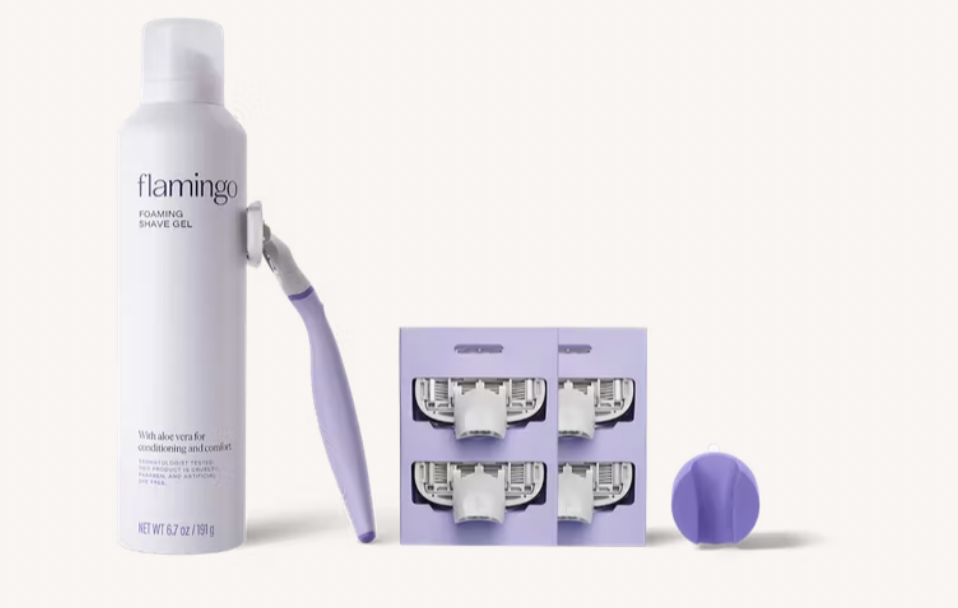 So, here is another beauty about the Flamingo razors' product. Unlike Harry's, you don't get the product via a subscription plan. You can start off easy with a simple razor and one five-blade cartridge for $9. This comes in either lilac, sage, rose, or papaya handle colors. For $2 more, you can get a chrome-colored handle.
Flamingo also offers razor sets as well as other body care products. You can get a blade refill set for $17 that is blades only. They offer a razor and refill set (razor, five-blade cartridge, foaming shave gel, and shower hook) for $20. A shaving set that includes one razor handle, two five-blade cartridges, one foaming shave gel (1oz), one daily moisturizing lotion (3 oz), one shower holder, and one recyclable pouch for $18. You can also get tweezers, gel waxes, treatments, and moistures on the Flamingo website.
DO YOU HAVE TO USE SHAVING CREAM WITH YOUR RAZOR?
Like many, skin sensitivity can be a real issue. Men have it when they are shaving their faces and women can have it when taking the blades to their legs or armpits. So, your skin is going to determine whether you think you need to use shaving cream or Flamingo's shaving gel when you shave. It is not necessary, as the five blades have an aloe vera strip that helps with skin sensitivity. If you do choose to roll with Flamingo's shaving gel, you will be pleased to know that the gel is formulated to not only condition your skin but also softens your hair to make shaving less stressful while also adding cushion to your shave.
ARE FLAMINGO AND BILLIE RAZORS THE SAME?
As far as women's blades go, Flamingo razors and Billie razors are similar products. If we are talking about the blades, both offer a five-blade cut. One difference, which could make a difference for some, is that while Flamingo razors are manufactured in Germany, Billie is made here in the USA.
Back to the cut for a moment. Both Flamingo and Billie offer the same shave as they both employ a five-blade cartridge. A small difference that may make a difference is that the Billie handle isn't designed for the razor blades themselves to move at an angle that went as far back as the Flamingo. Whether that makes a difference or not is up to the individual shaver.
One more thing of note is that while Flamingo is not a subscription service, Billie is. The pricing, when compared, is relatively even, so again it comes down to the individual and what type of routine you employ. Do you shave often, do weeks pass before you pick up the blades again?
FINALLY
Ladies, if you are looking for a smart alternative to grocery store shaving products, Flamingo razors could be the answer to your dreams. Of course, you can always continue to raid your man's shaving stash, but why do that when Flamingo has tailored their razors and blades to better suit your needs? And we are sure that you will be very satisfied with their pricing structure as well.