Diet Snapple is being discontinued, but not in the way you think.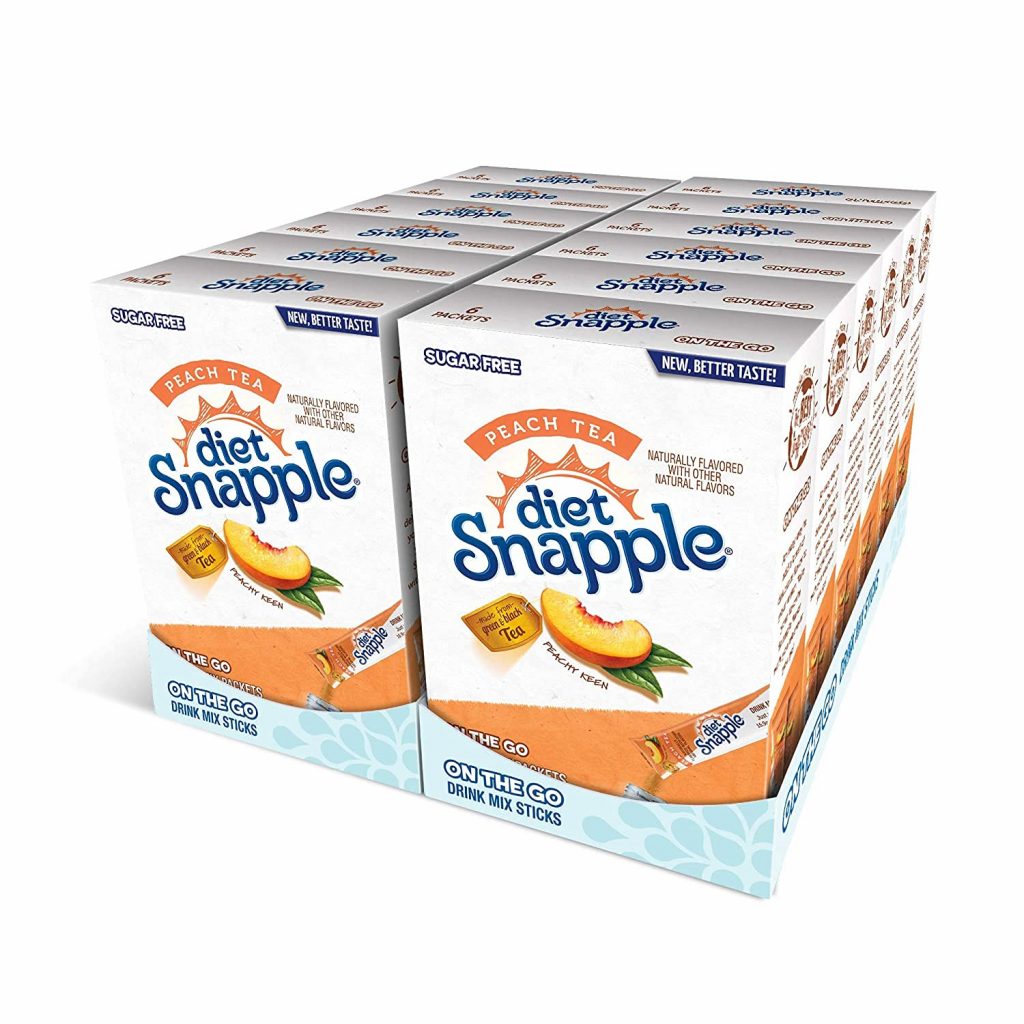 Snapple has been a formative drink for many growing up in the 2000s. They were an essential part of every cafeteria, with delicious flavors and fun facts written on the bottle caps. But Snapple hasn't been getting much press or attention as of late. Today, Diet Snapple is planning on rebranding to attract customers to its flavorful, sugar-reduced beverages.
Diet soda was popularized back in the 50s on the heels of Diet Rite, an American brand of cola that gave people an option to choose less-sugary beverages. As the success of Diet Rite took off, more soda companies started to incorporate the word "diet" into their drinks. Diet has now become synonymous with less sugar or sugar substitutes. Since the term has deviated from its previous meaning, many companies are switching up their labels to explain their product better. With Diet Snapple, the name will transform into Snapple Zero Sugar to represent the product more effectively.
You can thank parent company Keurig Dr. Pepper for this Diet Snapple name change. The beverage conglomerate renamed many of its soda brands, including 7UP, Sunkist, and A&W. The company thought it was more truthful to add "Zero Sugar" to its products instead of marketing them as diet sodas. Chief marketing officer at PepsiCo Beverages North America, Greg Lyons, stated that many corporations are altering their labels because "younger people just don't like the word diet." As standard dieting loses popularity in the younger generations, food and beverage distributors must change their branding to match the cultural lexicon.
Though Diet Snapple is receiving a rebrand, don't expect a complete rewriting of the essential recipe. The brand ensures the flavor, taste, and contents of Diet Snapple will remain unchanged. The only difference is the new Snapple Zero Sugar label printed on all "diet" products moving forward.
The rebrand for Diet Snapple will appear for six reduced-sugar flavors. The original flavors of Peach Tea, Lemon Tea, Raspberry Tea, Half n' Half Lemonade Iced Tea, Takes 2 to Mango Tea, and Trop-A-Rocka Tea will all be distributed with the Zero Sugar label. One new flavor will also be included in this lineup: Zero Sugar Kiwi Strawberry. These drinks will contain the same nutritional details and refreshing flavors as their diet counterparts, only sporting a brand-new label.
Keurig Dr. Pepper's vice president of brand marketing, Katie Webb, reiterated that the Diet Snapple rebrand has to do with a cultural shift around strict eating regimens. Since dieting has become less of a popular trend, foods and drinks marketing toward dieting culture aren't as sought after. The societal shift has pushed many brands to develop new advertising strategies, hoping to tap into new generations' consumption desires. Webb added that the beverage company prioritizes healthier drinks while shifting away from diet-culture branding.
Snapple is an essential juice and tea brand in the United States. With many delicious flavors to choose from, it's no wonder the brand has had extensive success. With Diet Snapple's new logo, the brand's innovation and limiting of diet-culture references will get younger audiences to continue purchasing the product.