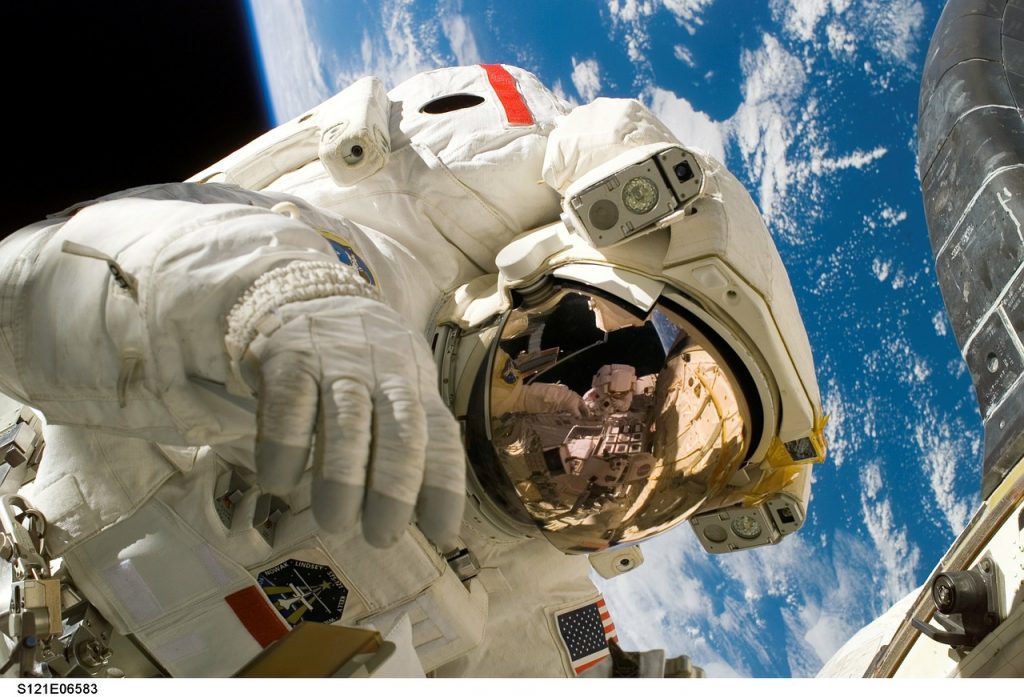 Fancy yourself a space enthusiast? How would you like to be sporting a piece of equipment astronauts wear as they venture into outer space? You can, as Swatch is offering the new Omega Watch to those who have dreamed at one time or another of making that historic lunar landing.
The new Omega Watch is officially called the Omega x Swatch Speedmaster MoonSwatch. It's a mouthful, so we'll just call it the MoonSwatch. But before we get into the pertinent details of the MoonSwatch, let's revisit just how Omega came to be the official watch of NASA.
It was a simple twist of fate that brought the Omega chronograph watch and NASA together. More to the point, it was NASA's decision, back in the day, not to equip their astronauts with official timepieces that eventually forged the Omega-NASA connection. Back in 1962, astronaut Walter Schirra became the first to wear an Omega chronograph watch in space during his Mercury-Atlas 8 mission. The mission was only the fifth manned mission.
As NASA had yet to feel it necessary to send astronauts into space with a watch, they were left to find one of their own. So, in 1962, a group of astronauts that included Walter "Wally" Schirra, Gordon "Gordo" Cooper, and more than likely Donald Kent "Deke" Slayton went in search of one that would do the trick in space. What they ended up with was the Omega Speedmaster watch. Their choice was an immediate success, one noted by NASA, and has since been a piece of NASA astronaut equipment.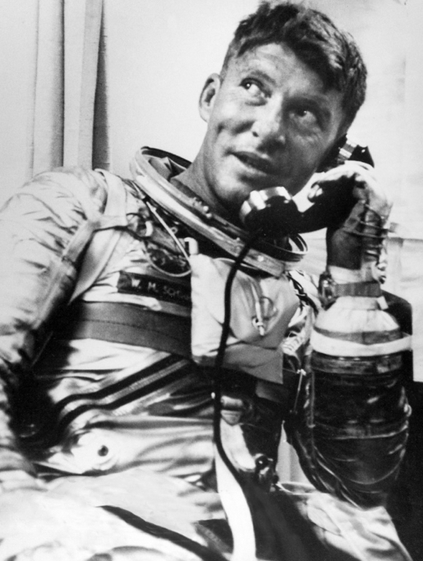 Not only was the Omega watch (you can clearly see it on Walter Schirra's wrist above) the first to go into space, but it was also on the wrists of astronauts during the first spacewalks and more importantly, it was also worn when astronauts took their first steps on the moon. It was definitely "one giant leap" for Omega. Their brand was now out of this world.
The version that Omega x Swatch has created is a much more affordable watch than the Omega Speedmaster. Although the Speedmaster isn't the most expensive watch seen on the market today (you're more than welcome to spend nearly half a million dollars on the Bulgari Octo Finissimo Ultra if you wish), the Speedmaster will run you no less than $5,000. The MoonSwatch is barely a fraction of that.
Omega and Swatch merged in 1983 and since then have been producing high-quality timepieces. Under the Swatch Group are other well-respected watch brands such as Hamilton, Rado, and Tissot. Omega's brand is one of the pricier brands under the Swatch Group, so them teaming up for a classic, yet affordable, watch is great news for those who still wear watches on their wrists.
What makes this pairing even more impressive besides just the price point (which we will get into shortly) is the fact that Omega and Swatch didn't just create one version of the MoonSwatch, but they decided to go all out and create 11 versions. Each version has a specific and original design with different colors, different face graphics, and custom watch hands. Even more intriguing is the fact that each watch has a theme that follows celestial objects within our solar system. These include the Earth, the Moon, Sun, Mercury, Venus, Mars, Jupiter, Saturn, Uranus, Neptune, and Pluto.
The MoonSwatch's Mission to Moon model is the one that is the closest to Omega Speedmaster Moonwatch in terms of look. With that said, the other MoonSwatch versions have the same exact dimensions as the original spacewalker – 42mm in diameter, 13.58 mm height, 20-mm lugs. They may not be exact replicas, but they sure are amazing to look at.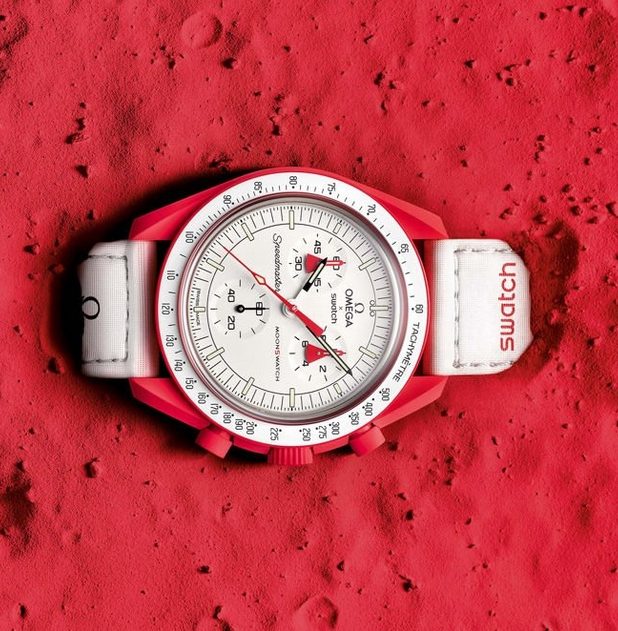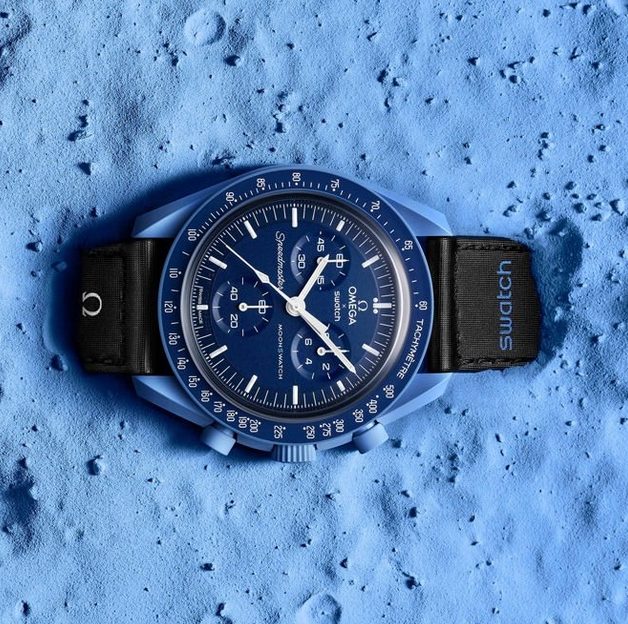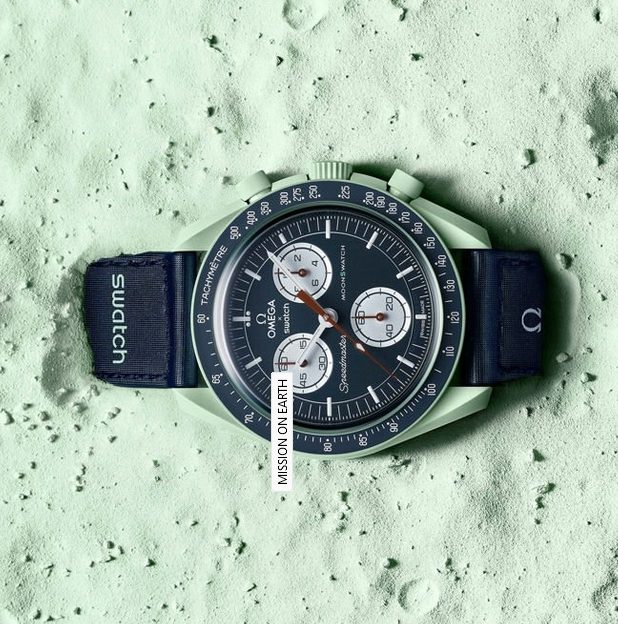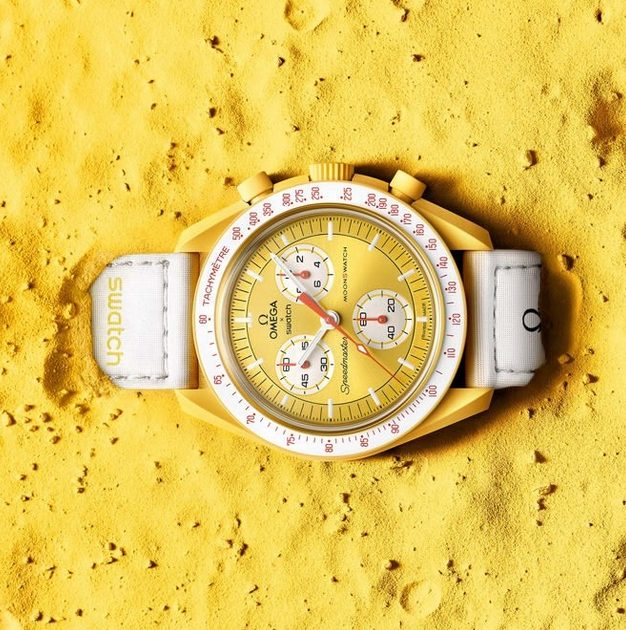 So, what exactly will the new Omega watch set you back? You will be pleased to know that it won't be in the thousands. No, the new MoonSwatch will only cost $260. Unfortunately for those looking to grab one right now, you'll have to wait. The Omega × Swatch Speedmaster MoonSwatch will be available worldwide on March 26.
There is also another caveat when looking to purchase. The Omega watch will only be available in select Swatch stores. Omega and Swatch have assured interested buyers that this isn't a limited edition watch and plans are to have it available for the foreseeable future. They also plan on making it available on their website as well.