Any good home cook or chef needs measuring cups and spoons. As they can depend on to them to be accurate and durable, as well as easy to use, clean and store. With these kitchen gadgets available in a variety of shapes, colors and materials, we decided it was time to do some research into which of these baking essentials were the best fit for your kitchen. Here are our top 5 picks for measuring cups and spoons.

The Cooking Gods have smiled upon us all with this set of 12 measuring cups and spoons, which also comes with the best magnetic conversion chart ever. These have the measurement stamped and engraved into them, as well as smaller measurements on the side so you can use one cup for three different amounts, meaning the measurements will never fade or chip away. We also loved the Cooking Gods for including both wet and dry measurements on each piece.
The cups are sturdy, with a flat bottom, they don't tip or move while you're pouring into them, the stainless steel makes them easy to clean, dishwasher safe and won't go rusty. They're also stackable, so it is super easy to store them away when you're done – perfect for those without much storage space. The measuring spoons are innovative, they're rectangular with long handles so they can get into the narrow spice bottles that a regular rounded spoon can't. The set also comes with two D-rings for you to keep all your shiny new measuring equipment together. And what really swayed me was the awesome magnetic measurement conversation chart – I saw this chart with 1 EasyLife 's set but they did not appeal due to the spoon shape.
You can pick up a set of these measuring cups and spoons by Cooking Gods on Amazon, and I reached out to the owner of Cooking Gods and she offered a sweet discount code that will get you 20% off! Use: KUY8C51R


This set includes 6 stainless steel measuring cups and spoons, two D-rings and a magnetic conversion chart, and is perfect for both dry and liquid ingredients. This set has many similar features to our previous sets; including, 18/8 stainless steel, rust and corrosion proof, dishwasher safe, easy to clean, one-piece, engraved measurements, stackable, d-rings, flat bottom cups, and easy-to-grip handles and that awesome conversion chart that I love.
There are some notable differences between the set above. The measuring cups from 1Easylife also have a small spout molded into them, which is fabulous for pouring a liquid without making a mess. But what didn't appeal was the spoons as they are rounded, and aren't as well designed or convenient to use as the rectangular ones listed above. Also, the handles are noticeably shorter than the set sold by the Cooking Gods and they actually stack a little looser. Not sure if that is a good thing or not but they do clank around whenever I open up my utensil drawer. All in all, 1Easylife has some good reviews from their customers on these, get your hands on the 1Easylife Measuring Cups and Spoons on Amazon.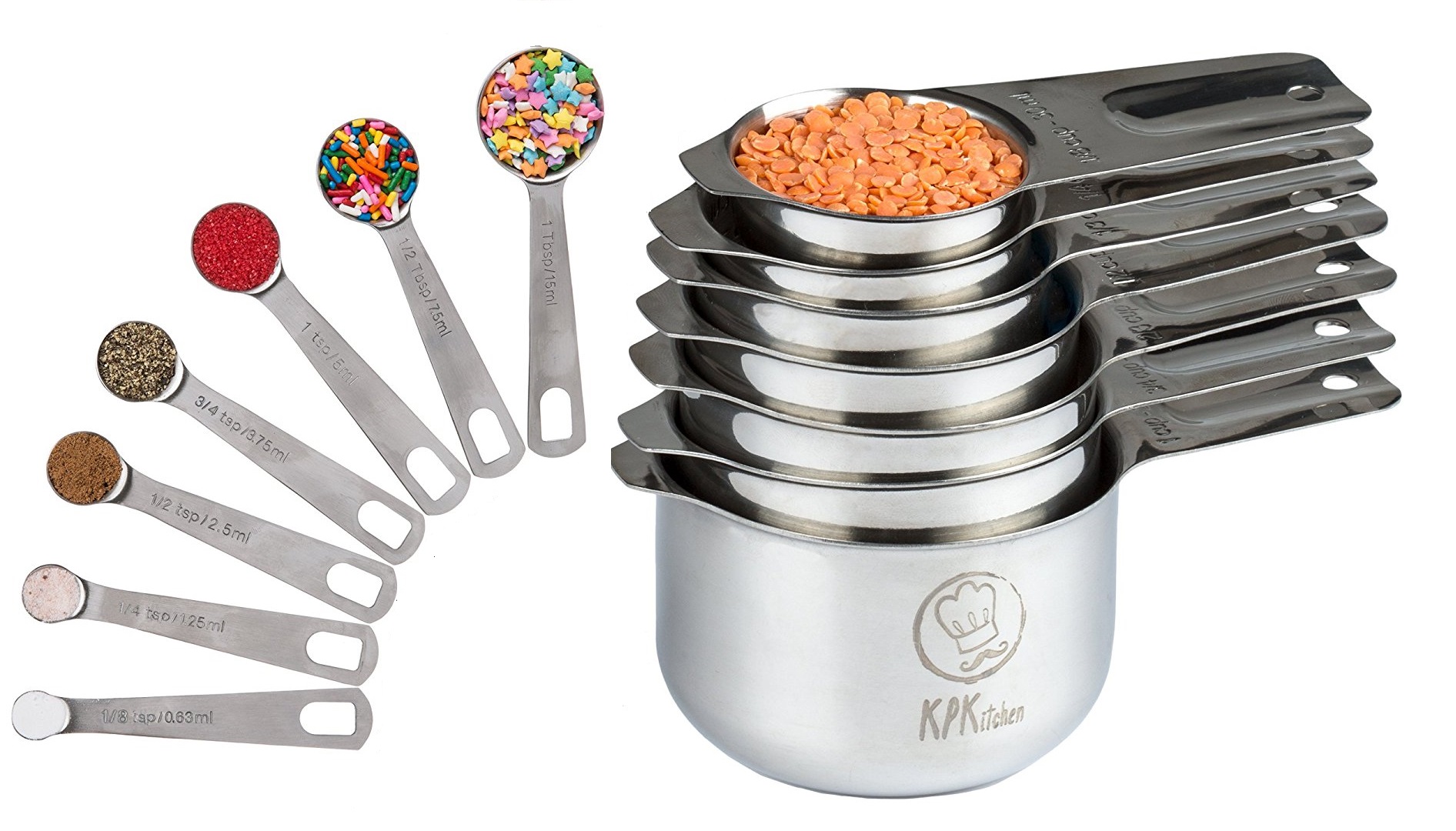 We're loving these for having the extra measuring cup and spoon in the set. They are made of stainless steel, like the others above, they also stack and are made as one piece, the cups have a flat bottom, and D-rings to keep them all together while storing. All things considered, these are almost on par with the other sets we've looked at and they seem to be the same cups as the ones Sold by Cooking Gods and they have a bonus 1/8 sized cup which is awesome for coffee!!, – So bonus points for this cup size in this set of kitchen gadgets.
There are two reasons this 14 piece set from KPKitchen is coming in at number 3 on our list, the first being the rounded spoons – as we've seen above, the rectangular design is much more convenient, and they don't have the pouring spout moulded in to their cups as we saw in the 1Easylife set. Still, these are highly rated by customers on Amazon, currently at 4.8 out of 5 stars, so there is plenty to love. Pick up a KPKitchen 14 piece set on Amazon.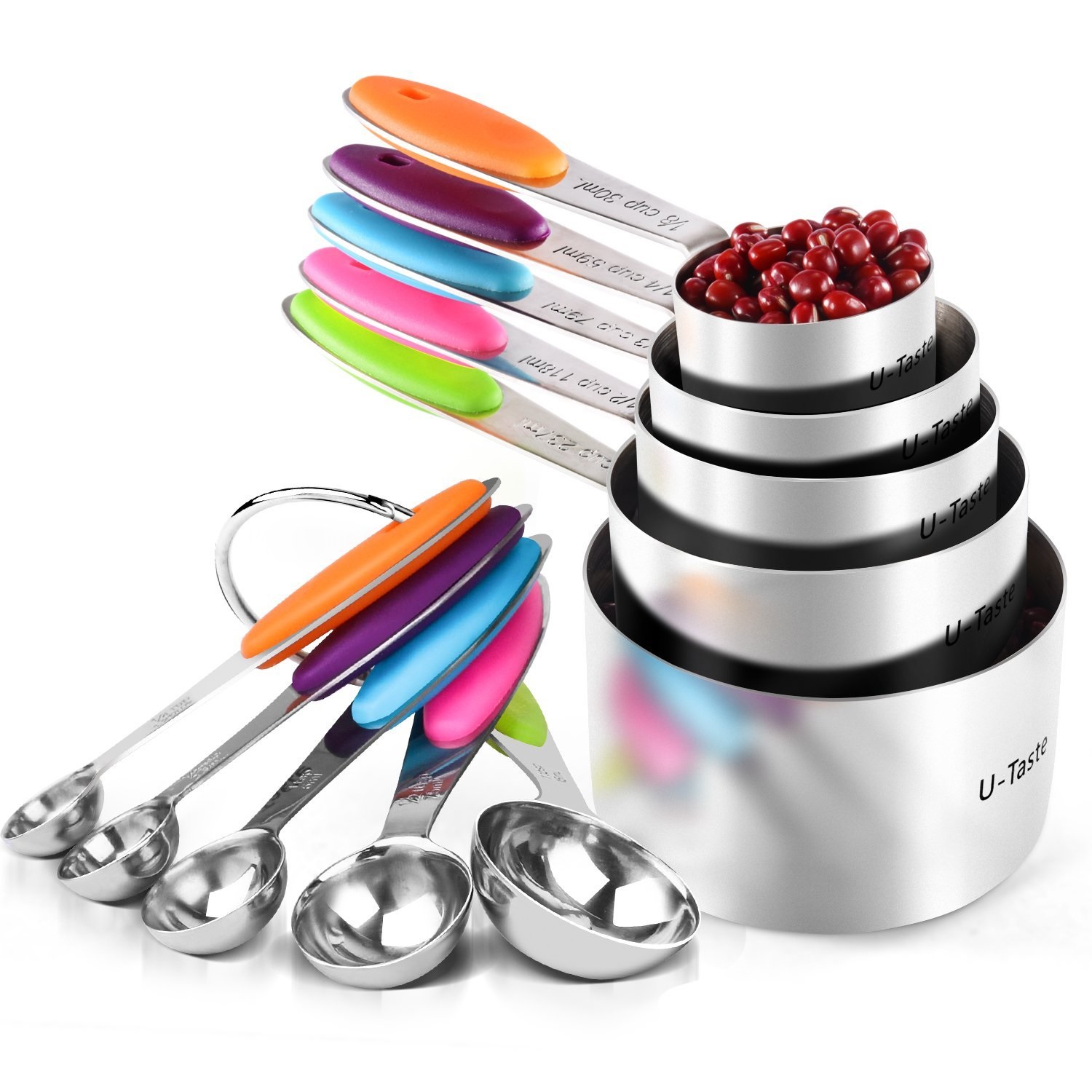 This set looked appealing till I went to order it and I realized that they have quite a few variations including that awesome conversion chart liked…But You had to pay extra for it. I liked the colored handles at first glance but then the OCD in me took over and I knew that this set would not "match the rest of my stainless steel utensils. They sell at $21.95 without the chart or at $29.95 with the chart. The negative feedback on this set all relates to the handles breaking off.
This is another reason why the solid one-piece cups by Cooking Gods, easy life, and KP Kitchen are the type of cups that I would definitely prefer to buy and to use.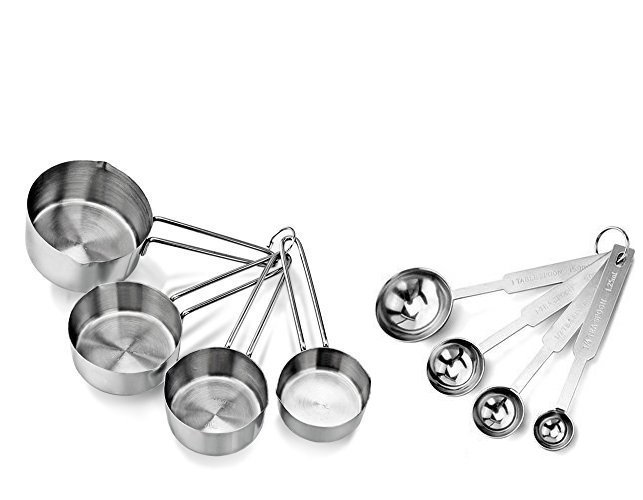 This is the smallest of the sets we've looked at but also the cheapest. It is also Amazon's choice for "Measuring Cups" The set comprises of four measuring cups and four spoons, made from stainless steel. The biggest difference between these and the other four sets of baking essentials is the way the measuring cups are made. The New Star measuring cups have the handle welded on, unlike the thicker gripped all-in-one cups above.
The spoons are also rounded, with only four spoons, only basic measurements from 1 tablespoon down to ¼ teaspoon are available. They are stackable, durable, the measurements are engraved, they have loops to keep the spoons and cups together and are suitable for both dry and liquid measurements.  These are the sort of set you would get in a holiday rental or perfect if you want a second set for camping. The New Star Foodservice measuring cup and spoon set is available on Amazon.

MORE PRODUCT PICTURES
| | |
| --- | --- |
| Round Spoons – Easy1lufe and KPKitchen Compared To Rectangular Spoons | The Easy 1life Cups Compared To CookingGods With Diferent Handle Lengths |
| | |
| --- | --- |
| Round Spoons Do Not Fit Into Spice Jars | Oval Spoons Fit Into Spice Jars |