Are you looking for best espresso machine under 200 dollars? If you are tired of paying a lot of money every day to a café for just espresso and cappuccino. Then the good news is that you can save a lot of money by investing in a home espresso machine. Your budget is just right to get an entry-level machine.
If you are espresso lover then quite often you would be feeling the need of a perfect drink. You can get a machine that can brew and froth milk to produce a great perfect latte. While taking any decision bear in mind that you want a machine that will last for years to come. We have not included any machine under 100 dollars. As the lower price may seem like an attractive choice but do keep in mind that they won't last for long.
| NAME | PRICE | DIMENSIONS | WEIGHT |
| --- | --- | --- | --- |
| MR. COFFEE- ECMP1000 | Click Here | 12 x 14 x 12.2 Inches | 9 Pounds |
| THE KEURIG- RIVO | Click Here | 11.4 x 10.8 x 11.4 inches | 17 Pounds |
| NESPRESSO- INISSIA ESPRESSO MAKER | Click Here | 12.6 x 4.7 x 9 inches | 5.3 Pounds |
| Capresso EC100 | Click Here | 10.2 x 8.2 x 11.8 inches | 10.1 Pounds |
| DELONGHI EC702 | Click Here | 11 x 9.1 x 11.6 inches | 13.4 Pounds |
LIST OF BEST ESPRESSO MACHINE UNDER 200
Below are 5 of the best espresso machines that can make your espresso making process a lot easier. Under the tight budget of 200, you cannot get a lot of features but still can enjoy the perks of experimenting and making all sorts of drinks.
Mr. Coffee- ECMP1000
A great espresso machine which offers vibration less performance. It offers milk frothing automation that will make it easier to add steaming milk for great lattes and cappuccinos. The model comes with a recipe book which you can use to make great flavors. The user interface is simple enough for unseasoned users to make great espressos.
The design is very compact and it will be easily placed on your kitchen's countertop. The footprint size is only 12 by 14 inches and stands at 12.5''. There is no grinder attached to the machine otherwise it would have increased the dimensions more. The machine overall does not make into the list of very attractive espresso machines but the stainless steel front gives it a professional look. With these and many features offered, we decided to include it into list of best espresso machine under 200
The 15 bar pressure makes this machine a powerful espresso maker. If you are a fan of quality beans and use freshly ground beans then ECMP1000 will make great looking espresso. You can make up to two espresso shots at a time. Longer shots are also possible with the added button called espresso. With filters available, you can easily make coffee grounds for single and double shots.
Most espresso machine under this budget does not offer frothing milk and it is a time taking process. You do not need to take the stress of frothing as this machine will handle the process by itself. The ease of use is further increased by large capacity water tanks which can be refilled. There is an inch space taken by the drip tray. If you have a mug taller than the standard size of mugs then you can take the drip tray out and use the bigger cup.
Mr.Coffee gives a measuring scoop which will help you make the pucks quickly. In all the great features there are some shortcomings which have been observed. Some customers have complained about the reservoir leakage for both milk and water. If you are a fan of quiet gadgets in your kitchen then this is not an ideal machine. Furthermore, if you are not a person who cleans the machine immediately after making drinks will have a tough time cleaning it after many sessions. With every passing month machine will lose its pressure and after 12 to 14 months you would have to get this fixed.
Some Key Features
Measurements: 12 x 14 x 12.2 Inches
Weight: 9lbs
The Keurig- Rivo Cappuccino System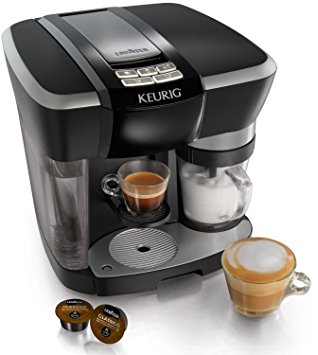 This is a complete espresso system for home use. You can make espresso shots, macchiato, latte and mocha. Overall the machine is big but it gives great results and makes into a list of best espresso machine under 200. You need to enter the Rivo espresso pods from the top. The machine is operate-able at 15-bar pump pressure which is great for making nice flavored espresso shots. But the overall temperature is lower than the recommended brewing temperature.
You need to use filtered or boiled water if you are planning to buy this machine. Because there is no filter in the 60-ounce removable water tank. The machine has an inbuilt frother, this saves your money by buying an additional frothing machine. It also stands out when it comes to ease of use. All espresso making process is very easy. All you need to do is to add some milk and Rivo pod. Leave the rest to the machine and you will have your espresso ready within few minutes. You can get two brews of 1.4 and 2.8 ounces if you combine it with milk you can get 8 oz drink for latter or cappuccino. You will not be able to make coffee with this machine.
The Rivo system employs special Lavazza Rivo Coffee Packs. They are not same from Keurig's K-Cups, therefore, you should refrain from using them with this system. You can get different varieties of pods named: Classico, Delicato, Intenso, and Decaf. It competes directly with Nespresso both are single serve and can make great espresso with a single push of a button. However, Nespresso only uses Nespresso capsules and is available in wide variety. In comparison with Rivo, Nespresso has more compatible capsules available. Another drawback is that the milk from this machine is not very hot. One more shortcoming is the inability to produce a constant volume of espresso.
Some Key Features
Measurements: 11.4 x 10.8 x 11.4 inches
Weight: 17lbs
Nespresso- Inissia Espresso Maker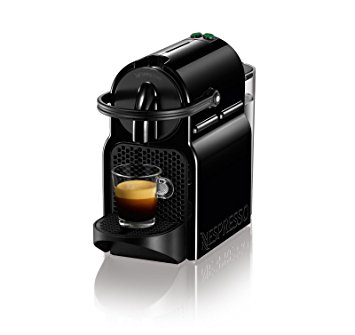 The lightest Nespresso machine with a very compact design and easy to refill the water tank. It differs from both Mr.Cofee and Keurig's Rivo as this is a 19 bar pump machine. Inissia is just 2.4kg in weight and offers great functionality for an entry level espresso machine and makes into this list of Best Espresso Machine Under 200.
It does not come with milk frother and you would have to buy that out separately. But it does not cost a lot even lower than the above two machines if you buy an additional frother with this espresso machine. Inissia provides 16 capsules to get you going that will make great espressos. In addition, Nespresso itself range of 22 Grand Crus will widen your choice of making espresso. You can make coffee with this unit as well.
Although from the design perspective it is not very attractive but it will take just 12cm of space on your kitchen top. The width is small but the water tank is still 700ml spacious. The user manual is very helpful and it will explain detail easily with the help of a diagram. The drip tray it comes with is hinged but it can be flipped to allow to fit in larger cups. Overall the machine is straightforward to use and there are just two buttons that make the process very easy.
In order to place the capsule, you need to rotate the bar at front backward, doing so will open the slot to place in the capsule. This is slightly complicated and it will take some time before you are used to this procedure. After the capsule is inserted, you can select the volume of shot, the water volume can be changed. After making the espresso machine will stop by itself.
Among the shortcoming is the noise this machine makes. Under this budget of 200 dollars, you will not get a very quiet machine. 700ml water tank although is enough but for some people, it can be a problem to refill it again. The pods are all colored with Italian names and synchronization to specific use can become hard to remember. Lastly as mentioned earlier you have to buy an additional frother but considering the reasonable price this unit is tagged at, getting an extra appliance should not be a pain.
Some Key Features
Measurements: 12.6 x 4.7 x 9 inches
Weight: 5.3lbs
Capresso EC100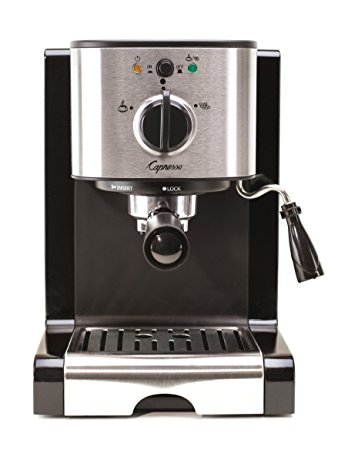 A great machine which can make a number of hot drinks other than espresso and makes into a list of best espresso machine under 200 dollars. The good part is that it does not comes in contact with aluminum and makes it safe from cancer-causing metals. You can make two shots of flavored espresso with this machine.
The machine has two part frother. The sleeve will allow you to insert hot steam and air into your milk for foamy cappuccinos. You can also use the underlying steam tube to make lattes by removing the frothing sleeve. You can use pre-packaged espresso pods or ground your own coffee beans and extract great flavor by machine bar pressure. Two cups of espressos can be brewed simultaneously.
The water tank at the back is transparent so you can quickly get the water level in the machine. Water never touches the aluminum and your espressos taste will not be ruined by the metallic surface. The machine is easy to clean as water reservoir is easy to clean and so is the front drip tray. You should clean the machine more often, as exposing it for long can give safe havens to bacteria. You have to wash the water tank and drip tray with hands as they are not dishwasher safe.
Capresso has prioritized the safety and employed a number of safety procedures to sure the consumer safety. The electrical cord will be out of reach from children as its very short in length. On and Off indicator will show you if the machine is properly plugged in via polarized plug. Capresso provides a toll-free number which you can use in case of any problem.
Among the shortcomings is the relatively larger time taken to make the milk hot for lattes. Cleaning the machine can be time taking. The machine loses pressure relatively quicker within a year so you have to get that fixed. But the great part is the customer service is great. Capresso has provided all sorts of support to its customer. So if you encounter any problem contact the manufacturer and get professional help instead of getting from some freelancer repairer.
Some Key Features
Measurements: 10.2 x 8.2 x 11.8 inches
Weight: 10.1lbs
DeLonghi EC702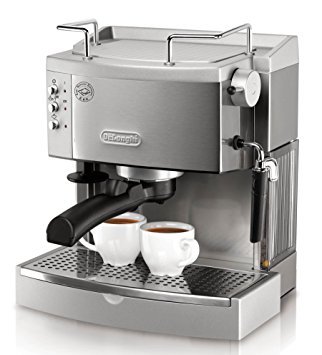 Delonghi is one of the best brands in espresso industry. EC702 makes to our list of best espresso machine under 200. It is a 15 bar pressure machine that can produce a great flavored espresso with thick crema. Machine enjoys a great track record among the espresso lovers. Delonghi also provides warming tray that will make your cups warm, so you can keep your espresso hot.
The machine is built with a stainless steel built which also includes a stainless steel boiler. You do not need to buy an additional frother as it is included with the brewer. There are two thermostats to measure the pressure of both water and pressure. You can brew both the steam and shot simultaneously owing to the dual thermostat. From design, it looks an ideal machine that you can place on your kitchen toThe designing is elegant and professional looking.
In comparison with the traditional machines where steaming nozzle would come into the way, EC702 has frother which is located towards the side and does not come into the way. The nice foam produced by the more forth can be used to whip cappuccinos easily. The machine does not limits you to choose between either ground coffee beans or coffee pods. You can employ both and even use E.S.E pods that will make the brewing process faster and smoother.
The first few shots will not taste good as like another machine whose water comes in contact with metal. However, after few shots, the metallic taste will begin to diminish and you can enjoy great espressos. After the first few shots, the flavor will permeate into the filter. The clearance under the spouts limits that you will need espresso shot glasses which do not come with the machine. Also, there is short clearance under the steam wands which confines milk volume you can steam.
Some Key Features
Measurements: 11 x 9.1 x 11.6 inches
Weight: 13.4lbs
BUYING GUIDE FOR ESPRESSO MACHINES
If you are a newcomer and just entering into the world of caffeinated beverages then you will be surprised to know that there is a massive difference between Coffee and Espresso. The preparation process of espresso differs from that of coffee. An espresso requires a premium quality coffee beans that are brewed through a special process that impart a very intense flavor that will take some time to develop taste for.
You might be interested in buying higher end espresso machine under 500 dollar budget then you must check this review.
WHAT YOU CAN DO WITH ESPRESSO MACHINE
You might not have realized it but most of the drinks that you have been ordering are actually made by an espresso machine. You might be in love with your local cafe but you must that you can also make the same quality recipe at your home. Here are some of the drinks that are made from the espresso machine.
Espresso Shot
The darker version of black coffee. Most of the espresso lovers want the most natural extract straight out of their high-quality coffee beans. These are very strong and can make you energized in no time.
Macchiato
The concentrated espresso shot is made diluted by adding milk on top of it. This creates a foam on top of the shot and makes the flavor slightly weaker.
Cappuccino
The most popular form of espresso. In comparison with a macchiato, all you need to add is to include more milk and further dilute the taste. Some users enter sugar to cater their taste.
Latte
Latte has more milk on top than a cappuccino. But the top foam layer is lower than that of macchiato.
Mocha
For chocolate lovers, all you need to do is to add extra milk on to your espresso shot and then include chocolate on to it. It is best for chocolate lovers.
These are the main espresso drinks types. But do not confine yourself to just these, if you have an espresso machine at your home then you can do a lot of experimenting. You can add whipped cream, add nuts, mint or even caramel to add new flavors to your espresso.
There are tons of experimentation that you can do and make your own new kind of drinks. An espresso machine is a kingdom to enter the heaven of espresso.
TYPES OF ESPRESSO MACHINES
Espresso machines are classified on the ease of use. You can buy 4 different type of espresso machine. Each has its own way of preparing the espresso. It depends on your style of making espresso. Some people prefer to enjoy the basics while others want to have the whole process automated.
MANUAL ESPRESSO MACHINE
As the name suggests, you need to do everything manually to get a shot ready. With a manual or do it yourself espresso maker, you have control over all the processes that an espresso goes through. This will give you more control and you can end up with fully customised yet perfect espresso. While it may sound exciting because of the power you have but do keep in mind as a beginner you might struggle with creating a good recipe.
All manual espresso machines have a lever on top of them. The lever can be of spring piston or direct. The direct lever will require you to put in more efforts than a spring piston. But here comes another downside, they are more expensive although they look attractive but will cost a cut on your paycheck.
But do keep in mind that this machine produces high-quality espressos, gives you more control and are usually more durable. Once you are experienced, the fun increases exponentially with a manual machine.
SEMI-AUTOMATIC ESPRESSO MACHINE
The second type, as the name indicates it is not fully automated rather requires some manual work. They are easier to use in comparison with manual machines as they are powered by electrical pumps.
They lie at mid spot between a fully automated espresso machine and manual espresso machines. Indicating that you can still enjoy some of the control and also get the benefits of automation. In comparison with manual, these are relatively more affordable.
FULL AUTOMATED ESPRESSO MACHINE
Fully automated machines not only have the electric pump part automated but also they control the amount of water during the process of making the espresso. They are great if you need an automated espresso made every morning but if you are looking to experiment with then this is not an ideal machine for you.
There are different kinds of espresso machines available. From few hundred to above thousand dollars. Total automated espresso machines come in all kinds of the feature with diver price tags. But with more chips on board come more risks. A single break on the electronic chip can make your whole machine useless and you would have to get it repaired.
SUPER AUTOMATIC ESPRESSO MACHINE
Why is it called super? Because it takes automation process to the next level. All you need to do is to add ground coffee into the machine, press a button and you will have your espresso ready. It is simple and extremely easy to make espresso with this machine.
If you are a busy person and do not have time to go through the espresso making process then this type of machine is ideal for you. It comes at diverse price tags as well which differ in terms of the features. One drawback is that they take control out of your hands completely.
IMPORTANT FACTORS TO CONSIDER
Once you have decided your current level of espresso love and kind of machine you are into. Now is the time to measure different models on basis of factors that determine how good an espresso machine really is.
USEABILITY
Although this refers to the amount of control you have at your disposal. But this also means the number of extra features that are already programmed onto the espresso machine. This is in the case of automated machines. The more features your machine has, more will be the amount of money you will be paying.
CLEANING
Well whatever machine you buy, it requires you to clean the machine. Make sure you know how easy is the process of cleaning the machine. If you have to spend hours cleaning the machine then it is not really worth it. A pro tip is that more the features a machine is offering you, more will be the time it will take to get cleaned up.
BUDGET
Look for what you are paying for. The price on an espresso machine might be for a different reason. The price tag might be very high because the machine is extremely durable or it might be because there are tons of features offered by the machine. The price tag might also be because the machine is capable of producing high-quality espresso.
With a budget of under 200 dollars you will not get a lot of features on the espresso machine, what you can get is a nice caffeinated drink.
TYPE OF DRINKS
We have explained different type of espresso drinks that you can order at your local coffee shop. If you are a seasoned espresso lover then it is important to know what kind of drinks you can make with your espresso machine. If you are new into this field and do not care much about the type then you can settle with a normal automated espresso machine.
However, if you are an espresso geek then you need to know the number of boilers your desired espresso machine has, how much steam pressure the machine is employing or even how good the machine is at maintaining the temperature. Different factors contribute their own importance in the preparation of an ideal espresso.
DURABILITY
Machines that are made up of steel are not only better when it comes to maintaining the temperature but also are more durable. Machines that are fully automated have more electronic circuitry on board that is always prone to damages. The durability of such machines relatively lower than the manual machines.
SIZE
Look at your kitchen top, how much space you have available. Espresso machines are heavier in weight you cannot put them back and forth from kitchen top to your kitchen cabinet. A bigger machine will be difficult to handle and compromises on stability. But they will sit tight once placed on kitchen top and also produce more than one shot in one go.
ADDITIONAL FEATURES TO CONSIDER
While taking the decision to buy espresso machine you might get confused with some terms that are features offered by the manufacturer. These features might be spot on to your style of espresso making. You might totally take your decision based on those features. Here are some that can influence your decision
Coffee Grinder Inclusion
Espresso which gets freshly grounded beans taste much better than pre-ground beans. Some espresso machines particular super automated machines come with a grinder that will take the hustle of buying an extra coffee grinder out of question.
Filter
How good the water is will influence the taste of the espresso. If your espresso has a filter included then it will clean out the impurities from your water and make the drink taste better. In addition, you will also get health benefits by being saved from unhealthy water.
Noise
Espresso machines produce noise while operating. Quieter machines are hard to find under the budget of $200. Using an entry-level machine repeatedly in the office can be a problem for your colleagues.
Warming Cup
You can have your cup temperature raised. This is ideal for the region where winter lasts for a big portion of the year. You cup will warmer and will lose heat lower to the surrounding. The espresso inside the cup will be kept warm for most of the drinking time.
Customisable Settings
Some machine can let you program the quantity of ingredients. This is ideal for those who have figured out the ideal flavor of their liking. You can automate the process and get your perfect cloned espresso each time.
Wand
Most espresso machines already come up with this feature. For steamed milk espresso lover this is a feature which cannot be compromised.
Service Standard
You want to buy an espresso machine for years to come and therefore, must know the brand credibility. How good there are in responding to repairs of the machine. How good they are in providing the customer service. You can check reviews on Amazon to know about how the customer care department of your espresso company is responding.
POPULAR BRANDS
You should buy an espresso machine keeping in mind that it will be your kitchen friend for years to come. If you choose a brand which has established authority then you can have ease of mind. At Tell Me Best we have reviewed machines from these below brands in different categories.
BREVILLE
Customers feedback is mixed when it comes to satisfaction of espresso machines. If you have selected a Breville machine then read the reviews thoroughly before deciding a machine. But overall Breville has well-established authority and is a reliable brand.
NESPRESSO
A brand with established authority and track record. Nespresso has been producing one of the best espresso machines that you can rely on.
GAGGIA
Another popular brand with wide variety of espresso machines available. Gaggia machines are known to last for more than a decade. They have set a very high standard of durability. Their machines are easier to use and offer great flavor.
DE'LONGHI
From low-end budget to high-end restaurant machine. Delonghi caters a budget range of all kinds of customers. Most customers has reported positive feedback about the Delonghi machines. Therefore, it qualifies into our list of reliable espresso machine brands.
Mr.Coffee
The brand which enjoys a great reputation as they specialize in making espresso machines. From low to high end. Mr.Coffee has been making great espresso machines over the years.
KEURIG
The single serving coffee brewers machine. They offer an affordable model and with ease of use. The drawback is that you would have to use the Rivo single-serve packets to make espresso from this machine.
JURA-CAPRESSO
From Jura, you can get a model under 100 dollar and go beyond into the thousands. The brand enjoys great customer satisfaction and hence it makes into the list of best espresso machines under 200.
SAECO
Saeco also enjoys great brand reputation. But when it comes to lower end models Nespresso and De'Longhi are on a clear lead.
WARING
Nice entry level machine manufacturers. You can get good features at a reasonable price by buying a waring machine.
VERDICT
If you managed to read the complete article then by now you must be educated on what are the important factors when deciding between an espresso machine. The budget of 200 dollars qualifies for entry-level espresso enthusiast.
But the machines reviewed above each provides its own benefits and lags behind in some department. If you feel like you are ready to start a great home café experience then you must have selected a machine from this list of best espresso machine under 200 dollars. It will open up a wide variety of options that you can experiment and learn with.
---