With summer quickly approaching (or already on us), we know many of you are looking for alternatives to keep yourselves cool. And that's especially at night, when sleeping hot leads to no sleep whatsoever. You could crank up the air conditioning while you get your shuteye, but we all know how that story ends. You could keep your windows open at night with a fan spinning but depending on where you live, that may make matters even worse. So, maybe your choice is none of the above but instead, a cooling blanket.
HOW CAN I STAY COOL AT NIGHT?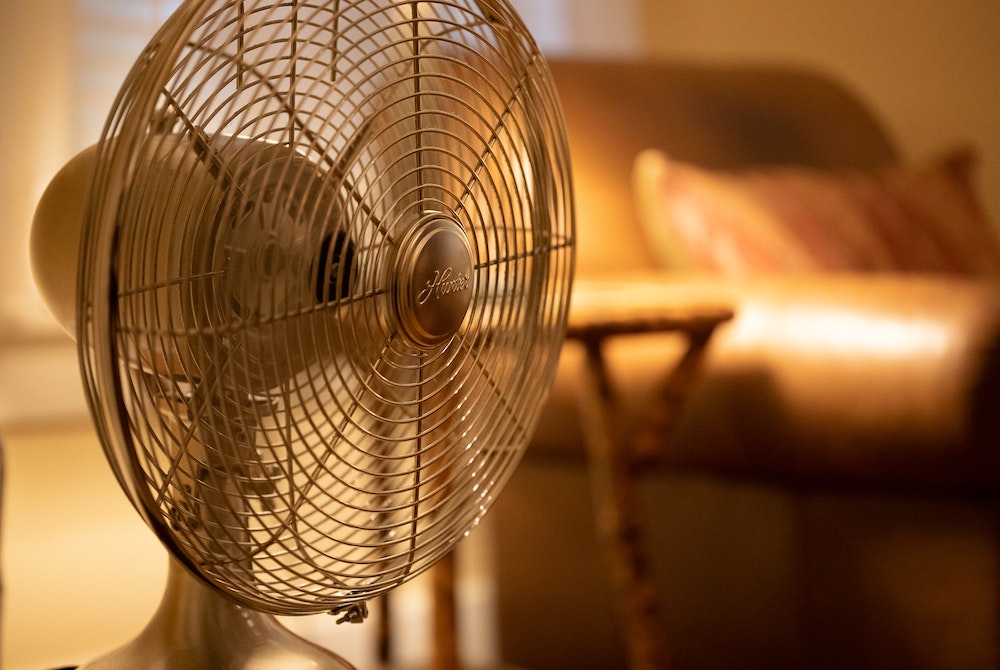 It is a well-known fact that people have the most trouble getting to sleep when it's hot. The room's hot, your body temperature rises, you begin to sweat and the next thing you know you are tossing and turning in a puddle of moisture. "Scientific studies show that we sleep better when it's cooler," says Dr. Smita Patel, DO, FAASM to Reader's Digest. "Instead of cooling down the entire house, though, a cooling blanket is more economically friendly. Also, many people don't like to sleep with the air conditioning on because it can create a dry, uncomfortable environment to breathe in."
The same can be said for running a fan on you all night. How many times have you kept the ceiling fan on only to wake up with a mouth that resembles sandpaper? An oscillating table fan produces the same results. A cooling blanket is an answer to a dry mouth. It is also the answer to a jaw-dropping, wallet-busting energy bill.
DO COOLING BLANKETS REALLY WORK?
Back in the 1980s, NASA was looking for additional ways to keep their astronauts cool as they traversed through the many high-temperature zones they would face. So, one of their inventions was the cooling blanket. While it is easier said than done, there are two main ways that a cooling blanket will keep you cool throughout the night: through the use of thermoregulating fabrics and the use of heat-conducting technologies.
Although "thermoregulating fabrics" has a technical sound to it, it really isn't. The cooling blanket fabrics are materials that help reduce heat. Yep, that simple. These fabrics work by wicking away the moisture from our body, thus keeping our body temperature down, resulting in a much-needed good night's sleep. Some of the more popular thermoregulating fabrics include polyester, cotton, wool, and acrylic. There are even some highly rated cooling blankets that are made with bamboo fabric (more on that later).
The second way cooling blankets work is by thermal conduction. By that, we mean the transfer of heat from one hot object to a cooler one. There are a few popular ways to make this happen which include gel-based cooling blankets, phase change materials, weighted blankets, and air-cooling blankets.
WHAT TO LOOK FOR IN A COOLING BLANKET?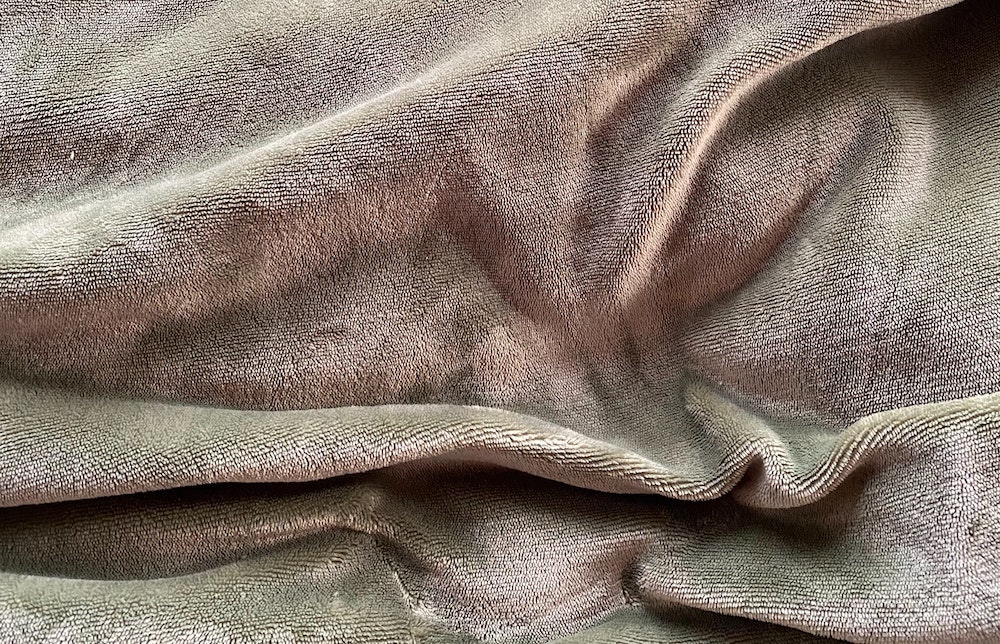 If you are convinced that a cooling blanket is for you, there are a few things to look for before making that final purchase.
Breathable materials: Here it all comes down to if you want to keep moisture on you or wick it away. There are some fabrics that create the former, while others will keep you sweat-free. Cotton is one material that will definitely hold onto moisture, so you may want to avoid a full cotton blanket. Synthetic fibers such as polyester or even lyocell, which is a regenerated cellulose fiber, is the more popular fabrics seen in cooling blankets.
Cooling technologies: There are certain cooling blankets on the market that employ cooling technologies that both store and release your body's heat to give you a better-balanced body temperature throughout the night. You may want to opt for this temperature-regulating technology.
Lightweight construction: As many of us know, blankets designed for the winter months are usually much thicker than the average blanket and are better knitted together and more tightly woven. If you are looking for a cooling blanket you are going to want one that has a looser knit and weave to it and one that doesn't have any added bulk to it.
ARE BAMBOO BLANKETS COOLING?
As you will see in our list of the ten best cooling blankets below, bamboo is great for hot sleepers. Bamboo contains absorbency and antimicrobial properties that could help not only remove the sweat from your body but also prevent your body's heat from becoming trapped, causing you to sleep warm. A bamboo blanket may be the right choice for those who sleep warm or those who experience the occasional hot flashes.
WHO BENEFITS FROM A COOLING BLANKET?
If you are a hot sleeper, you will surely benefit from finding a cooling blanket. Sleeping hot can be a very inconvenient way to go about your evenings. It makes you restless, tossing and turning, trying to find a cool spot on the bed. Once awake, you find it difficult to go back to sleep. There are others, though, who can also find benefit from a cooling blanket, but not from a normal cooling blanket, but a weighted one.
It's been proven over time that weighted blankets offer a number of benefits. Those who suffer from anxiety benefit greatly from weighted blankets so it stands to reason using a weighted cooling blanket will help them sleep at night. Those who have sleep disorders (sleep apnea, insomnia, restless leg syndrome) may also benefit from a weighted cooling blanket. Weighted blankets in general help those who suffer from these conditions, making a weighted cooling blanket a great choice for nighttime. Those with ADHD or Autism have been seen to have shown great improvement in their nightly sleeping habits as well.
10 BEST COOLING BLANKETS
We have put together a list of ten of the best cooling blankets. Although we love to remain price-conscious, you'll see that some of these blankets can be a bit pricey. Then again, what isn't? Be that as it may, the following cooling blankets are all highly rated and well recommended. We list them in no particular order.
DANGTOP COOLING BLANKET
PRICE – $29.99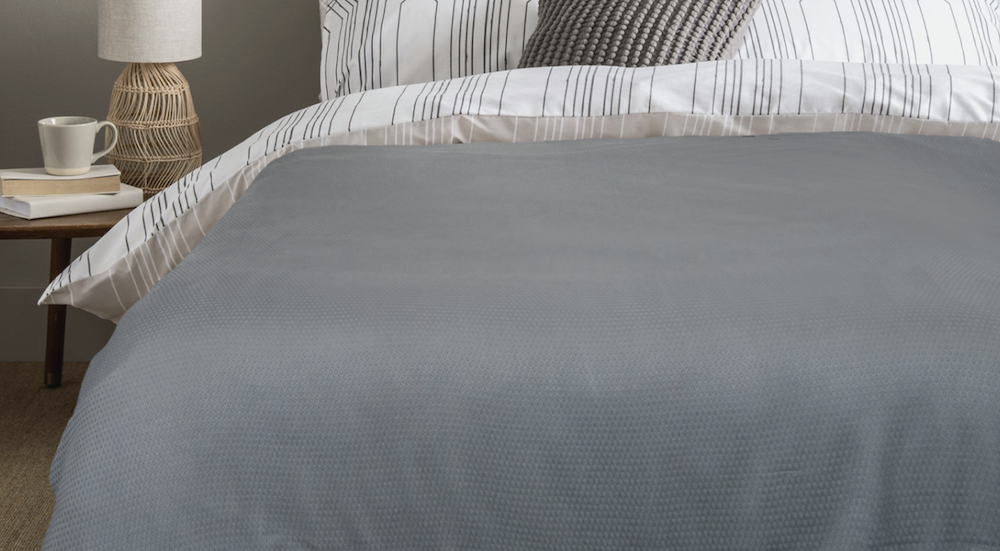 WHY WE LIKE IT – Right off the bat we offer you a bamboo cooling blanket. Dangtop's offering is immediately cool to the touch with a lasting effect that will allow you to fall asleep much faster and, more importantly, stays asleep. One thing of note with any bamboo cooling blanket is that they have a tendency to shrink while washing. So be sure to follow the blanket washing directions and wash the blanket by hand or put it in the machine on a gentle cycle. Air dry but not in the sun. Hang it in a cool place and the blanket will easily restore itself to its normal size.
TRUE TEMP BLANKET
PRICE – $159.99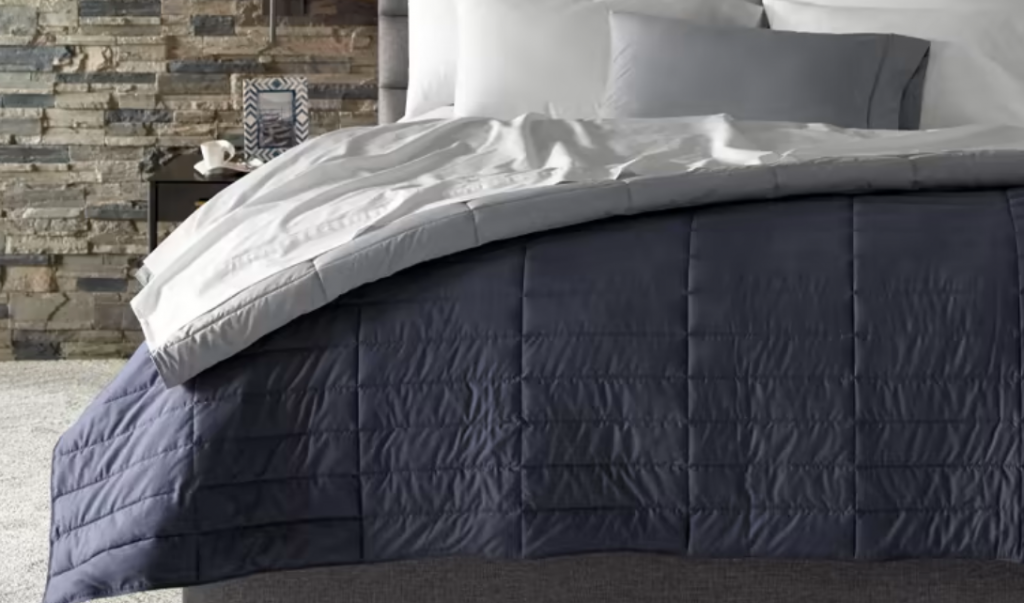 WHY WE LIKE IT – How can you not love a blanket that keeps your body temperature consistent. The True Temp Blanket is filled with 37.5® technology, which keeps your body set at the perfect, 37.5 Celsius temperature all night long. The blanket's material first attracts and then removes moisture allowing for it to resist any heat or humidity buildup.
GRAVITY BLANKET
PRICE – $187.00
WHY WE LIKE IT – Gravity Blanket is a weighted cooling blanket made with 100% cotton and fine-grade glass beads. The cooling fabric will wick away any moisture, allowing for cooling and a great night's sleep. This blanket comes with a duvet cover that is made with a super-soft micro-fleece material. It is also a weighted blanket that runs in weights of 15, 20, 25, or 30 lbs.
ELEGEAR BAMBOO COOLING BLANKET
PRICE – $23.99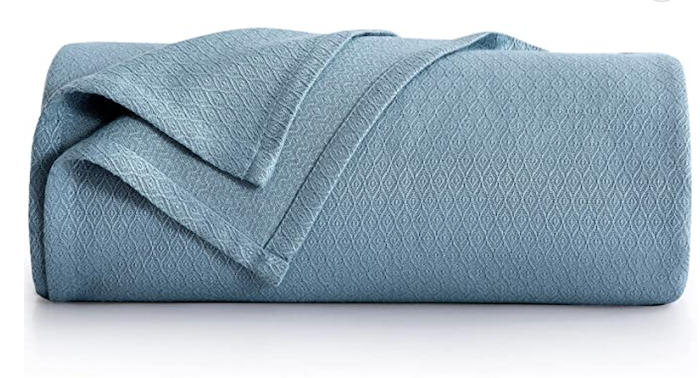 WHY WE LIKE IT – Elegear's cooling blanket is another highly rated bamboo blanket. Very cost-friendly, it is made with 100% natural bamboo fiber fabric that is both breathable and moisture-wicking. Hot, sleepless nights will be a thing of the past with Elegear's bamboo blanket.
Article continues below headlines
---
COZY EARTH BAMBOO BLANKET
PRICE – $231.20
WHY WE LIKE IT – Another bamboo cooling blanket. This one is made from 100% Viscose from bamboo. You will never have to worry again about warm restless nights and your hot flashes will be heated issues of the past. The breathable and moisture-wicking Viscose fabric feels degrees cooler than that of cotton.
BEARABY TREE NAPPER
PRICE – $269.00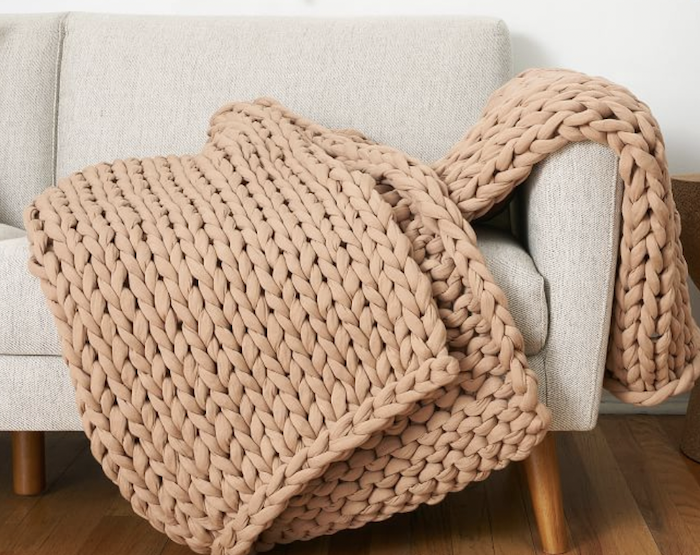 WHY WE LIKE IT – This cooling blanket is made from natural eucalyptus fibers (48% Tencel, 47% Cotton, 5% Spandex) and offers a wonderful night of cool sleep. The has a quite chunky weave that is breathable, but it is also weighted, so it will keep you feeling content as you sleep.
YNM COOLING WEIGHTED BLANKET
PRICE – $89.00
WHY WE LIKE IT – YnM offers another weighted cooling blanket made from 100% Viscose. These blankets are well made, offering long-lasting cool enjoyment. The blanket is also built with glass bead technology, which is what adds the weight to give sleepers more comfort.
COCOON COOLMAX TRAVEL BLANKET
PRICE – $41.99
WHY WE LIKE IT – We know that you sleep hot at home, but what about if you are traveling? The Cocoon Coolmax can easily solve this issue. It is a very affordable cooling travel blanket that does the trick when you are out on the road. It even comes with its own carrying bag.
BROOKLINEN LINEN QUILT
PRICE – $251.10
WHY WE LIKE IT – This blanket is a linen quilt, so at first glance, you may be thinking this is for the cold sleeper who wants to stay warm at night. You would be wrong. The Brooklinen is a cool, breathable blanket that is also soft and cozy. Made with long-staple extra soft linen fiber and filled with polyester, it does the trick and will keep you cool throughout the night.
SLEEPSMART 37.5 BASKETWEAVE BLANKET
PRICE – $167.00
WHY WE LIKE IT – If you love the soft feel of cotton while you're sleeping, then Sleepsmart is your choice. Made with 80%, the remaining fill is 20% 37.5 performance polyester, this blanket will keep you cool on the warmest of evenings. As your body heats up, the fabric keeps your body heat to minimize any temperature change throughout the evening.
FINALLY
We are all looking for ways to not only curb our monthly electric bill but not suffer the consequences while we try to get a good night's sleep. A good cooling blanket can do the trick. There are plenty of options with different styles and fabrics. Try a few out, see what feels good, and most importantly, be sure your decision will keep you cool throughout the heat of a summer's night.