Those running businesses have thought about management software and that is where Asana vs Monday comes into the mix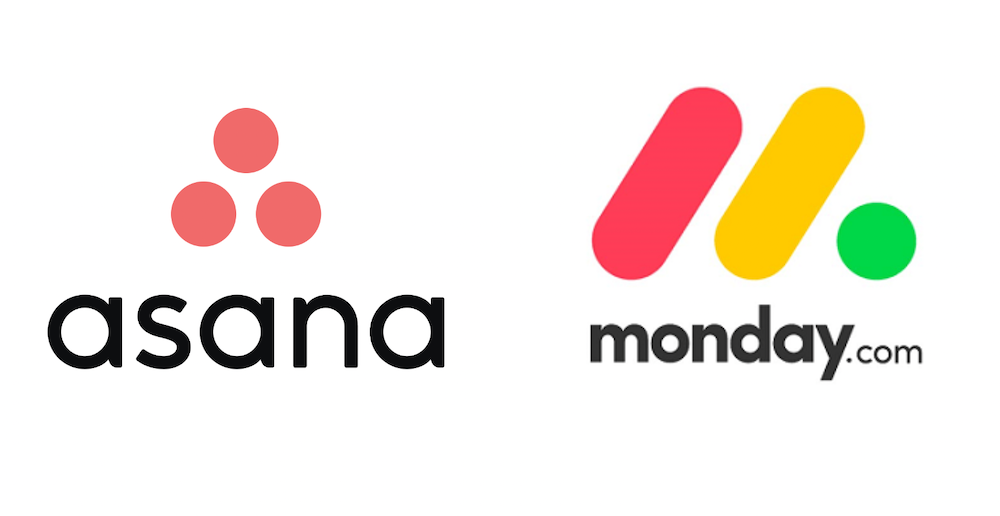 Change is inevitable. Especially in this day and age when change comes at a rapid pace. Take a look around and you'll see change almost everywhere you go. This is especially true with our workforce, where the past few years of the pandemic have forced businesses to adapt and change just so they can survive. To help make this change more palatable, businesses have been leaning heavily on project management software. There are a number of project management software programs that get the job done, but two of those have risen to the top. Let's see if we can decide which is better as we put Asana vs Monday to the test.
ASANA VS MONDAY – WHAT IS ASANA?
Asana is a cloud-based project management software. By that, the software is designed to help project planning, organizing, and managing resource tools. Project managers, stakeholders, and users employ this software to manage budgeting and control costs, they use it for quality management, and it can also be used as an administration system as well.
Asana bills itself as a one-stop solution for all the above. It is the go-to for workflow, task, and portfolio management. It is a great solution for collaborations. Asana allows users to see their works progress via calendars, Gantt charts, lists, and Kanban boards. Asana makes collaboration simple with its integrated communications tools.
ASANA VS MONDAY – WHAT IS MONDAY?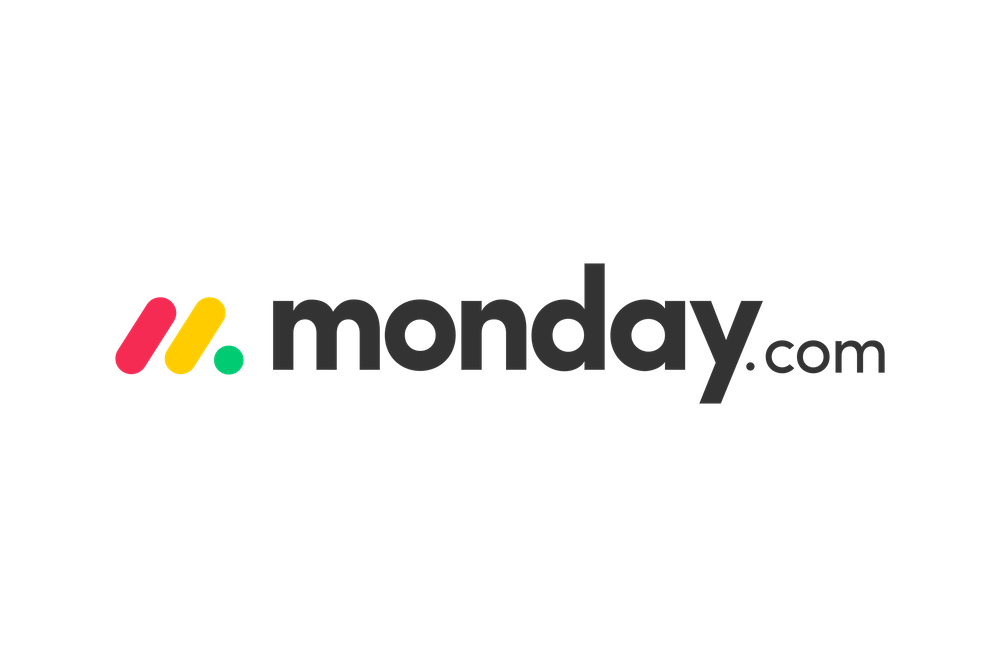 Monday is very similar to Asana in terms of it also being cloud-based project management software. This software offers enterprise solutions to many professionals around the globe. Monday's Project Management suite allows these professionals to employ every project management step in one space.
Monday is a great solution for teams. With it, they can track their task progress while being able to collaborate each step of the way. Monday allows users to visualize their progress through stats, gives them different scheduling and performance options, and saves everything to a single platform.
ASANA VS MONDAY – FEATURES
With Asana, it offers three main views board, Gannt charts, and a Calendar. It has numerous management and collaborative features including its portfolio management tools. Asana's interface is very convenient but those new to the software may find the number of Asana's functionalities a little overwhelming. Asana allows for up to 15 team members the ability to collaborate. The software has over 200 integrations. These integrations include Slack, Google Drive, Salesforce, Zapier, and Dropbox. Asana offers a three-tier pricing range.
With Monday, it also offers three basic views that include Kanban boards, lists, and timelines (aka calendars). Monday's interface is vibrant and colorful which allows for everything to be organized in one single view. Still, even with the one single view capability, Monday offers enough functionalities that new users may find it somewhat challenging. Monday does have a free version though it is limited to up to five team members. Whereas Asana offers over 200 integrations, Monday only offers more than 50. These include Jira, Google Drive, Slack, Shopify, Mailchimp, and Zapier. Monday has a four-tier pricing range.
WORKFLOW MANAGEMENT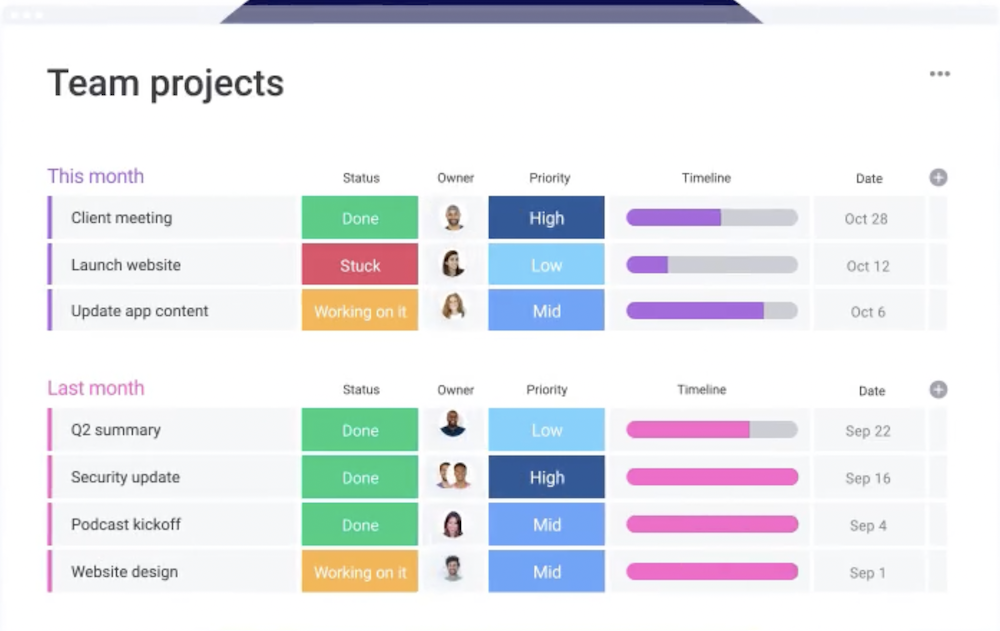 When talking Asana vs Monday we have to talk about workflow management. With Asana, you can manage workflow through its different "view" categories. These categories include lists, boards, and calendars. Each of these different views shows your workflow differently. Asana lets you drag and drop the task of your choice to see its workflow. Asana also lets you view your project in a Kanban board form as well.
Monday is quite similar in how it manages workflow. The difference here, though, is that Monday appears to be easier to switch back and forth between different visual project workflow units. Monday allows users to manage their workflow with charts, timelines, and Kanban boards. With Monday's Kanban board, it details every project step by way of pulses. Monday's UI allows you to easily switch between these pulses. Monday's default view arrives in list form, but it gives you the option to choose either a chart or Kanban board to see workflow visually.
TASK MANAGEMENT
Asana makes task management simple. You will easily create tasks and set your task goals such as task deadlines, assigning tasks to specific team members, and also keeping track of your tasks through the boards, lists, and timeline/calendar views. Asana's "My Task" tab allows you to see the to-be-completed-soon tasks and by clicking on the task, you will be able to see the task details and also be able to attach your documents for team collaboration.
Monday offers virtually the same task management, but instead of calling them tasks, Monday calls them pulses. With Monday, you can create your pulses, you can assign them to specific team members, and can create task dependencies. Monday allows you to track your task progress with your task manager, which allows you to see the task overview. Monday lets you manage your daily to-do list along with weekly team tasks. Your team leader has the ability to design pulses and in turn, assign them to team members. Monday's action board overview makes it convenient for team members to track the status of their assigned pulse.
PORTFOLIO MANAGEMENT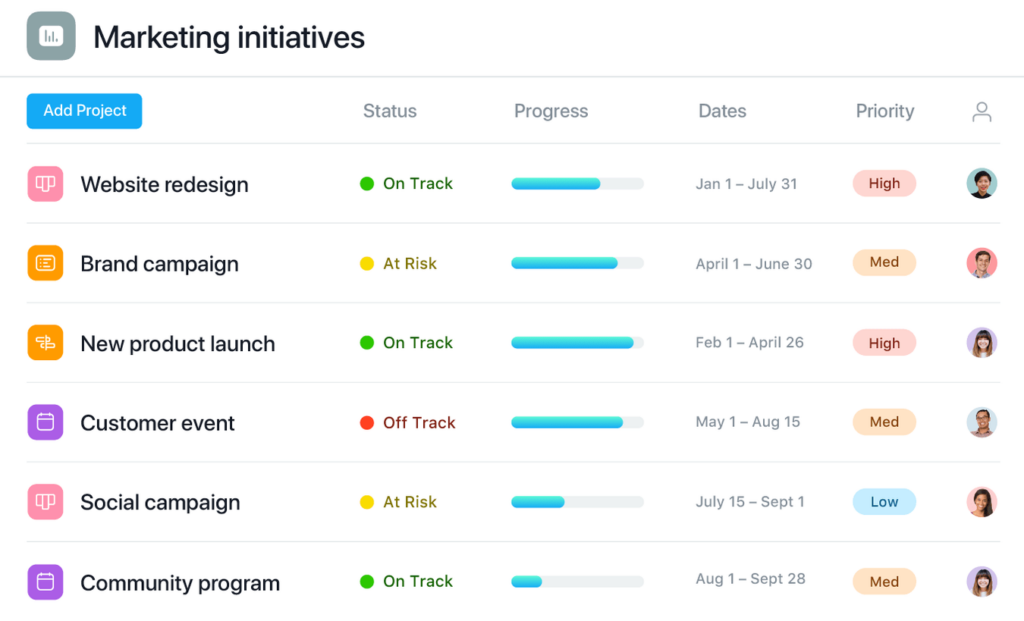 Here is one area that both Asana and Monday separated themselves from many other project management software. They both offer Portfolio Management. This feature allows users to view the overall management of their ongoing projects in one single space.
With Asana, the portfolio allows you to see each project's status, progress, dates, and priority. It will show if you are on track, if you are off track, or if a specific task is at risk. The beauty of this is that you can see it all in one view so you won't miss any project due dates while juggling back and forth between projects.
Monday doesn't necessarily give you a portfolio management section. What it gives you, however, is something called "Groups." This section allows you to group together any sub-benchmark of your ongoing project. By using this "Group" tool, you can create a portfolio tab by bringing all your current projects to one place. This process doesn't allow users to see the entire progress status for your projects.
ASANA VS MONDAY – SECURITY
Security in all walks of life is certainly a big deal. Digital security is no different. Both Asana and Monday take security seriously and both put their clients' minds at ease with reputable security compliances.
Asana's compliance is with SOC2 and ISO/IEC 27001:2013. Asana does not allow these two compliances to operate their software on Asana servers. Instead, Asana keeps this cloud-based and they have firewalls set up to avoid any security breaches.
Monday works with Amazon Web Service to keep their customer's data readily available for them. They also use the Google Cloud Platform security practices and have complied with ISO 27001 and ISO 27018.
ASANA VS MONDAY – INTEGRATIONS
Asana is the big winner when it comes to integrations. We've already mentioned a few of its integrations but here are a few more: Microsoft Teams, Adobe Creative Cloud, Okta, Microsoft 365, Google Calendar, BetterCloud, Instagantt, DataGrail, and Productiv. Everhour is a powerful time tracking integration that Asana can also use.
Although Asana offers more integration, Monday is no slouch. It can integrate with Microsoft Teams, Outlook, Zoom, Google Calendar, Excel, Gmail, LinkedIn, and OneDrive. You can also connect Monday with Everhour for the best in time tracking.
ASANA VS MONDAY – PRICING
Depending on your needs and team size, both Asana and Monday's pricing scales have their pros and cons. With Asana, you are given a three-tier pricing strategy. They offer the basic plan, the premium plan, and the business plan. The basic plan is Asana's winner here because it is free and offers the three previously mentioned views along with basic workflows and reporting. The beauty of their basic plan is that up to 15 team members can be included. Asana's premium account will run you $10.99 per month, per user and gives you custom fields, unlimited free guests, dashboards and reporting among other additions. With Asana's business plan, you pay $24.99 per month, per user and you get everything in the premium package plus portfolios, workload, goals, and proofing among other additions.
Monday also has a basic free feature included in its five-tier pricing scheme. While Monday's free feature is, well, free, it only allows up to five team members. Their next tier is called the Basic plan and for each paid plan you must have at least three team members to get started. The Basic plan will cost $8 per month (or $24 total with the minimum 3 team members. The third tier is called the Standard plan and this will run you $10 per team member ($30 per month with the minimum). The fourth tier is the Pro plan and this costs $16 per team member ($48 per month with the minimum). They also have an Enterprise plan that is meant for big businesses with numerous employees. To get the pricing on this, Monday asks that you contact them.
ASANA VS MONDAY – WHO USES THEM?
As we've mentioned, and why we've put this piece together, both Asana and Monday are very popular project management software. Companies big and small employ either one or the other. Some of the more prominent companies to enjoy Asana's software include Amazon, Deloitte, Roku, Paypal, Dropbox, Uber, Pinterest, CBS, and Airbnb.
Monday also has a solid cast of users that include the National Hockey League, Hulu, HubSpot, Coca-Cola, Nautica, Universal, Pioneer Studios, Wix, and Canva.
ASANA VS MONDAY – THE FINAL WORD
True, there are some positives and negatives to either program management software. It pretty much comes down to need, team sizes, and how much your business wants to pay. For security purposes, both are serious about your data, so that is a win whichever software you choose. In the end, both Asana and Monday are similar in structure, so again, personal preference and organization will lead you to the program management software that suits you best.
---