Sherwin Williams Naval paint colour:
Sherwin William's Naval paint colour is dark and has a bold touch to it with undertones of blue. Unlike, the typical blue colours which have a cool texture, Sherwin Williams Naval is a natural blue with a warmth to it. The shade is inspired by the colour of the night sky, which is the reason why it has such a natural feel to it.
Why is Naval colour popular?
The navy blue colour is on-trend in the design world today which is a significant reason for why the Naval colour has been declared the colour of this year i.e.2020. The color has been liked for it's resemblance to the night sky which gives the walls a heavenly look. Blues are usually considered to be lurid but Sherwin William's Naval, despite having a blue undertone, is not lurid at all but striking which is why it is preferred by many. It can be also be combined with a number of other Sherwin William's shades for a new and distinct look. These colours are neutrals which is why they look gorgeous with a colour like Sherwin William's naval.

Sherwin Williams Naval reviews:
Users like the colour for how it is able to give a room a very intimidating yet cosy look. They say that Sherwin William's naval has helped them to transform their rooms from lifeless to lively, especially their offices, living rooms and basements. They say that subtle and calm gets boring at times and they like to replace it with something which is more thrilling. It is also termed as a colour meant for lounges as it creates a comfortable and theatrical environment in their places where they feel relaxed.
Some have also stated that merely changing their wall colour to naval has entirely changed the vibe of their room without them having to make any other changes in the room to the furniture, flooring or lighting. Moreover, they say that the Naval paint matches admirably with brass furnishings and wooden tiling.
Where can you use Sherwin Williams Naval:
Sherwin Williams Naval can be used in every part of the house with different color combinations such as with Sherwin Williams Outerspace, Soothing White, Eider White and Storm Gray. Naval is also a comprehensive color. With it on your walls, they will look complete, and your room would look outrageous even without much details on the walls.
Sherwin Williams Naval in the bedroom:
Although the colour isn't purposefully made for bedrooms, that doesn't mean you can't create aesthetic styles with it in the bedroom. Mainly, if your bedroom has windows or a balcony with a transparent door, you can paint the top fourth of the wall behind your bed and the adjoining walls in Sherwin Williams Naval and the bottom-three quarters in a lighter shade such as Sherwin Williams Pure White, Snowfall white or Crushed Ice.
The ceiling can be either Naval or one of the colors aforementioned. One more thing that will make your bedroom look absolutely outstanding would be to add carpets or a carpeted floor to your bedroom of coconut white or carbon grey depending on if you want your room to look more sober or cheerful. If your bed has a grey or white velvet headboard, you should definitely go for naval for you accent wall because together they look incredible. Hang up some paintings on those walls and your room will become more elaborate.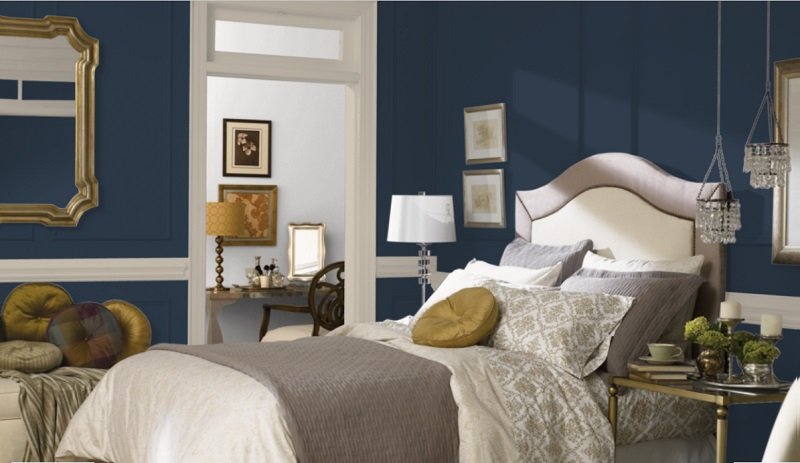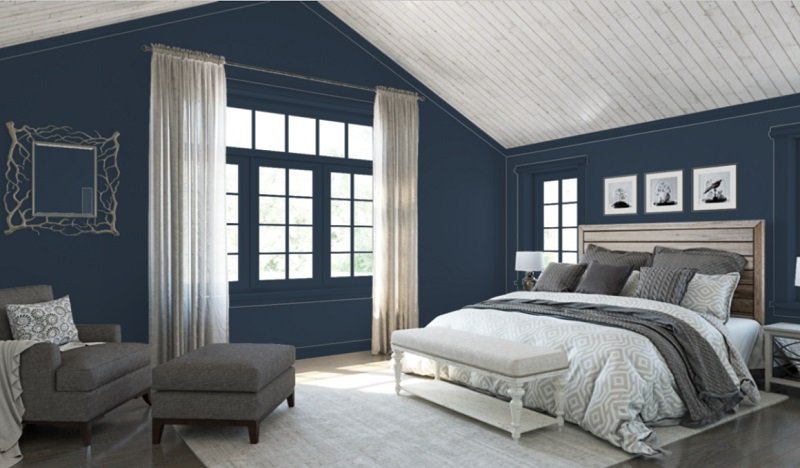 Sherwin Williams Naval front door:
Using Sherwin Williams Naval front door considering how bold of a shade it is, may sound odd but only until you see how cool can it look. Since your front door represents your entire house, it should be most presentable. If you have your front door adjoined by brick walls and steps, painting your door with Sherwin Williams is a great idea.
Also, if there are trees nearby or greenery and some roses or lavender pots, the naval colour will stand out with these colors, and your house will look blissful. Furthermore, what you can do for a change is to paint the door navy but the doorframe a different shade like Sherwin Williams In the Navy. If you want it to be something light, you can go for Sherwin Williams White Dove or Classic Gray. To make it look more eye-catching, you can hang up a wreath of white, red roses or any other flowers you like.
Sherwin Williams Naval in the living room:
There are countless ideas to design a living room with Sherwin Williams Naval paint. You can place the couches surrounding a center table and paint all the walls in the naval color. You can add racks in the living room and add art pieces, and the Naval paint will serve as an excellent background for them. If you have your L.C.D on a table in the living room, you can also paint the table with the Naval color. For contrasting colors, you can have the couches grey, white, black, dark blue, turquoise green or teal velvet as velvet looks fancy with naval colored walls. Also, if you have navy blue velvet couches, you can place them against white painted walls and color the rest of the three walls in the naval color.
You can also make your own small theatre in your living room by simply coloring your walls in Naval color and putting up navy curtains behind your television table. Some L-shaped couches for a realistic theatre feel. Some living rooms are too small to accommodate too many tables and couches. So, for well building a small but a suave living room, you can add velvet chairs instead of couches with a wooden center table. Another idea is to add a feature wall with a navy tufted wallpaper and a small bench acting as a couch and paint the rest of the walls in Sherwin William's Naval. However, for a more cheerful and charismatic living room, you can shift on to some light furniture like a contrasting pink or wood brown couches and tables.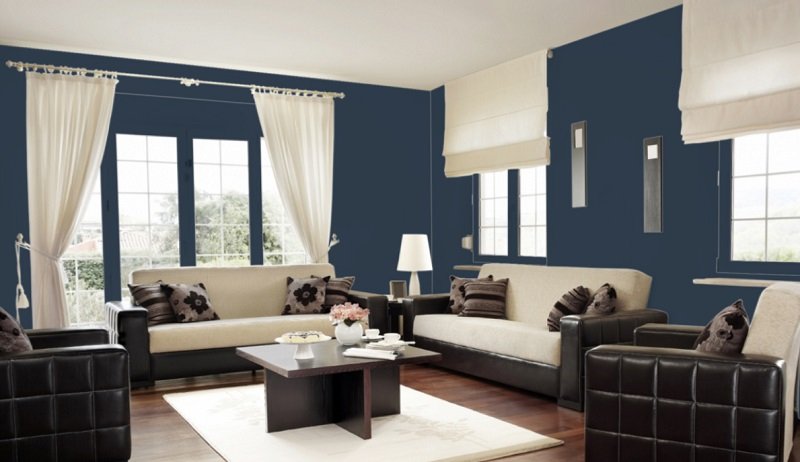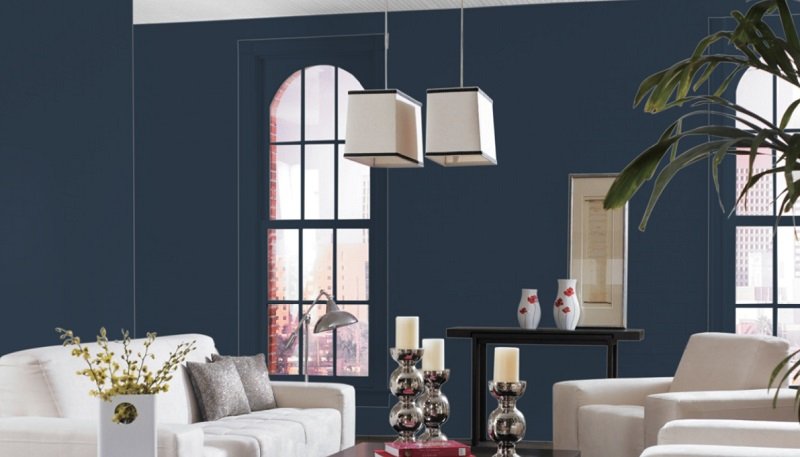 Sherwin Williams Naval Kitchen:
It is not a great idea for you to paint your entire kitchen in Sherwin William's Naval color if you aren't a fan of a dark vibe. Combining it with a neutral shade such as Sherwin William's Aesthetic White, divide the portions of the walls equally or as you may like and paint it accordingly. Likewise, what you can do is paint your cabinets in Sherwin William's Naval if they have marble tops. Paint the walls completely in Sherwin Williams and the upper cabinets in a white shade. For the flooring, it is best to have wooden flooring which will contrast with the Naval and Aesthetic White walls and cabinetry.
It's up to you to paint your backsplash in Naval or Aesthetic White as both will look great with a marble top. Adding a couple of white lights will further enhance the look of your kitchen. Sherwin Williams Tarnished Trumpet is also a color that looks great with Sherwin Williams Naval if you don't want to use too much white in your home. What you can do is simply paint all the walls in Naval and use Tarnished Trumpet for your cabinets plus kitchen island. Then, place some wooden barstools next to them and some mount ceiling lights above the island to add the perfect lighting to your kitchen.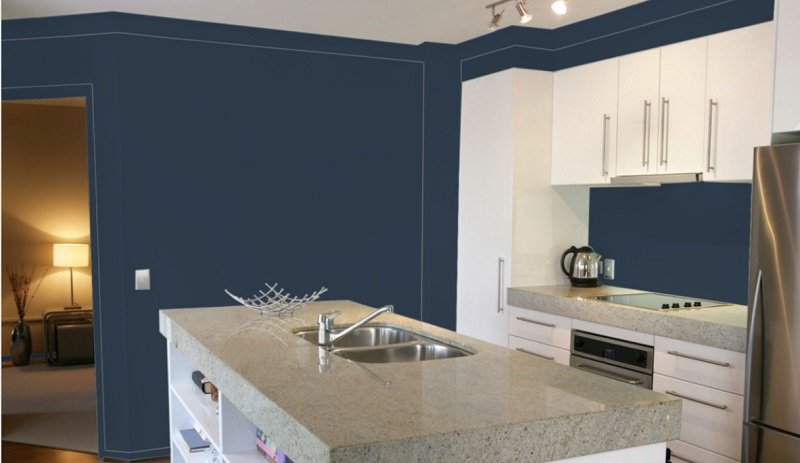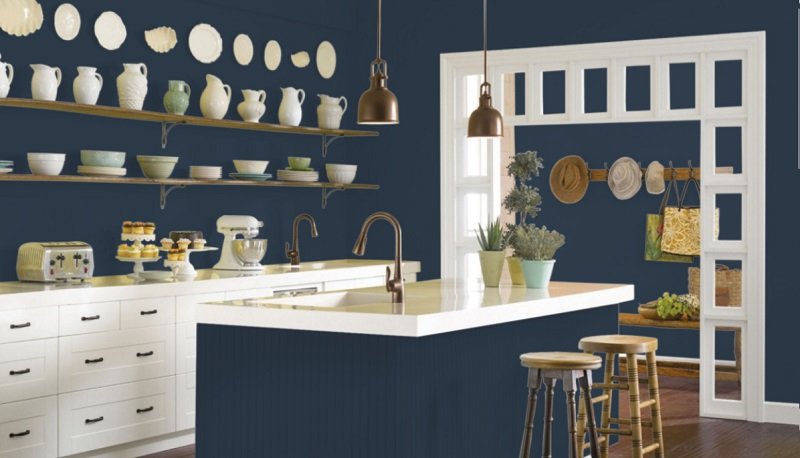 Sherwin Williams Naval bathroom:
Choosing the color for your bathroom highly depends on your nature. The paint defines the vibe of any room you color its walls. The bathrooms are supposed to be light and cheerful, which would calm your nerves and relieve your stress. That's what is special about Sherwin Williams Naval that although it has a bold touch, it still looks spectacular on the bathroom walls and alters the entire vibe of it. Again, grey and white is a handy combination with Naval for bathrooms. They go with metallic appliances and marble vanity counters. The flooring can be either wooden, ceramic or marble according to your budget and what contrasts best with your walls.
Article continues below headlines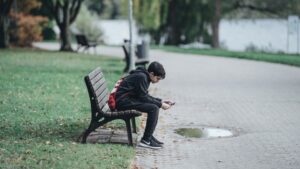 ---
You can put up vanity bulbs or LED light over your bathroom mirror because Naval stands out under these lights which bring out the opulence in its shade. However, the whites and greys aren't the only colors you can add in the Naval palette. Sherwin Williams Mink and Turkish Coffee can also be used with Sherwin Williams Naval in the bathroom for a distinctive look if you want to try something new and unordinary. If you have blinds in your bathroom, your wooden tiling will match with them. You can add a Jacuzzi as well that will make the black tiles pop out if you decide to go for them instead for wooden tiling, and contrast with your Naval painted walls.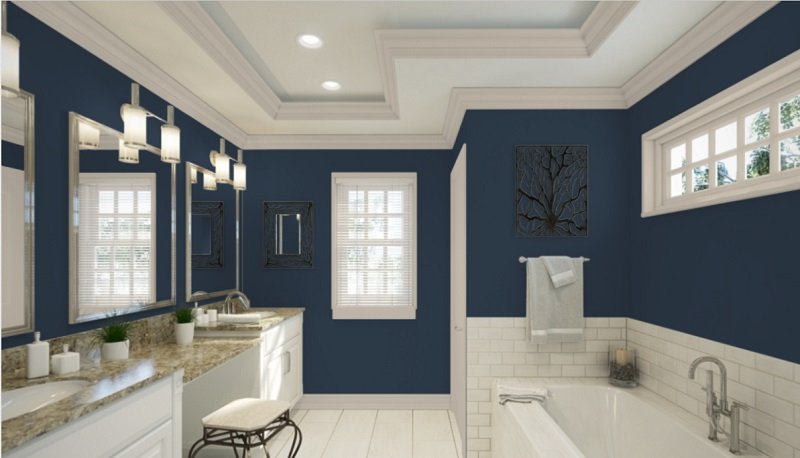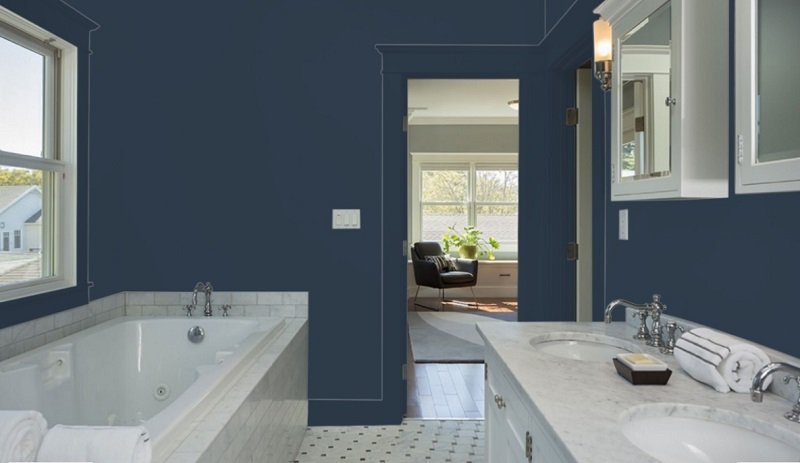 Sherwin Williams Naval Cabinets:
Previously, it has been explained how classy Naval can look on the cabinets be it bathroom, kitchen or laundry room cabinets. Sherwin Williams Naval can be used to build magnificent cabinetry by just the availability of two things: A wide kitchen area and a lavish line of both upper and lower cabinets in it. Now it is totally yours to decide if you want Naval on the upper cabinets or the lower ones which are going to have the same color as your island.
The cabinets, other than which you decide to use Naval on, should be painted in other coordinating colors such as Sherwin Williams icicle. Especially, if you have a large window in the kitchen with sunlight pouring in, it will create a mood in the kitchen when it falls on the coat of your Naval and Icicle paint. However, it is best to use Sherwin William's interior latex alkyd as it is made for cabinets. The paint is formulated in a way that stays put even with what kitchen cabinets are put through each day.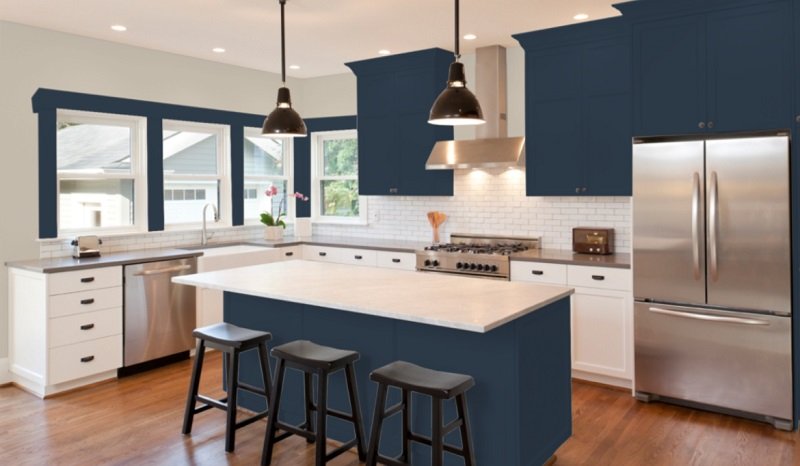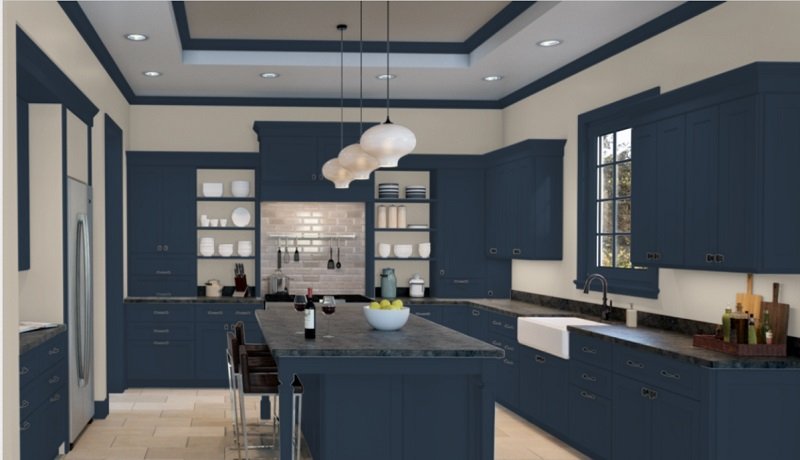 Sherwin Williams Naval Sunroom:
A beautiful sunroom can be built with Sherwin Williams Naval. Although, Naval alone will not be felicitous, combining it with Pure White or Extra White will make your sunroom look like a dream come true. Keeping the tiles wooden, you can paint the ceiling in a white, leaving the walls to be coated with Naval. Chairs and tables can be floral for a difference.
You can also set up a small bar to enjoy your favorite drinks in the summer while protecting yourself from the sun. Again, Naval is a great color for a bar. Installing some lights overhead, the bar can further allure your sunroom bar. You can even have a feature wall in your sunroom painted with Naval against which you can hang a few hanging chairs to enjoy some swinging in your sunroom.
Sherwin Williams Naval Accent wall:
It is yet another wall where Naval looks beautiful. Your accent wall could serve as a background for your couches or your fireplace. What else can you do is hang up the paintings on your accent wall. Since Naval has such a bold touch to it, it will act as a very intense background. Again, having large windows which have greenery outside them are plus points and will enhance the look of your accent wall. Just be sure to choose the wall facing the window so that light reflects upon it directly and reveal the natural look of it. Apart from the living room, your bedroom can also have its perfect accent wall in Naval. You can choose any of the other colors from the Naval palette for other walls, but the most preferred is
Sherwin Williams Pure White it is a light color that is most suitable for a bedroom to give it a cozy vibe and it will contrast with the velvety blue. However, there is more than just one wall which you could use as an accent wall. It can also be the wall against which you have placed your dressing table or your study table for a change. If not any of these above, the door to your walk-in closet or one of the walls in your walk-in closet. The adjoining walls can be Repose Gray or Agreeable Gray. Especially if it's a male's room, it will look quite their type.
Sherwin Williams Naval Exterior:
Using it as a whole on your exterior is probably not a good idea but contrasting it with white or grey? Definitely. Browns and Maroons get too boring and all time. Naval, being a new and different color, can look chic and fashionable on your exterior as well. You can paint all the areas in Naval, leaving the door, the windows and their frames for white or grey. You can also paint your door in Navy or Tarnished Trumpet. Both would look very good. You can also use the paint in your veranda. Whilst the most
common type of verandas have wooden flooring, and the Naval color will totally coordinate with it's the flooring, and the plants and trees nearby would totally add to the beauty of your veranda. A few golden lights can be further added for night time, and it will look like a dream come true. However, verandas can also be made with Gray and Naval or White and Naval color combinations. If there is more greenery around your veranda, it is best to go for white. The grey and naval can be used to build a veranda in a much more isolated place as it is an intimidating combination.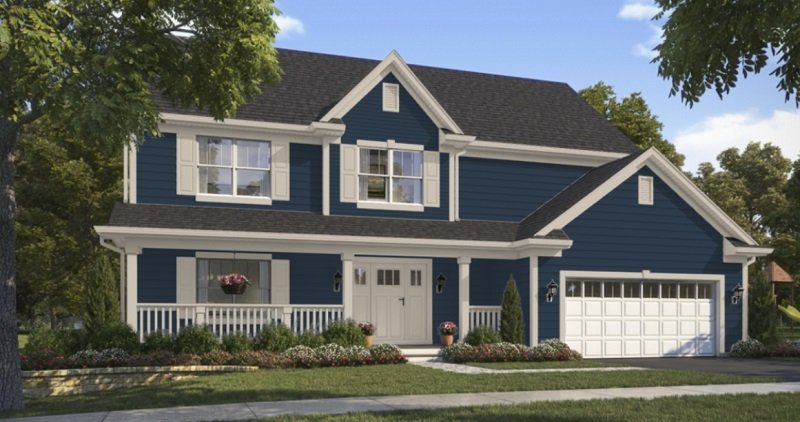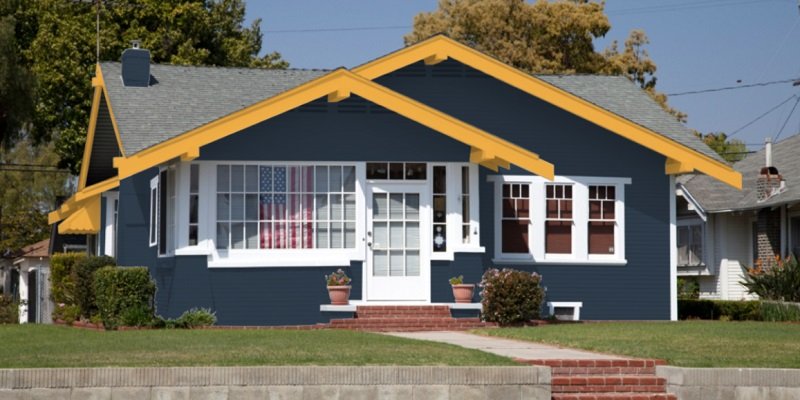 Sherwin Williams Naval Foyer:
Looking to build a foyer that would impress your visitors before you lead them in? Want to captivate them by the charm of your entrance? Naval's rich and bold paint color will make your foyer look so exciting that your guests will be curious to have a look inside as soon as they step into your house. To make it a little detailed, you can hang up some paintings and place some antiques on a chocolate brown wood table against a Naval painted wall as Naval is always a good idea for a background.
As the color is reminiscent of the night sky, it reminds the mind of the hue of the sky, which is quite captivating. Also, you can add a table and a small mirror against the Naval painted wall and spread a rug along the way leading inside your house. Naval's rich color and the touch of boldness in it give your foyer a royal look which is why it has been used in the foyers of the houses to symbolize the confidence and power of its residents.
Sherwin Williams Naval Office:
Most offices have a professional vibe to it to create a productive environment to work with full concentration and interest. It is probably best to have a little solemn touch to a place where you are supposed to work. It is pretty simple to create an office with Sherwin Williams Naval. Paint your walls in Naval combined with some white paint around small areas such as door frames and windowsills. Buy some wooden chairs and tables as they are best for a classic office look.
Also, add some office accessories and a bookshelf. You can paint the bookshelf with Naval if you are going for the same paint on the tables. With that, you should paint your walls in some other bold shade such as Sherwin Williams Mink or Agreeable grey. For some comfort, while working, you can add a cozy chair or two as well if the office is a part of your home. However, for an outdoor office, you can put navy or grey rolling chairs instead of the comfortable chairs as they look more professional and plush while being very comfortable as well.
Sherwin Williams Naval undertones:
The color is basically a hue of blue, specifically the navy blue color. Whilst, the undertone is obviously blue but not just any but a unique velvety blue in particular which is why it contrasts with everything made of velvet. Unlike the usual blues that lean toward dark shades, Naval leans towards softer blues despite being a bold shade which is the distinctive feature of this color.
Sherwin Williams Naval coordinating colors:
On top of this list will always be the greys and whites. The category of white contains Sherwin Williams Extra White and Pure White while the greys that best contrast with Naval are Sherwin Williams March Wind, Misty, and Serious Gray. However, on the bottom of the list lies other posh colors such as Sherwin Williams Tarnished Trumpet which is also known to contrast stunningly with Naval. There is more to the list such as Sherwin Williams Breezy, Kale Green, Storm Cloud, and Distance. They, with Naval, can give an outclass look to any part of your home.
Sherwin Williams Naval cool or warm?
Being a biophilic color, Naval can be considered a cool color like it's an inspiration: the night sky. Due to the velvety tinge in it, Naval also has some sense of warmth in it, but the color has some cool in it as well like the other blues. Whether it reveals a cool or warm side greatly depends on the details around it. For example, in a room with crisp white couches and wooden tables, it tends to have a warm texture. However, if it's surrounded by wooden furniture and flooring, it will have a cool essence to it. So, it's more Naval walls' surroundings that define the nature of the color.
How light changes the look of Naval?
Light has a remarkable effect on the color of the Naval. Having a low LRV value means negligible sunlight is reflected when it strikes a surface with Naval paint. However, in the case of Naval, the sunlight absorbed by the color lightens and softens the Naval color. It tends to become a warmer shade under it. During the night time, Naval transforms into more of a green shade when golden lights fall on its surface.
When golden lights from the bed lamps shine on white surfaces around the walls painted in Naval, it tends towards a dark shade creating a sleep-inducing vibe around the room. If you have naval painted walls in your bathroom, you will want to jump in a candlelight bubble bath during the night because the golden flicker of the candles shining on the white tub and the warmth of Naval in the dark creates such a mood around your bathroom which can make you want to nap in your bathroom.
What white goes with Sherwin Williams Naval?
The answer to this is clear cut Sherwin Williams Pure White. The color itself has a warm softness which contrasts with Naval's warmth. It is the most common and classic color combination which can be used together in a variety of ways such as painting the ceiling and one top fourth of the walls in Sherwin Williams Naval and the remaining part in Sherwin Williams Pure White. The tiles that go best with this pattern of paint on the walls are white marble or carpeted floor. The white ceiling also looks wonderful with Naval Walls and white furnishings.
Curtains that go with Sherwin Williams Naval:
Curtains have an essential role to play in the interior of a room. It can be a challenge to choose the perfect style of curtains for your place as you need to keep in mind a lot of factors. Some types of curtains that can help you achieve a simple but sophisticated look in your room are box pleated, pencil pleated and pinch pleated curtains. These should be hung just touching the floor in the room where you have used Naval paint. The fabric could be silk or rayon if you want the drapes to be light.
Velvet will be most suitable if you don't mind having heavy curtains around the place or too much sunlight is blocked. Most of the time, silk curtains are used with Naval colored rooms as they allow sunlight to beam through as Naval color looks glamorous under sunshine. Using Sherwin Williams Naval also provides you with the benefit of putting up blinds. As it has been highlighted several times before how wood has an entrancing contrast with Naval, wooden blinds can be an awesome alternative for the curtains if you like. Even so, if you choose curtains over them, greys for velvet and whites for silk or rayon are an all-time favorite.
Sherwin Williams Naval LRV:
Light Reflectance Value(LRV) is too low, obviously as it is a very dark shade. So, it obviously doesn't reflect a lot of light. It is darker than most of the shades similar to it such as Sherwin Williams Salty Dog and Commodore but lighter than some such as Sherwin Williams After the storm and Anchors Aweigh. However, a low LRV allows Naval to have a vibrant color and texture.
Comparison with other colors
We now know that Sherwin Williams Naval Colour is a hit for many. But it's time to see when compared to others if it's a hit or miss: Keep reading to find out:
SW Salty Dog vs Naval:

Sherwin Williams Salty Dog has an undertone of green, making it vividly different from Naval. In terms of their LRVs, Salty Dog is lighter. Although, when painted on the same surface, they look somewhat the same. If you have strong color receptors or are a very regular user of paint, you will be able to spot the difference without placing them side by side. The most observable difference between the two is that Salty Dog leans to the turquoise green colour whereas, Naval is close to the navy blue.
LRV Compared:
SW In The Navy vs Naval:

These colours could be regarded as the same if they didn't have a slight difference in their undertones. Looking at Sherwin Williams In The Navy with Naval would make you believe that Naval has a grey undertone and In The Navy has a blue undertone. They are both dark with the same amount of boldness in them, and their LRVs support this.
LRV Compared:
In The Navy color: 4
In the Naval colour: 4
SW Dress Blues vs Naval:

The two colors are dark as suggested by their LRVs, but there is a vivid difference in their undertones. Dress Blues is an original dark blue while Naval is a rich but subtle blue. However, it is very difficult to spot the difference until the two colors are not placed side by side.
LRV Compared:
SW Naval Vs Benjamin Moore Old Navy:

The undertones are the same, but the textures are different. Looking at a surface painted in Sherwin Williams Naval and then another surface with Benjamin Moore's Old Navy will make you realize that the latter has a very feel than Naval which has a velvety warmth in it's texture. Also, Naval has a rich color, whereas Old Navy has a fading color.
LRV Compared:
SW Hale Navy vs Naval:

Benjamin Moore's Hale Navy is gray, unlike Sherwin Williams Naval which is a blue. This is why they contrast with each other as Naval always looks good with greys. Painting your ceiling in Benjamin Moore's Hale Navy with Naval on the supporting walls is a wonderful idea for an office.
LRV Compared:
SW Indigo Batik vs Naval:

The most prominent difference between Sherwin Williams Naval and Indigo Batik is that Naval is a darker navy with blue undertones. In comparison, Indigo Batik is a much lighter Navy with a grey undertone as suggested by their LRVs. However, they have a very similar touch of boldness in them which makes them suitable alternatives for each other.
LRV Compared:
SW Anchors Aweigh vs Naval:

Anchors Aweigh is the darker color between the two. Anchors Aweigh has a grey undertone making it different from Naval. Also, under golden lights, it transforms into a dark green. Anchors Aweigh looks very good on the front door. What you can do is paint the walls inside the rooms in Naval but use Anchors Aweigh on the doors as it stands out more on doors. The colour looks great against shiny objects such as full mirrors due to its dark undertone. So, it can also be used in the foyers.
LRV Compared:
Naval: 4
Anchors Aweigh: 3
SW charcoal blue vs naval:

Sherwin Williams Charcoal blue is very different from Naval. It is a color with a fading touch to it, unlike Naval, which is full of pigment. Charcoal blue, despite its name, leans to a subtle purple. It doesn't have the velvety touch to it like Naval. Under the golden lights, it develops a grey shade, unlike Naval.
LRV Compared:
Naval: 4
Charcoal Blue: 6
SW Naval vs Cyberspace:

Sherwin Williams Cyberspace is grey paint colour. It's warmth matches with the warmth of Naval despite the two having completely different undertones. Both are neutral colours and fit for any part of your house you are planning to makeover into something new and trendy.
LRV Compared:
SW Naval vs Commodore:

Commodore is a true blue with a hint of boldness. On the other hand, Naval has a much higher degree of boldness in it. However, under the golden lights, they both look very similar, and it can be a tough job to distinguish one from another.
LRV compared:
Final Thoughts:
Naval is such a beautiful neutral that so many ideas can be incorporated with it. Although, colors with blue undertones have been out of fashion for a while, the world is jumping back to them gradually. The reason why Naval has been declared the colour of this year by Sherwin Williams is that interior designers have stated it to be significant to create many new styles inside and outside the house without ever getting bored. This shows that Naval is definitely a must-try in the house but be sure to grab the testers first. So, when you're standing with a brush in your hand, there is no room for doubts, and you can paint confidently.