Vaenait Baby recalled its children's bathrobes, available in sizes meant for children between the ages of 12 months and seven years and widely sold on sites like Amazon, due to violating federal flammability standards.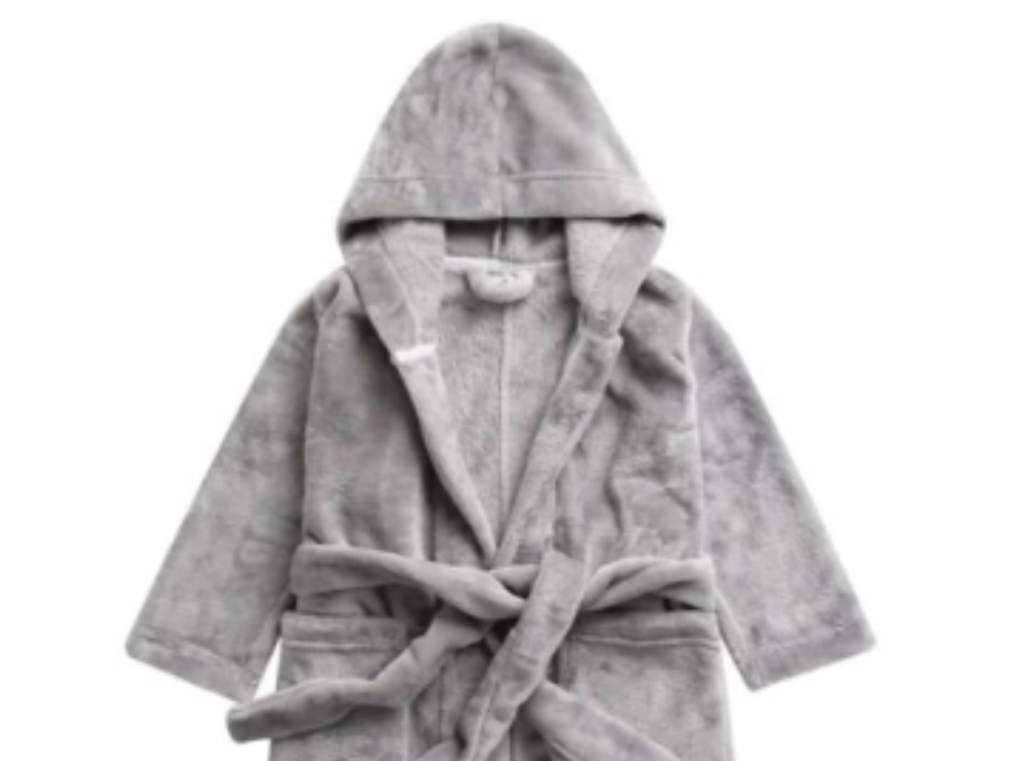 Vaenait Baby has issued a bathrobe recall after the product violated federal flammability standards. According to the United States Consumer Product Safety Commission the hooded polyester robe, with two front pockets and a belt pose a risk of burn injuries. The sleepwear was available for kids aged 12 months to seven years.
Every bathrobe affected by the recall contains lot number 58644-88 in the side seam along with a September 2018 date. The product sold for approximately $11 from December 2019 through June 2022 in ivory, pink, yellow, gray, and sky. The CPSC has advised people to stop dressing their children in the dangerous nighttime outfit.
Consumers who purchased a bathrobe from the recall will be asked to destroy them. This must be done by cutting them in half. A photo of the unusable garment should be sent to Vaenait Baby. Once the company receives the photo, folks will be issued a full refund of the purchase price. The popular children's brand will contact all known purchasers.
Manufactured in China, the bathrobes were sold via Amazon and other popular stores before the recall. This includes Lafayette Moms and Babies, Safe Splash, Chickadees Gift Boutique, Melodi's Belles and Beaus, Love From Home, Chicken Little, Dimples, So Adorable Too, Liebeskind, The Kids Company, Children's Shoppe, and more, Consumer Affairs reports.
Fortunately, no incidents or injuries have been reported as a result of using a bathrobe issued with a recall. Vaenait Baby is just the latest company flagged for failing federal flammability standards. Earlier this month, thousands of New Cosplay sleepwear items, sold exclusively on Amazon, were pulled along with design-it-yourself pajamas by Selfie Craft.
Selfie Craft recalled 38,740 long-sleeved shirt and pants pajama sets. The products were available for children aged three to 12. The garments feature 26 designs such as "Birthday Boy, Birthday Girl, Cutesy Christmas, Dinosaur, Funny Bunny, Halloween, and more, The Miami Herald reports. Much like the bathrobe recall, customers are advised to cut them in half vertically and send a photo to the manufacturer.
The bathrobe recall comes after weeks after Fisher-Price pulled its Rock 'n Play Sleepers for a second time since 2019. About 100 fatalities have been linked to the baby product and parents are advised to stop using the sleeper. "We are issuing a recall because, despite their removal from the marketplace, babies continue to die in these products," CPSC Chair Alexander Hoehn-Saric told the New York Post.
"I urge all parents, grandparents, and caregivers to follow the guidance of this announcement and stop using these products immediately," he continued. In 2019 recall, more than 30 infant deaths were linked to Rock 'n Play Sleepers. Unlike the bathrobe recall, babies suffocated after rolling from their back to their stomach or side while unrestrained and unsupervised.
Since the recall, 70 additional fatalities have been reported. As a rule, shoppers should check any items for defects, especially when the user is a child. If consumers are unsure about something, it's always a good idea to contact the manufacturer. Contact details for the bathrobe recall can be obtained at the place of purchase.
---