Banana Boat sunscreen has issued an urgent recall for one of its popular products following the discovery of a cancer causing agent.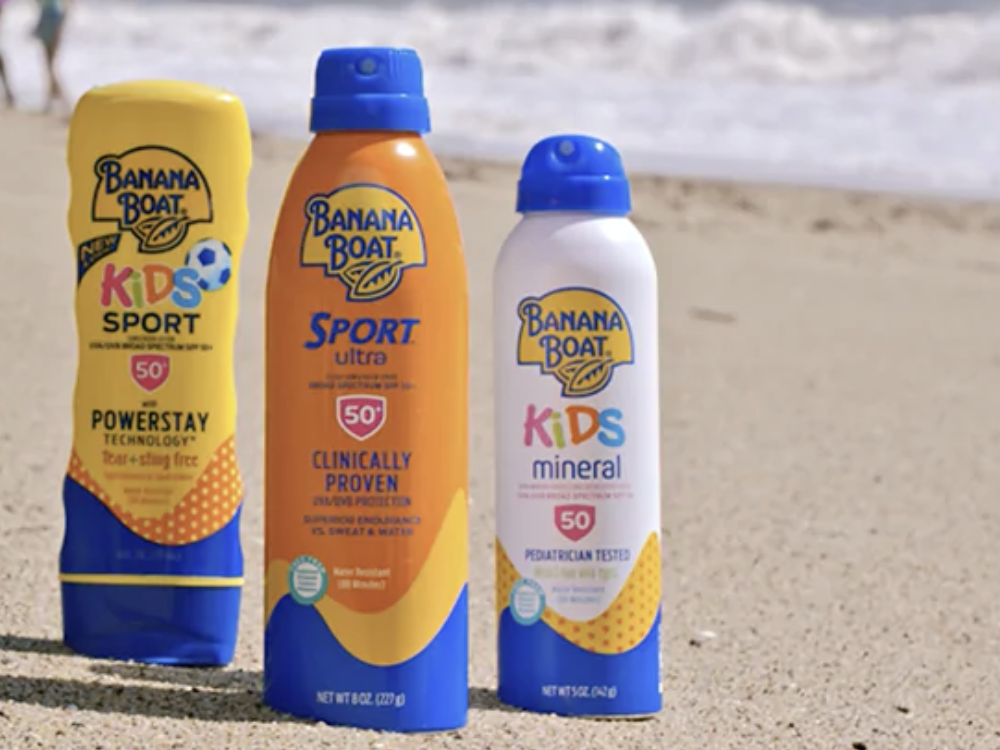 Sunscreen is a great way to protect your skin if you're going to be outside all day. Especially since ultraviolet radiation from the sun damages skin cells, leading to sunburn, aging, and even skin cancer. But folks who currently have a stockpile for the summer may want to double check them because Banana Boat sunscreen is being recalled. According to the Food and Drug Administration, the call back affects three batches of the product due to the presence of a cancer-causing chemical.
As such, various shipments of Banana Boat sunscreen have been voluntarily recalled by parent company Edgewell Personal Care after an internal review found trace levels of benzene in some samples. "While benzene is not an ingredient in any Banana Boat products, the review showed unexpected levels of the harmful chemical came from the propellant that sprays the product out of the can," the company said via ABC Eyewitness News. Fortunately, the personal care firm hasn't received any reports of adverse events related to the recall.
The three batches of Banana Boat sunscreen affected by the recall include 6 oz Banana Boat Hair & Scalp Spray SPF 30; Lot Code: 20016AF (expiration date: December 2022), 6 oz Banana Boat Hair & Scalp Spray SPF 30; Lot Code: 2008AF (expiration date: February 2023), and 6 oz Banana Boat Hair & Scalp Spray SPF 30; Lot Code: 21139AF (expiration date: April 2024). No other batches of Hair & Scalp (before or after these batch codes) and no other Banana Boat products are said to contain any foreign chemicals.
As an added precaution, Edgewell has instructed its retailers to remove any remaining Banana Boat sunscreen products that are affected from shelves. The company is also offering refunds to consumers who have purchased products from the compromised batched. Additionally, people have been advised to stop using any affected product immediately and appropriately discard it. Consumers with questions regarding this recall should visit www.bananaboat.com for more information. If anyone has experienced problems related to using these aerosol sunscreen products, they should contact their physician or healthcare provider immediately.
Unfortunately, benzene finding its way into Banana Boat sunscreen isn't unique. Last year saw a sweeping nationwide recall of various sunscreen brands after low levels of the chemical were discovered in some products. After Johnson & Johnson issued a voluntary recall for some Neutrogena and Aveeno sprays last July, the following months also saw Coppertone aerosol sunscreens, as well as Secret and Old Spice spray deodorants pulled from shelves, Good Housekeeping reports.
Benzene is classified as a dangerous human carcinogen, with exposure occurring by inhalation, orally, and through the skin. This can potentially result in cancers like leukemia and blood cancer of the bone marrow as well as blood disorders that can be life-threatening, the FDA said in its statement about Banana Boat sunscreen. Interestingly, people around the world have daily exposure to benzene indoors and outdoors from multiple sources. But the direct application to the skin over an extended period is not recommended, according to medical experts.